About the test:
The Critical Thinking Test for employment assesses a candidate's ability to recognize assumptions, identify inconsistencies in reasoning, evaluate arguments, predict possible outcomes of a decision and make an objective decision. This pre-employment critical thinking test is used by recruiters to screen candidates for roles that require strong decision making abilities.
Covered skills:
Critical Thinking
Logical Reasoning
See all covered skills
Questions
14 Critical Thinking MCQs
9 reasons why
9 reasons why
Adaface Critical Thinking Test is the most accurate way to shortlist Analysts
Reason #1
Tests for on-the-job skills
Den kritiske tenkende testen hjelper rekrutterere og ansettelsesledere med å identifisere kvalifiserte kandidater fra et basseng med CV, og hjelper til med å ta objektive ansettelsesbeslutninger. Det reduserer den administrative overhead ved å intervjue for mange kandidater og sparer avgjørende tid ved å filtrere ut ukvalifiserte kandidater.
Psykologisk forskning har funnet at kritiske tenkende tester er svært gyldige prediktorer for fremtidig ytelse i arbeid og utdanning. Kritisk tenkende ferdigheter gjør at folk kan evaluere situasjoner gjennom resonnement for å oppnå logiske beslutninger.
Bedrifter drar nytte av ansatte som tenker kritisk (i motsetning til mekanisk utførende oppgaver) fordi disse personene bruker et uavhengig tankesett for å søke måter å forbedre prosesser på. Kritiske tenkingstester er en mye brukt egnethetstest for å velge kandidater til utdannet, profesjonelt og ledelsesnivå.
Testskjermkandidatene for følgende ferdigheter:
Gjør riktige slutninger
Gjenkjenne forutsetninger
Gjør fradrag
Kom til konklusjoner basert på gitte data
Tolke og evaluere argumenter
Innsikten som genereres fra denne vurderingen kan brukes av rekrutterere og ansettelsesledere for å identifisere de beste kandidatene for rollen. Anti-juksede funksjoner gjør at du kan være komfortabel med å gjennomføre vurderinger på nettet. Den kritiske tenkende testen er ideell for å hjelpe rekrutterere med å identifisere hvilke kandidater som har de tekniske ferdighetene til å gjøre det bra på jobben.
Reason #2
No trick questions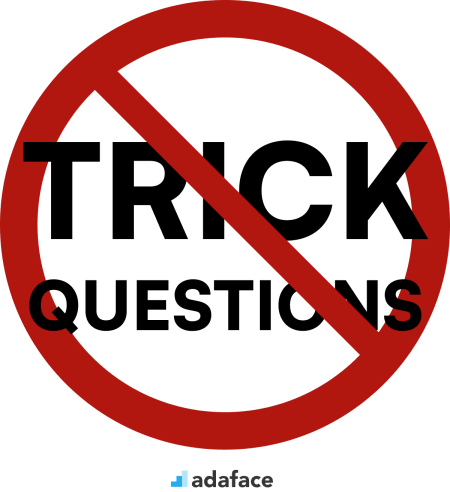 Traditional assessment tools use trick questions and puzzles for the screening, which creates a lot of frustration among candidates about having to go through irrelevant screening assessments.
The main reason we started Adaface is that traditional pre-employment assessment platforms are not a fair way for companies to evaluate candidates. At Adaface, our mission is to help companies find great candidates by assessing on-the-job skills required for a role.
Why we started Adaface ->
Reason #3
Non-googleable questions
We have a very high focus on the quality of questions that test for on-the-job skills. Every question is non-googleable and we have a very high bar for the level of subject matter experts we onboard to create these questions. We have crawlers to check if any of the questions are leaked online. If/ when a question gets leaked, we get an alert. We change the question for you & let you know.
These are just a small sample from our library of 10,000+ questions. The actual questions on this Critical Thinking Test will be non-googleable.
🧐 Question

Medium

Emma's cafe business

Solve

Easy

Ivory's new startup

Solve
🧐 Question
🔧 Skill

Medium

Emma's cafe business

2 mins

Critical Thinking

Solve

Easy

Ivory's new startup

2 mins

Critical Thinking

Solve
| | 🧐 Question | 🔧 Skill | 💪 Difficulty | ⌛ Time | |
| --- | --- | --- | --- | --- | --- |
| | Emma's cafe business | Critical Thinking | Medium | 2 mins | Solve |
| | Ivory's new startup | Critical Thinking | Easy | 2 mins | Solve |
Reason #4
1200+ customers in 75 countries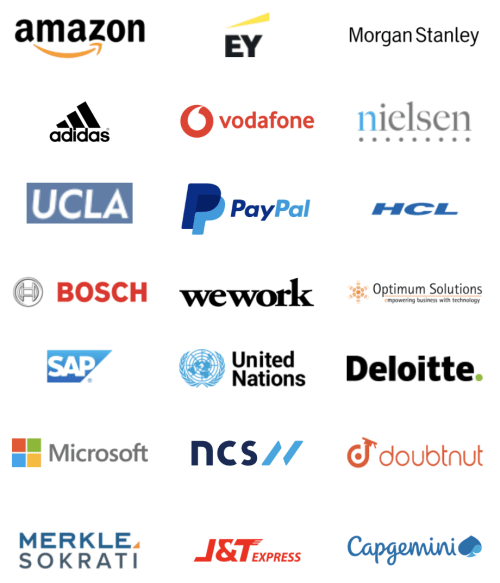 With Adaface, we were able to optimise our initial screening process by upwards of 75%, freeing up precious time for both hiring managers and our talent acquisition team alike!
Brandon Lee, Head of People, Love, Bonito
Reason #5
Designed for elimination, not selection
The most important thing while implementing the pre-employment Critical Thinking Test in your hiring process is that it is an elimination tool, not a selection tool. In other words: you want to use the test to eliminate the candidates who do poorly on the test, not to select the candidates who come out at the top. While they are super valuable, pre-employment tests do not paint the entire picture of a candidate's abilities, knowledge, and motivations. Multiple easy questions are more predictive of a candidate's ability than fewer hard questions. Harder questions are often "trick" based questions, which do not provide any meaningful signal about the candidate's skillset.
Reason #6
1 click candidate invites
Email invites: You can send candidates an email invite to the Critical Thinking Test from your dashboard by entering their email address.
Public link: You can create a public link for each test that you can share with candidates.
API or integrations: You can invite candidates directly from your ATS by using our pre-built integrations with popular ATS systems or building a custom integration with your in-house ATS.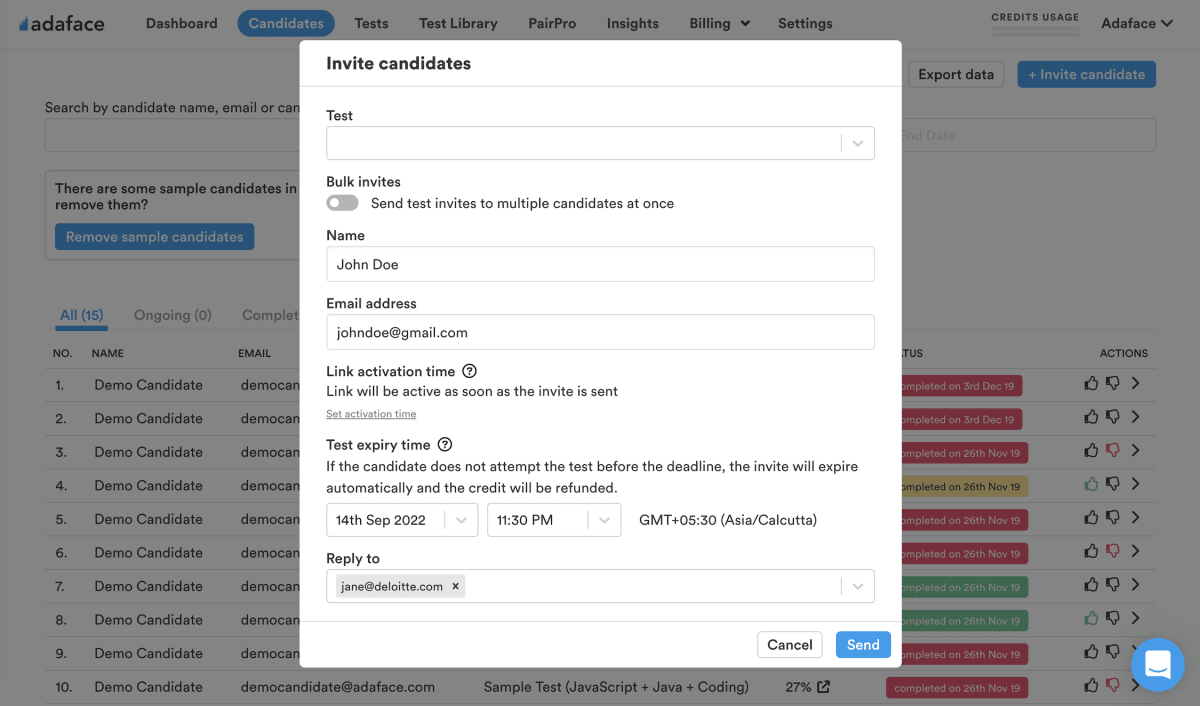 Reason #8
High completion rate
Adaface tests are conversational, low-stress, and take just 25-40 mins to complete.
This is why Adaface has the highest test-completion rate (86%), which is more than 2x better than traditional assessments.

Reason #9
Advanced Proctoring
What type of questions are included in the Critical Thinking Test
The questions included in the critical thinking test can vary, but they are often designed to assess a person's ability to reason, think logically, and make sound judgments. Mainly the questions require the candidates to do the following:
Identify the main conclusion of an argument
Identify the premises of an argument
Detect when an argument is based on false or unproven assumptions
Evaluate the strength of an argument
Draw logical conclusions from a set of given information
Analyze and critique a given argument
What roles can I use the Critical Thinking Test for?
Analyst
Business Analyst
Data Analyst
Project Manager
Software Developer
Software Tester
Graduate
Intern
Sales Representatives
What topics are covered in the Critical Thinking Test?

The hiring managers felt that through the technical questions that they asked during the panel interviews, they were able to tell which candidates had better scores, and differentiated with those who did not score as well. They are highly satisfied with the quality of candidates shortlisted with the Adaface screening.
reduction in screening time
FAQs
Hva er en kritisk tenkende test?
En kritisk tenkende test evaluerer en kandidats evne til å vurdere argumenter, identifisere sentrale forutsetninger og ta objektive beslutninger. Testen presenterer dem for scenarier der de trenger å forstå den gitte informasjonen og ta logiske beslutninger.
Er det anbefalt å bruke kritisk tenkingstest for å screene kandidater?
Ja, den kritiske tenkende testen kan være et effektivt verktøy for å screene kandidater. Denne testen kan bidra til å identifisere individer som har evnen til å tenke kritisk og logisk, og som er i stand til å gjøre forsvarlige vurderinger. Selv om den kritiske tenkende testen kan være et nyttig verktøy for å screene kandidater, er det ikke nødvendigvis en indikasjon på en persons evne til å prestere godt i stillingen. Det er mange faktorer som bidrar til en persons evne til å tenke kritisk og logisk, og testen bør brukes som en del av ansettelsesprosessen.
Kan jeg kombinere flere ferdigheter til en tilpasset vurdering?
Ja absolutt. Tilpassede vurderinger er satt opp basert på stillingsbeskrivelsen din, og vil inneholde spørsmål om alle må-ha ferdigheter du spesifiserer.
Har du noen anti-juksende eller proktoreringsfunksjoner på plass?
Vi har følgende anti-juksede funksjoner på plass:
Ikke-googlable spørsmål
IP Proctoring
Nettproctoring
Webcam Proctoring
Deteksjon av plagiering
Sikker nettleser
Les mer om Proctoring -funksjonene.
Hvordan tolker jeg testresultater?
Den viktigste tingen å huske på er at en vurdering er et eliminasjonsverktøy, ikke et seleksjonsverktøy. En ferdighetsvurdering er optimalisert for å hjelpe deg med å eliminere kandidater som ikke er teknisk kvalifisert for rollen, det er ikke optimalisert for å hjelpe deg med å finne den beste kandidaten for rollen. Så den ideelle måten å bruke en vurdering på er å bestemme en terskelpoeng (vanligvis 55%, vi hjelper deg med å benchmark) og invitere alle kandidater som scorer over terskelen for de neste rundene med intervjuet.
Hvilken opplevelsesnivå kan jeg bruke denne testen til?
Hver ADAFACE -vurdering er tilpasset din stillingsbeskrivelse/ ideell kandidatperson (våre fageksperter vil velge de riktige spørsmålene for din vurdering fra vårt bibliotek med 10000+ spørsmål). Denne vurderingen kan tilpasses for ethvert opplevelsesnivå.
Får hver kandidat de samme spørsmålene?
Ja, det gjør det mye lettere for deg å sammenligne kandidater. Alternativer for MCQ -spørsmål og rekkefølgen på spørsmål er randomisert. Vi har anti-juksing/proctoring funksjoner på plass. I vår bedriftsplan har vi også muligheten til å lage flere versjoner av den samme vurderingen med spørsmål med lignende vanskelighetsnivåer.
Jeg er en kandidat. Kan jeg prøve en praksisprøve?
Nei. Dessverre støtter vi ikke praksisprøver for øyeblikket. Du kan imidlertid bruke eksemplet spørsmål for praksis.
Hva koster ved å bruke denne testen?
Kan jeg få en gratis prøveperiode?
Jeg flyttet nettopp til en betalt plan. Hvordan kan jeg be om en tilpasset vurdering?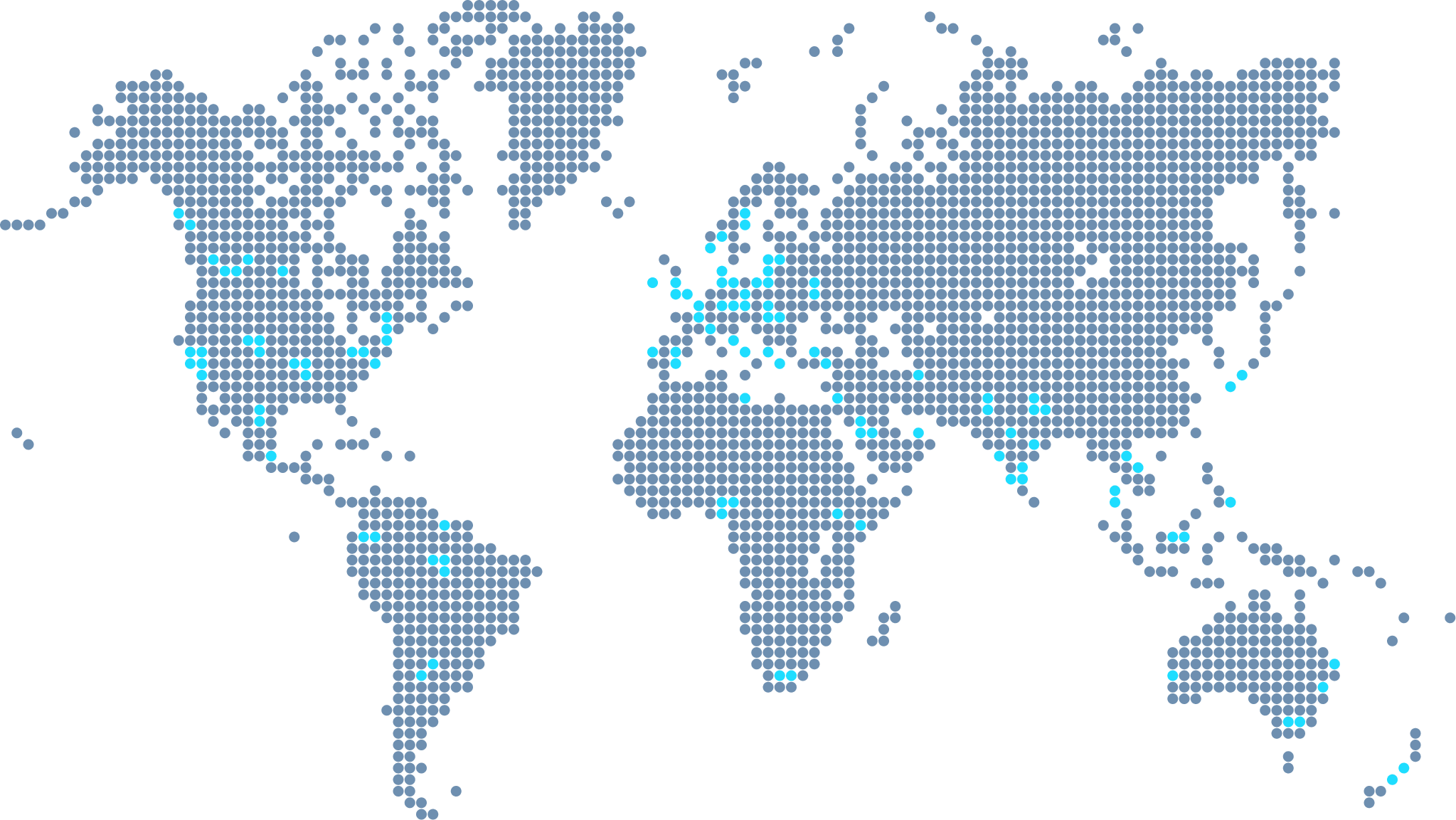 Join 1200+ companies in 75+ countries.
Try the most candidate friendly skills assessment tool today.

Ready to use the Adaface Critical Thinking Test?
Ready to use the Adaface Critical Thinking Test?