About the test:
The logical reasoning test evaluates a candidate's logical reasoning, critical thinking, and aptitude skills using scenario-based, verbal, image-based, puzzle, and sequence questions.
Covered skills:
Inductive reasoning
Abstract reasoning
Diagrammatic reasoning
Deductive reasoning
See all covered skills
Questions
15 Logical Reasoning MCQs
9 reasons why
9 reasons why
Adaface Logical Reasoning Test is the most accurate way to shortlist Data Analysts
Reason #1
Tests for on-the-job skills
Den logiske ræsonnementstest er udviklet af vores team af fageksperter, der følger strenge retningslinjer for at sikre nøjagtighed, retfærdighed og pålidelighed til at levere vurderinger af høj kvalitet. Vi udnytter årtier med forskning og banebrydende forudsigelsesanalyse for at skabe logiske ræsonnementsspørgsmål, der matcher din virksomheds rollekrav. Den indsigt, der genereres fra denne vurdering, kan bruges af rekrutterere og ansættelsesledere til at identificere de bedste kandidater til rollen. Anti-sejende funktioner giver dig mulighed for at være komfortabel med at gennemføre vurderinger online. Den logiske ræsonnement er ideel til at hjælpe rekrutterere med at identificere, hvilke kandidater der har egnethedskompetencerne til at gøre godt på jobbet.
Testen inkluderer spørgsmål om tal, definitioner og forhold mellem ideer. Kandidaterne vurderes om, hvordan de nåede en konklusion, og hvorfor beslutningen er korrekt. Disse tests kan skelne mellem kandidater, der har de logiske ræsonnementsevner til at klare sig godt på jobbet mod dem, der ikke gør det.
Logiske ræsonnementstest bruges til job inden for forskellige områder som it, teknik, medicin, lov, økonomi, regnskab, markedsføring, salg osv. Organisationer, der vurderer kandidaternes logiske tænkningsevne kan få overhånden over andre virksomheder, fordi disse færdigheder er vigtige for job inden for ethvert felt og kan hjælpe med at forudsige kandidaternes langsigtede resultater.
Reason #2
No trick questions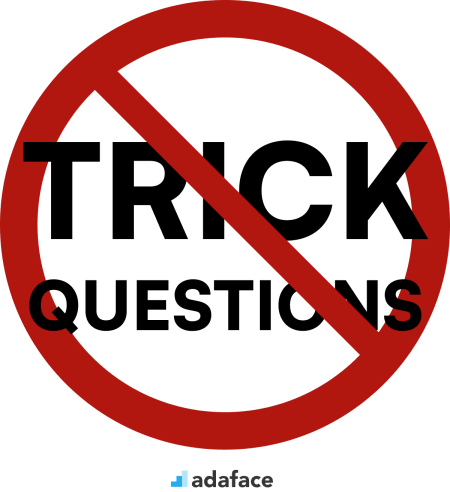 Traditional assessment tools use trick questions and puzzles for the screening, which creates a lot of frustration among candidates about having to go through irrelevant screening assessments.
The main reason we started Adaface is that traditional pre-employment assessment platforms are not a fair way for companies to evaluate candidates. At Adaface, our mission is to help companies find great candidates by assessing on-the-job skills required for a role.
Why we started Adaface ->
Reason #3
Non-googleable questions
We have a very high focus on the quality of questions that test for on-the-job skills. Every question is non-googleable and we have a very high bar for the level of subject matter experts we onboard to create these questions. We have crawlers to check if any of the questions are leaked online. If/ when a question gets leaked, we get an alert. We change the question for you & let you know.
These are just a small sample from our library of 10,000+ questions. The actual questions on this Logical Reasoning Test will be non-googleable.
🧐 Question

Medium

Tennis Players

Solve

Medium

CID Agent

Solve

Medium

Positive correlation

Solve
🧐 Question
🔧 Skill

Medium

Tennis Players

3 mins

Logical Reasoning

Solve

Medium

CID Agent

3 mins

Logical Reasoning

Solve

Medium

Positive correlation

2 mins

Logical Reasoning

Solve
| | 🧐 Question | 🔧 Skill | 💪 Difficulty | ⌛ Time | |
| --- | --- | --- | --- | --- | --- |
| | Tennis Players | Logical Reasoning | Medium | 3 mins | Solve |
| | CID Agent | Logical Reasoning | Medium | 3 mins | Solve |
| | Positive correlation | Logical Reasoning | Medium | 2 mins | Solve |
Reason #4
1200+ customers in 75 countries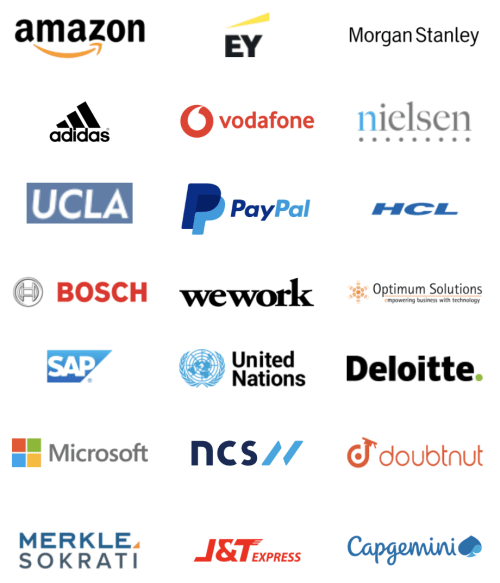 With Adaface, we were able to optimise our initial screening process by upwards of 75%, freeing up precious time for both hiring managers and our talent acquisition team alike!
Brandon Lee, Head of People, Love, Bonito
Reason #5
Designed for elimination, not selection
The most important thing while implementing the pre-employment Logical Reasoning Test in your hiring process is that it is an elimination tool, not a selection tool. In other words: you want to use the test to eliminate the candidates who do poorly on the test, not to select the candidates who come out at the top. While they are super valuable, pre-employment tests do not paint the entire picture of a candidate's abilities, knowledge, and motivations. Multiple easy questions are more predictive of a candidate's ability than fewer hard questions. Harder questions are often "trick" based questions, which do not provide any meaningful signal about the candidate's skillset.
Reason #6
1 click candidate invites
Email invites: You can send candidates an email invite to the Logical Reasoning Test from your dashboard by entering their email address.
Public link: You can create a public link for each test that you can share with candidates.
API or integrations: You can invite candidates directly from your ATS by using our pre-built integrations with popular ATS systems or building a custom integration with your in-house ATS.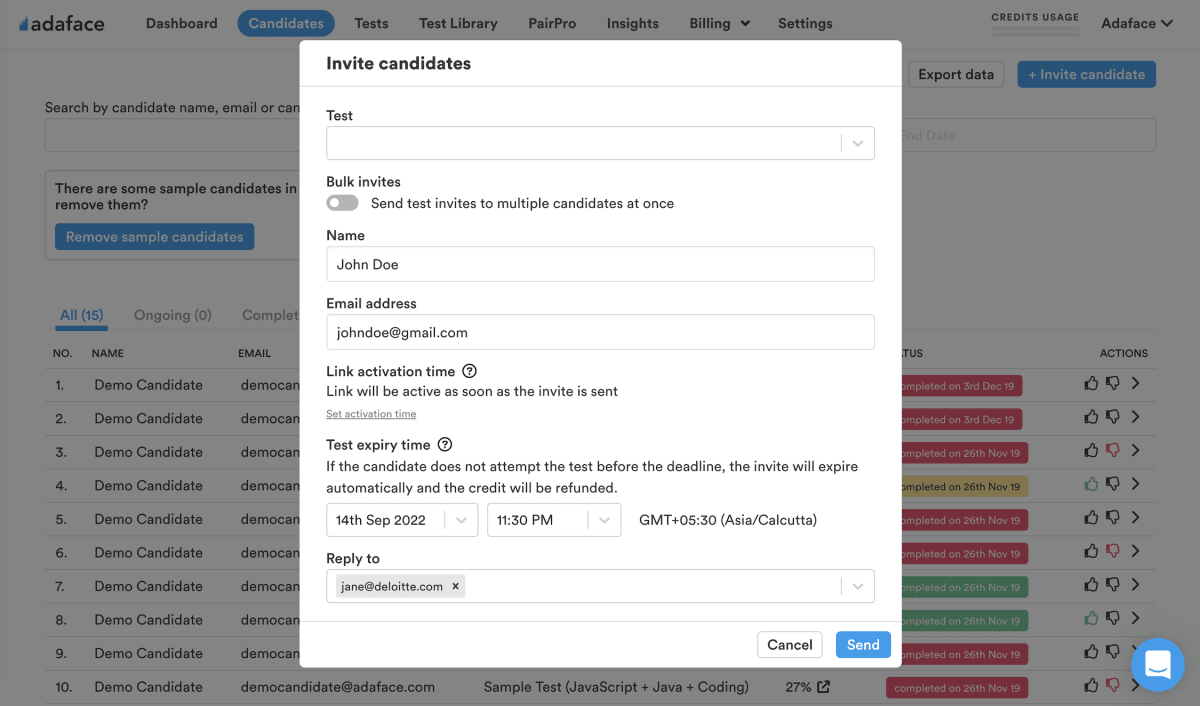 Reason #8
High completion rate
Adaface tests are conversational, low-stress, and take just 25-40 mins to complete.
This is why Adaface has the highest test-completion rate (86%), which is more than 2x better than traditional assessments.

Reason #9
Advanced Proctoring
Hvad er formatet for den logiske ræsonnementstest?
Den standard logiske ræsonnementstest har 10-15 MCQ-spørgsmål og tager 20-30 minutter. Spørgsmålene og testen kan tilpasses i henhold til dine krav, til at teste flere færdigheder (som rumlig ræsonnement, verbal ræsonnement, numerisk ræsonnement osv.) I den samme test.
Hvorfor skal du bruge logiske ræsonnementstest?
Logiske ræsonnement online tests hjælper med at identificere kandidater, der udmærker sig i visse områder, såsom problemløsning, beslutningstagning og kritisk tænkning. Disse tests bruges ofte til at evaluere kandidater til job, hvor logik spiller en afgørende rolle.
Rekrutterere bruger logiske ræsonnementstest til at indsamle kvantitative data om kandidaterne og sammenligne resultaterne med andre. En godt designet logisk ræsonnementstest skal hjælpe arbejdsgivere med at filtrere kandidater, der ikke opfylder minimumskravene, og dem, der muligvis mangler færdighederne til at udføre specifikke opgaver effektivt.
Typer af logiske ræsonnementstest, og hvilke kompetencer måler den logiske ræsonnementstest?
Der er fem typer logiske ræsonnementsforsøg:
** Induktive ræsonnementsprøver **: I disse test kan kandidater blive bedt om at identificere mønsteret i en række diagrammer, eller kandidater kan blive bedt om at forudsige, hvad der kunne ske, hvis der skulle ske noget.
** Diagrammatiske ræsonnementstest **: For denne type logiske ræsonnement viser test ofte en række diagrammer, diagrammer og grafer sammen med et input og en forventet output.
** Abstrakt ræsonnementstest **: Disse tests er designet til at vurdere, om kandidater kan tænke lateralt. Ideen bag dem er enkel: Hvis kandidater kan se forholdet mellem to ting, skal de være i stand til at anvende den samme logik på en anden situation eller finde bevis, der understøtter et argument.
** Deduktive ræsonnementsprøver **: Disse test vurderer en kandidats evne til at anvende regler på nye situationer.
** Kritiske tænkningstests **: Disse test evaluerer kandidaternes ræsonnementsevner ved at se, hvor godt de kan analysere argumenter, foretage konklusioner og evaluere konklusioner.
What roles can I use the Logical Reasoning Test for?
Data Analyst
Graduates
Freshers
Managers
System Admin
Front-office roles
What topics are covered in the Logical Reasoning Test?

The hiring managers felt that through the technical questions that they asked during the panel interviews, they were able to tell which candidates had better scores, and differentiated with those who did not score as well. They are highly satisfied with the quality of candidates shortlisted with the Adaface screening.
reduction in screening time
Logical Reasoning Test FAQs
Hvad er en logisk ræsonnementstest?
Den logiske ræsonnementstest vurderer kandidaternes evne til at tænke logisk, analysere og udarbejde problemer uden at blive forvirret eller stresset - testen måler en kandidats evne til at løse et problem og forstå hvorfor og hvordan løsningen fungerer.
Kan jeg kombinere flere færdigheder i en brugerdefineret vurdering?
Ja absolut. Brugerdefinerede vurderinger er oprettet baseret på din jobbeskrivelse og vil omfatte spørgsmål om alle must-have-færdigheder, du angiver.
Har du nogen anti-cheating eller proctoring-funktioner på plads?
Vi har følgende anti-cheating-funktioner på plads:
Ikke-gåbare spørgsmål
IP Proctoring
Webproctoring
Webcam Proctoring
Detektion af plagiering
Sikker browser
Læs mere om Proctoring Features.
Hvordan fortolker jeg testresultater?
Den primære ting at huske på er, at en vurdering er et elimineringsværktøj, ikke et udvælgelsesværktøj. En færdighedsvurdering er optimeret for at hjælpe dig med at eliminere kandidater, der ikke er teknisk kvalificerede til rollen, den er ikke optimeret til at hjælpe dig med at finde den bedste kandidat til rollen. Så den ideelle måde at bruge en vurdering på er at beslutte en tærskelværdi (typisk 55%, vi hjælper dig med benchmark) og inviterer alle kandidater, der scorer over tærsklen for de næste interviewrunder.
Hvilken oplevelsesniveau kan jeg bruge denne test til?
Hver Adaface -vurdering tilpasses til din jobbeskrivelse/ ideel kandidatperson (vores emneeksperter vælger de rigtige spørgsmål til din vurdering fra vores bibliotek på 10000+ spørgsmål). Denne vurdering kan tilpasses til ethvert erfaringsniveau.
Får hver kandidat de samme spørgsmål?
Ja, det gør det meget lettere for dig at sammenligne kandidater. Valgmuligheder for MCQ -spørgsmål og rækkefølgen af ​​spørgsmål randomiseres. Vi har anti-cheating/proctoring funktioner på plads. I vores virksomhedsplan har vi også muligheden for at oprette flere versioner af den samme vurdering med spørgsmål om lignende vanskelighedsniveauer.
Jeg er kandidat. Kan jeg prøve en øvelsestest?
Nej. Desværre understøtter vi ikke praksisforsøg i øjeblikket. Du kan dog bruge vores eksempler på spørgsmål til praksis.
Hvad er omkostningerne ved at bruge denne test?
Kan jeg få en gratis prøve?
Jeg flyttede lige til en betalt plan. Hvordan kan jeg anmode om en brugerdefineret vurdering?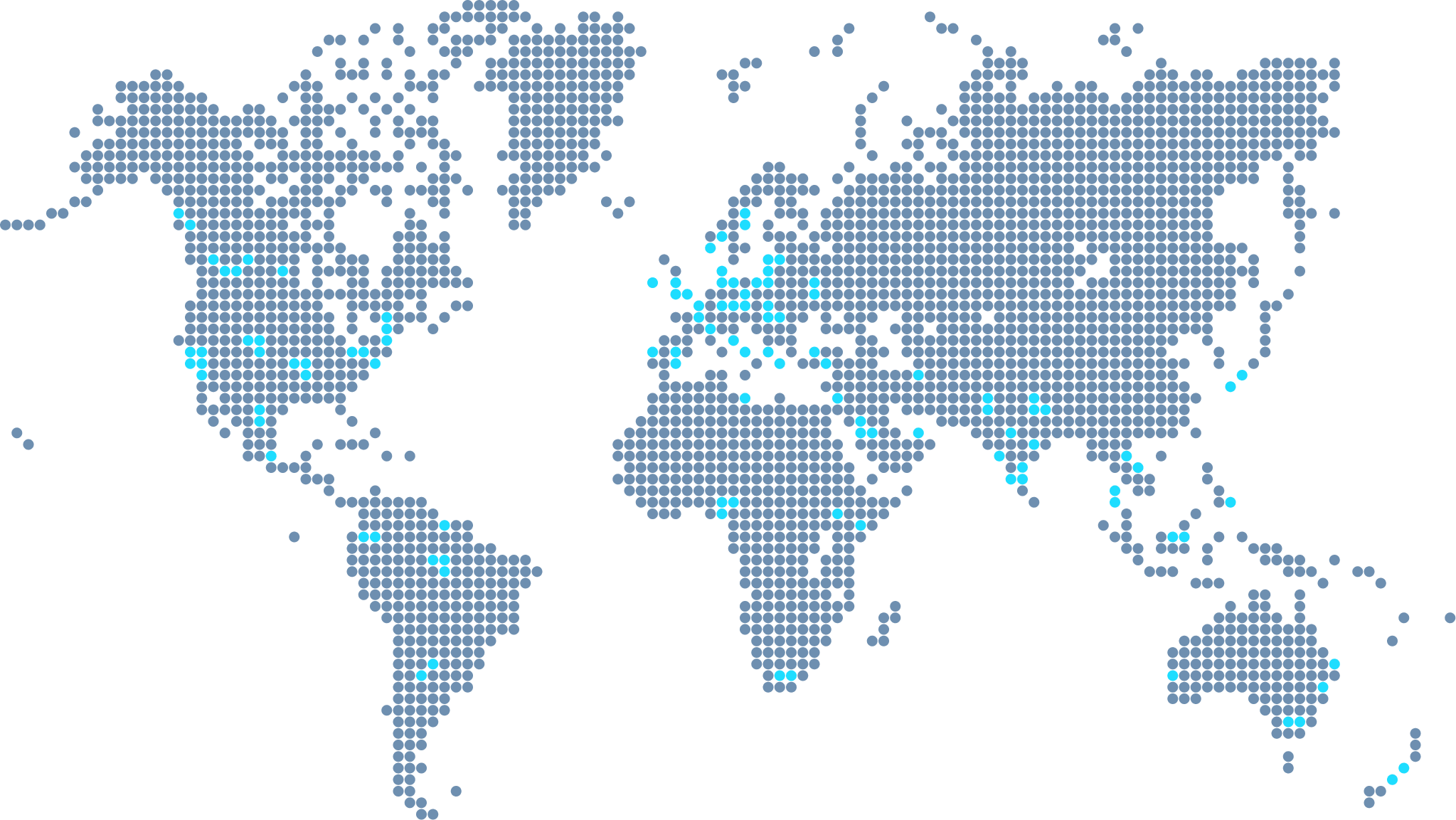 Join 1200+ companies in 75+ countries.
Try the most candidate friendly skills assessment tool today.

Ready to use the Adaface Logical Reasoning Test?
Ready to use the Adaface Logical Reasoning Test?