About the test:
The verbal reasoning online test uses 15 scenario-based MCQ questions to evaluate a candidate's ability to understand and comprehend workplace text. The test screens for verbal ability skills and shortlists candidates who can write and articulate clearly and concisely. Candidates must demonstrate an understanding of written English and be able to communicate effectively in business situations.
Covered skills:
Foundations of vocabulary
Understanding analogies and inferences
Using accurate grammar
Analyzing detailed written information
See all covered skills
9 reasons why
9 reasons why
Adaface Verbal Reasoning Test is the most accurate way to shortlist Content writers
Reason #1
Tests for on-the-job skills
The Verbal ability online test contains 15 MCQ questions to assess a candidate's linguistic and logical abilities and takes ~20 minutes. The reports are automatically generated, and recruiters can use the generated insights to identify the candidates with the best verbal reasoning skills.
The pre-employment verbal reasoning test measures how fluent candidates are in English and how good they are at articulating ideas and concepts. Verbal ability skills are essential for a variety of roles. They are often included as part of a broader application process, where the candidates are asked to demonstrate their knowledge of grammar, spelling, punctuation, syntax, and workplace etiquette. The questions in the test evaluate critical verbal reasoning skills candidates are expected to have:
Language and comprehension skills
Understanding business language
Comparing different written texts to each other
Analyzing written information to make logical and reasoned deductions
Communicating the inferences with colleagues
Reason #2
No trick questions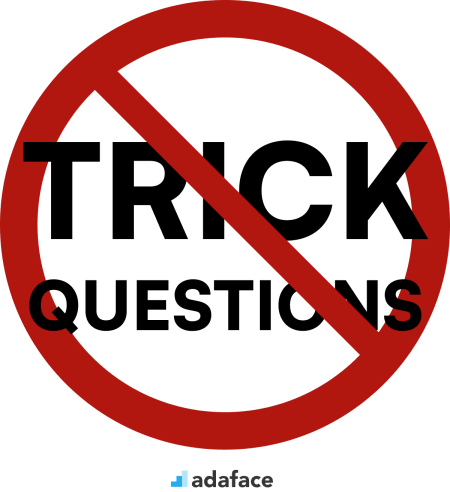 Traditional assessment tools use trick questions and puzzles for the screening, which creates a lot of frustration among candidates about having to go through irrelevant screening assessments.
The main reason we started Adaface is that traditional pre-employment assessment platforms are not a fair way for companies to evaluate candidates. At Adaface, our mission is to help companies find great candidates by assessing on-the-job skills required for a role.
Why we started Adaface ->
Reason #3
Non-googleable questions
We have a very high focus on the quality of questions that test for on-the-job skills. Every question is non-googleable and we have a very high bar for the level of subject matter experts we onboard to create these questions. We have crawlers to check if any of the questions are leaked online. If/ when a question gets leaked, we get an alert. We change the question for you & let you know.
These are just a small sample from our library of 10,000+ questions. The actual questions on this Verbal Reasoning Test will be non-googleable.
🧐 Question

Medium

Overseas office

Solve

Easy

China manufacturing

Solve

Medium

Commerical Premises

Solve
🧐 Question
🔧 Skill

Medium

Overseas office

2 mins

Verbal Reasoning

Solve

Easy

China manufacturing

2 mins

Verbal Reasoning

Solve

Medium

Commerical Premises

2 mins

Verbal Reasoning

Solve
| | 🧐 Question | 🔧 Skill | 💪 Difficulty | ⌛ Time | |
| --- | --- | --- | --- | --- | --- |
| | Overseas office | Verbal Reasoning | Medium | 2 mins | Solve |
| | China manufacturing | Verbal Reasoning | Easy | 2 mins | Solve |
| | Commerical Premises | Verbal Reasoning | Medium | 2 mins | Solve |
Reason #4
1200+ customers in 75 countries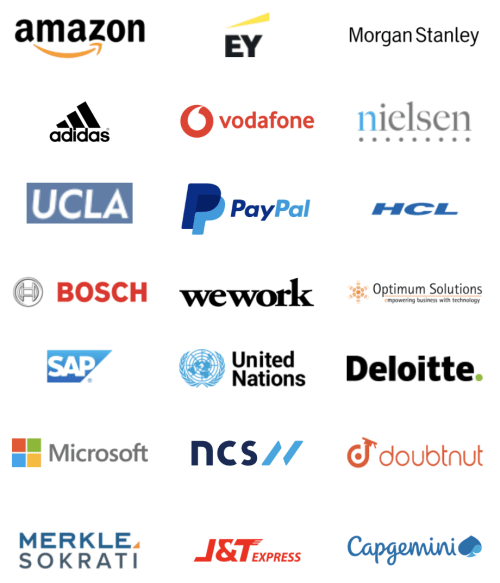 With Adaface, we were able to optimise our initial screening process by upwards of 75%, freeing up precious time for both hiring managers and our talent acquisition team alike!
Brandon Lee, Head of People, Love, Bonito
Reason #5
Designed for elimination, not selection
The most important thing while implementing the pre-employment Verbal Reasoning Test in your hiring process is that it is an elimination tool, not a selection tool. In other words: you want to use the test to eliminate the candidates who do poorly on the test, not to select the candidates who come out at the top. While they are super valuable, pre-employment tests do not paint the entire picture of a candidate's abilities, knowledge, and motivations. Multiple easy questions are more predictive of a candidate's ability than fewer hard questions. Harder questions are often "trick" based questions, which do not provide any meaningful signal about the candidate's skillset.
Reason #6
1 click candidate invites
Email invites: You can send candidates an email invite to the Verbal Reasoning Test from your dashboard by entering their email address.
Public link: You can create a public link for each test that you can share with candidates.
API or integrations: You can invite candidates directly from your ATS by using our pre-built integrations with popular ATS systems or building a custom integration with your in-house ATS.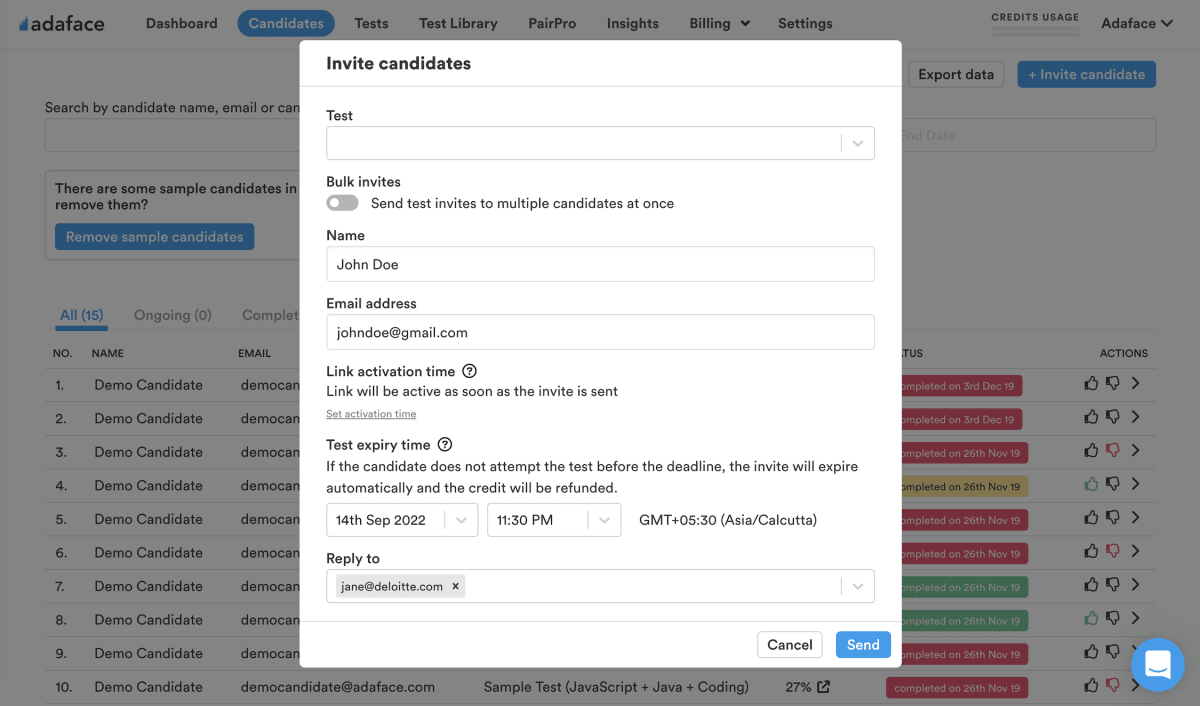 Reason #8
High completion rate
Adaface tests are conversational, low-stress, and take just 25-40 mins to complete.
This is why Adaface has the highest test-completion rate (86%), which is more than 2x better than traditional assessments.

Reason #9
Advanced Proctoring
What kind of questions are used in Verbal Ability Tests?
There will be 15 scenario-based MCQ questions in the standard MCQ format. Candidates are presented with a short passage of text which they will have to interpret and pick the correct options among a set of possible answers. The questions will require candidates to:
Read and comprehend written information
Understand the relationships between words
Draw logical conclusions from given information
Solve problems using verbal reasoning skills
This test does not require candidates to have any previous knowledge or require any preparation before appearing for the test. It focuses on testing mainly for:
English proficiency - Candidates must know business level English to do well
Verbal critical reasoning and reading comprehension - The questions are simulated to represent workplace text. Candidates must be able to digest written information and pick the correct answers quickly and accurately.
Can I evaluate aptitude skills along with verbal ability skills?
Yes. You can evaluate other cognitive ability skills along with verbal ability skills such as numerical reasoning, spatial reasoning, and situational judgement. For roles focused on data crunching, you can evaluate data interpretation skills in the same test. You can read more about how Adaface aptitude tests are designed and review a few sample aptitude questions.
What roles can I use the Verbal Reasoning Test for?
Content writer
Analyst
Business Analyst
Data Analyst
Graduate
Intern
Customer-facing roles
Marketing Executives
What topics are covered in the Verbal Reasoning Test?

The hiring managers felt that through the technical questions that they asked during the panel interviews, they were able to tell which candidates had better scores, and differentiated with those who did not score as well. They are highly satisfied with the quality of candidates shortlisted with the Adaface screening.
reduction in screening time
FAQs
What is a verbal ability test?
Verbal ability tests measure how quickly and accurately a person can read and understand written information. The candidates will be given a short text, followed by a question about what was just read. To answer correctly, candidates need to identify the main points within the text and then link them back to the original question. Some verbal reasoning questions will require the candidates to do this in reverse. The verbal reasoning tests evaluate the understanding of language and the level of verbal comprehension and logic. The verbal reasoning tests are designed for different roles and jobs in an organization's hierarchy. Depending on the experience level and the job description, the following vary from test to test:
The topic of the questions
The scenario the questions are based on (reflective of workplace communication and real-world examples)
The difficulty level of the reasoning questions
How many types of verbal reasoning tests are there?
There are 21 types of verbal ability reasoning tests. Some have subtle differences, while a few have significant variations in the format and structure. Most of these differences arise because of:
Length of the written information to analyze
Context, topic and style of the presented information
Question type and presentation format
These 21 types are conceptual and are not attuned to hiring. Here are the 21 types:
Letter Code
Letter Series
Letter Sentence
Compound Word
Missing Letter
Move a Letter
Missing Three-Letter Word
Create Words in the Same Way
Letter Sums
Number Series
Hidden Four-Letter Word
Words Closest in Meaning
Related Words
Word Links
Facts and Riddles
Antonyms
Completing the Sum
Missing Number
Number Code
Completing the Third Pair
Double Meaning
We have analyzed these long-researched types and translated these test types into workplace verbal reasoning tests. These verbal reasoning tests are used for various jobs in technical, placements, mid-level, managerial, administrative and leadership hiring.
How is the verbal reasoning test customized for freshers?
For graduates and fresher roles, the questions will be of more manageable levels. The scenarios used to create questions will be easy to understand without workplace jargon while ensuring that the questions capture core reasoning skills. You can also check our campus recruitment aptitude test, which evaluates verbal reasoning and other crucial analytical thinking skills.
How is the verbal reasoning online test customized for senior candidates?
For mid-level and senior candidates, the test is customized in the following ways:
The difficulty level of questions is from medium to hard
The written information provided for each question will be based on workplace scenarios
Along with verbal comprehension and reasoning, the questions will judge for situational judgement and communication skills
Does the verbal ability test screen for English comprehension?
Yes. There will be ~7 MCQs to evaluate a candidate on English vocabulary. If you'd require a test focusing more on English and less on verbal reasoning, you can check the English proficiency test with 12 English MCQs and 8 Verbal reasoning MCQs.
Can I combine multiple skills into one custom assessment?
Yes, absolutely. Custom assessments are set up based on your job description, and will include questions on all must-have skills you specify.
Do you have any anti-cheating or proctoring features in place?
We have the following anti-cheating features in place:
Non-googleable questions
IP proctoring
Web proctoring
Webcam proctoring
Plagiarism detection
Secure browser
Read more about the proctoring features.
How do I interpret test scores?
The primary thing to keep in mind is that an assessment is an elimination tool, not a selection tool. A skills assessment is optimized to help you eliminate candidates who are not technically qualified for the role, it is not optimized to help you find the best candidate for the role. So the ideal way to use an assessment is to decide a threshold score (typically 55%, we help you benchmark) and invite all candidates who score above the threshold for the next rounds of interview.
What experience level can I use this test for?
Each Adaface assessment is customized to your job description/ ideal candidate persona (our subject matter experts will pick the right questions for your assessment from our library of 10000+ questions). This assessment can be customized for any experience level.
Does every candidate get the same questions?
Yes, it makes it much easier for you to compare candidates. Options for MCQ questions and the order of questions are randomized. We have anti-cheating/ proctoring features in place. In our enterprise plan, we also have the option to create multiple versions of the same assessment with questions of similar difficulty levels.
I'm a candidate. Can I try a practice test?
No. Unfortunately, we do not support practice tests at the moment. However, you can use our sample questions for practice.
What is the cost of using this test?
I just moved to a paid plan. How can I request a custom assessment?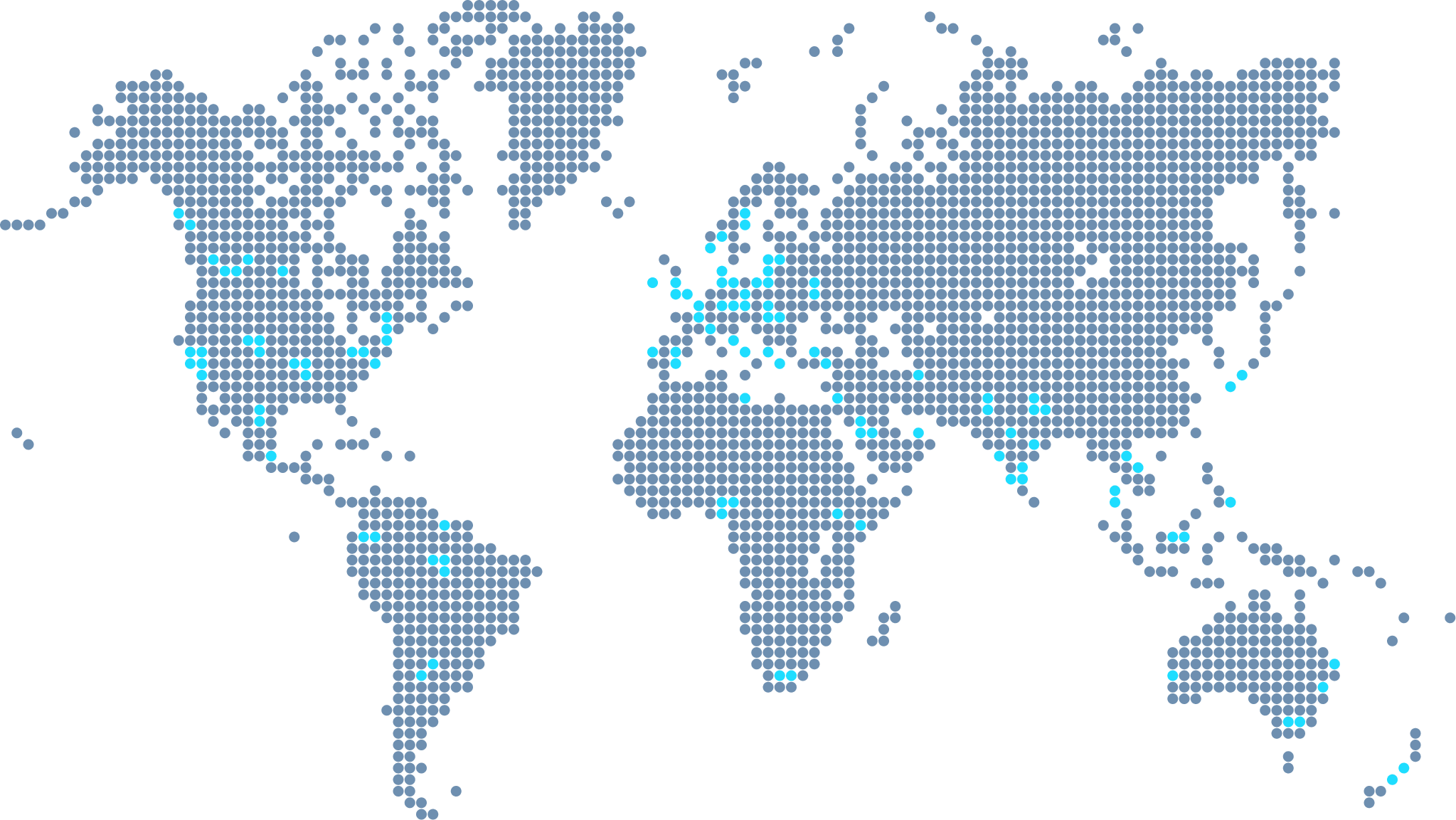 Join 1200+ companies in 75+ countries.
Try the most candidate friendly skills assessment tool today.

Ready to use the Adaface Verbal Reasoning Test?
Ready to use the Adaface Verbal Reasoning Test?