About the test:
The Critical Thinking Test for employment assesses a candidate's ability to recognize assumptions, identify inconsistencies in reasoning, evaluate arguments, predict possible outcomes of a decision and make an objective decision. This pre-employment critical thinking test is used by recruiters to screen candidates for roles that require strong decision making abilities.
Covered skills:
Critical Thinking
Logical Reasoning
See all covered skills
Questions
14 Critical Thinking MCQs
9 reasons why
9 reasons why
Adaface Critical Thinking Test is the most accurate way to shortlist Analysts
Reason #1
Tests for on-the-job skills
Den kritiske tænkningstest hjælper rekrutterere og ansættelsesledere med at identificere kvalificerede kandidater fra en pulje af CV og hjælper med at tage objektive ansættelsesbeslutninger. Det reducerer den administrative omkostning ved at interviewe for mange kandidater og sparer afgørende tid ved at filtrere ukvalificerede kandidater.
Psykologisk forskning har fundet, at kritiske tænkningstest er meget gyldige forudsigere for fremtidig præstation inden for arbejde og uddannelse. Kritiske tænkningsevner giver folk mulighed for at evaluere situationer gennem resonnement for at nå logiske beslutninger.
Virksomheder drager fordel af medarbejdere, der tænker kritisk (i modsætning til mekanisk udførelse af opgaver), fordi disse personer bruger et uafhængigt tankesæt til at søge måder at forbedre processer på. Kritiske tænkningstest er en meget anvendt egnethedstest til valg af kandidater til kandidat-, professionelle og ledelsesniveauer.
Testskærmene kandidater til følgende færdigheder:
Lav korrekte konklusioner
Anerkend antagelser
Lav fradrag
Kom til konklusioner baseret på givne data
fortolke og evaluere argumenter
Den indsigt, der genereres fra denne vurdering, kan bruges af rekrutterere og ansættelsesledere til at identificere de bedste kandidater til rollen. Anti-cheating-funktioner giver dig mulighed for at være komfortabel med at gennemføre vurderinger online. Den kritiske tænkningstest er ideel til at hjælpe rekrutterere med at identificere, hvilke kandidater der har de tekniske færdigheder til at gøre godt på jobbet.
Reason #2
No trick questions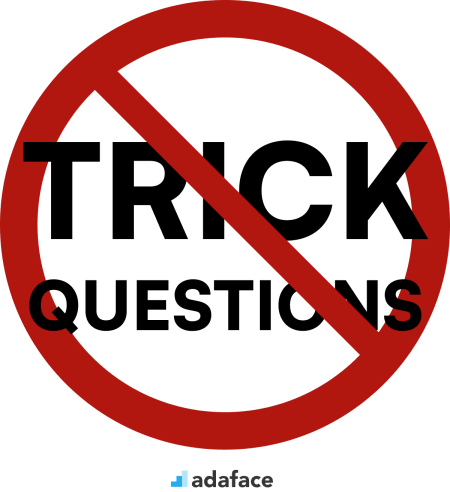 Traditional assessment tools use trick questions and puzzles for the screening, which creates a lot of frustration among candidates about having to go through irrelevant screening assessments.
The main reason we started Adaface is that traditional pre-employment assessment platforms are not a fair way for companies to evaluate candidates. At Adaface, our mission is to help companies find great candidates by assessing on-the-job skills required for a role.
Why we started Adaface ->
Reason #3
Non-googleable questions
We have a very high focus on the quality of questions that test for on-the-job skills. Every question is non-googleable and we have a very high bar for the level of subject matter experts we onboard to create these questions. We have crawlers to check if any of the questions are leaked online. If/ when a question gets leaked, we get an alert. We change the question for you & let you know.
These are just a small sample from our library of 10,000+ questions. The actual questions on this Critical Thinking Test will be non-googleable.
🧐 Question

Medium

Emma's cafe business

Solve

Easy

Ivory's new startup

Solve
🧐 Question
🔧 Skill

Medium

Emma's cafe business

2 mins

Critical Thinking

Solve

Easy

Ivory's new startup

2 mins

Critical Thinking

Solve
| | 🧐 Question | 🔧 Skill | 💪 Difficulty | ⌛ Time | |
| --- | --- | --- | --- | --- | --- |
| | Emma's cafe business | Critical Thinking | Medium | 2 mins | Solve |
| | Ivory's new startup | Critical Thinking | Easy | 2 mins | Solve |
Reason #4
1200+ customers in 75 countries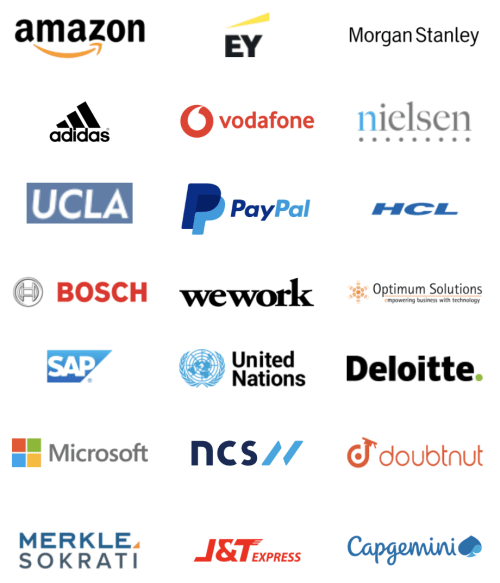 With Adaface, we were able to optimise our initial screening process by upwards of 75%, freeing up precious time for both hiring managers and our talent acquisition team alike!
Brandon Lee, Head of People, Love, Bonito
Reason #5
Designed for elimination, not selection
The most important thing while implementing the pre-employment Critical Thinking Test in your hiring process is that it is an elimination tool, not a selection tool. In other words: you want to use the test to eliminate the candidates who do poorly on the test, not to select the candidates who come out at the top. While they are super valuable, pre-employment tests do not paint the entire picture of a candidate's abilities, knowledge, and motivations. Multiple easy questions are more predictive of a candidate's ability than fewer hard questions. Harder questions are often "trick" based questions, which do not provide any meaningful signal about the candidate's skillset.
Reason #6
1 click candidate invites
Email invites: You can send candidates an email invite to the Critical Thinking Test from your dashboard by entering their email address.
Public link: You can create a public link for each test that you can share with candidates.
API or integrations: You can invite candidates directly from your ATS by using our pre-built integrations with popular ATS systems or building a custom integration with your in-house ATS.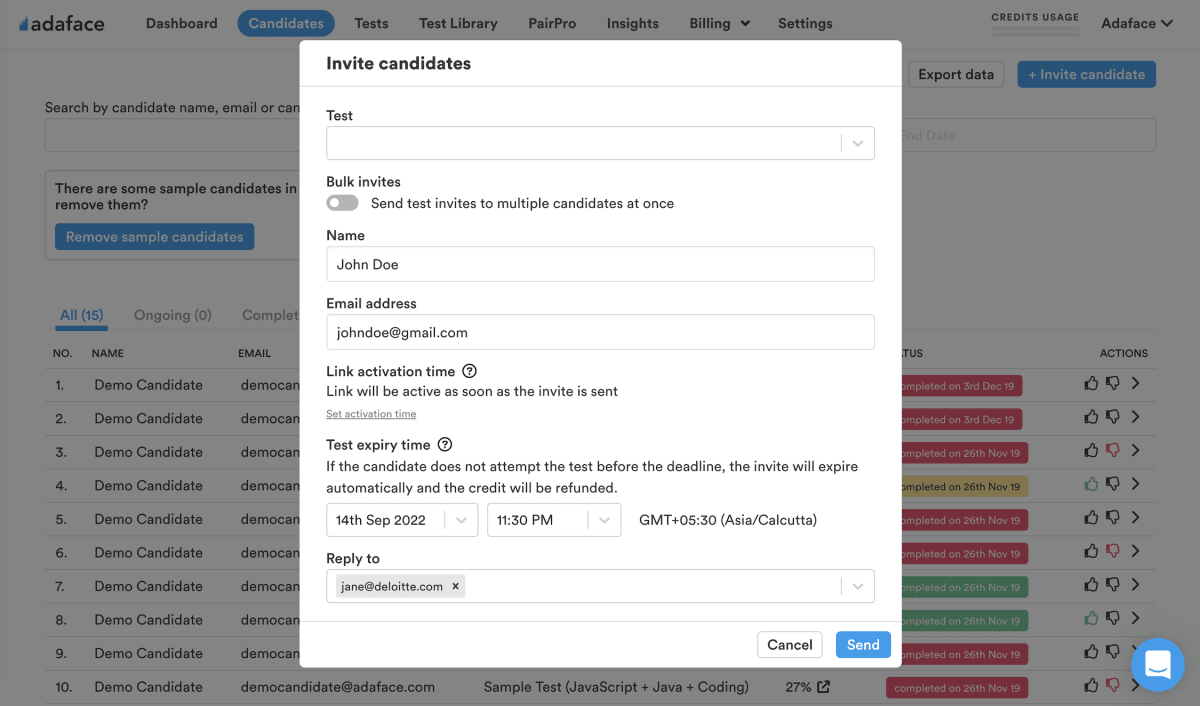 Reason #8
High completion rate
Adaface tests are conversational, low-stress, and take just 25-40 mins to complete.
This is why Adaface has the highest test-completion rate (86%), which is more than 2x better than traditional assessments.

Reason #9
Advanced Proctoring
What type of questions are included in the Critical Thinking Test
The questions included in the critical thinking test can vary, but they are often designed to assess a person's ability to reason, think logically, and make sound judgments. Mainly the questions require the candidates to do the following:
Identify the main conclusion of an argument
Identify the premises of an argument
Detect when an argument is based on false or unproven assumptions
Evaluate the strength of an argument
Draw logical conclusions from a set of given information
Analyze and critique a given argument
What roles can I use the Critical Thinking Test for?
Analyst
Business Analyst
Data Analyst
Project Manager
Software Developer
Software Tester
Graduate
Intern
Sales Representatives
What topics are covered in the Critical Thinking Test?

The hiring managers felt that through the technical questions that they asked during the panel interviews, they were able to tell which candidates had better scores, and differentiated with those who did not score as well. They are highly satisfied with the quality of candidates shortlisted with the Adaface screening.
reduction in screening time
FAQs
Hvad er en kritisk tænkningstest?
En kritisk tænkningstest evaluerer en kandidats evne til at vurdere argumenter, identificere centrale antagelser og tage objektive beslutninger. Testen giver dem scenarier, hvor de har brug for at forstå de givne oplysninger og træffe logiske beslutninger.
Anbefales det at bruge den kritiske tænkningstest til at screene kandidater?
Ja, den kritiske tænkningstest kan være et effektivt værktøj til at screene kandidater. Denne test kan hjælpe med at identificere individer, der har evnen til at tænke kritisk og logisk, og som er i stand til at træffe sunde vurderinger. Mens den kritiske tænkningstest kan være et nyttigt værktøj til at screene kandidater, er det ikke nødvendigvis tegn på en persons evne til at klare sig godt i stillingen. Der er mange faktorer, der bidrager til en persons evne til at tænke kritisk og logisk, og testen skal bruges som en del af ansættelsesprocessen.
Kan jeg kombinere flere færdigheder i en brugerdefineret vurdering?
Ja absolut. Brugerdefinerede vurderinger er oprettet baseret på din jobbeskrivelse og vil omfatte spørgsmål om alle must-have-færdigheder, du angiver.
Har du nogen anti-cheating eller proctoring-funktioner på plads?
Vi har følgende anti-cheating-funktioner på plads:
Ikke-gåbare spørgsmål
IP Proctoring
Webproctoring
Webcam Proctoring
Detektion af plagiering
Sikker browser
Læs mere om Proctoring Features.
Hvordan fortolker jeg testresultater?
Den primære ting at huske på er, at en vurdering er et elimineringsværktøj, ikke et udvælgelsesværktøj. En færdighedsvurdering er optimeret for at hjælpe dig med at eliminere kandidater, der ikke er teknisk kvalificerede til rollen, den er ikke optimeret til at hjælpe dig med at finde den bedste kandidat til rollen. Så den ideelle måde at bruge en vurdering på er at beslutte en tærskelværdi (typisk 55%, vi hjælper dig med benchmark) og inviterer alle kandidater, der scorer over tærsklen for de næste interviewrunder.
Hvilken oplevelsesniveau kan jeg bruge denne test til?
Hver Adaface -vurdering tilpasses til din jobbeskrivelse/ ideel kandidatperson (vores emneeksperter vælger de rigtige spørgsmål til din vurdering fra vores bibliotek på 10000+ spørgsmål). Denne vurdering kan tilpasses til ethvert erfaringsniveau.
Får hver kandidat de samme spørgsmål?
Ja, det gør det meget lettere for dig at sammenligne kandidater. Valgmuligheder for MCQ -spørgsmål og rækkefølgen af ​​spørgsmål randomiseres. Vi har anti-cheating/proctoring funktioner på plads. I vores virksomhedsplan har vi også muligheden for at oprette flere versioner af den samme vurdering med spørgsmål om lignende vanskelighedsniveauer.
Jeg er kandidat. Kan jeg prøve en øvelsestest?
Nej. Desværre understøtter vi ikke praksisforsøg i øjeblikket. Du kan dog bruge vores eksempler på spørgsmål til praksis.
Hvad er omkostningerne ved at bruge denne test?
Kan jeg få en gratis prøve?
Jeg flyttede lige til en betalt plan. Hvordan kan jeg anmode om en brugerdefineret vurdering?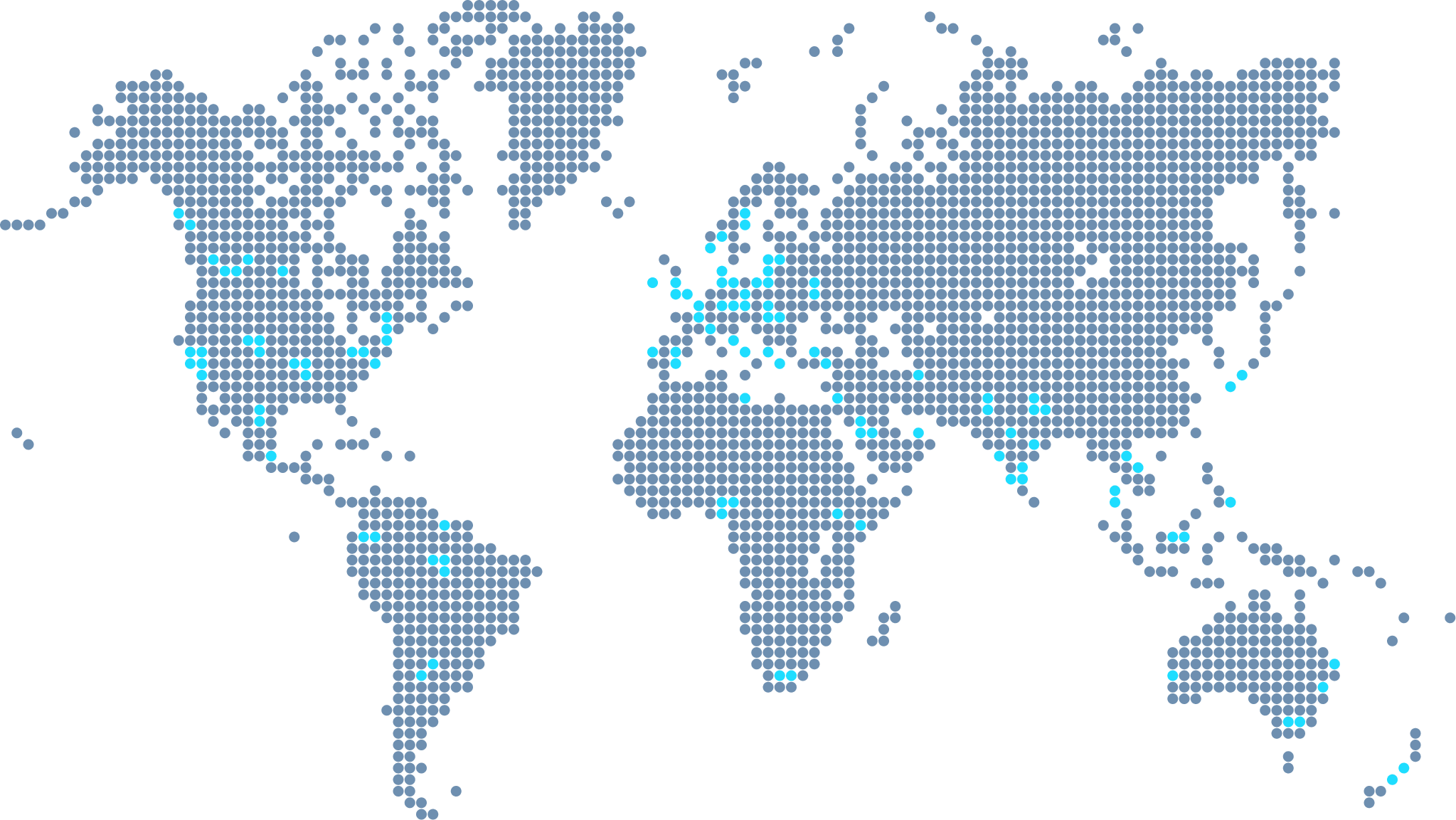 Join 1200+ companies in 75+ countries.
Try the most candidate friendly skills assessment tool today.

Ready to use the Adaface Critical Thinking Test?
Ready to use the Adaface Critical Thinking Test?