About the test:
The SAP HANA Online Test uses scenario-based multiple choice questions to evaluate candidates on data modeling, SQLScript, stored procedures, data replication, data provisioning, security, performance optimization, and administration. The test aims to determine candidates' ability to design, develop, and deploy high-performance data processing solutions on the SAP HANA platform, as well as their familiarity with SAP HANA best practices, design patterns, and techniques.
Covered skills:
SAP Landscape Transaction (SLT)
SAP HANA Predictive Analysis Library
See all covered skills
Availability
Available on request
9 reasons why
9 reasons why
Adaface SAP HANA Online Test is the most accurate way to shortlist SAP HANA Developers
Reason #1
Tests for on-the-job skills
O teste on -line da SAP HANA ajuda os recrutadores e os gerentes de contratação a identificar candidatos qualificados de um conjunto de currículos e ajuda a tomar decisões objetivas de contratação. Reduz a sobrecarga administrativa de entrevistar muitos candidatos e economiza tempo de engenharia caro filtrando candidatos não qualificados.
O Adaface SAP HANA TESTELS TELS CANDIDATOS PARA OS RECUTORES DE Habilidades típicas procuram em um desenvolvedor/ consultor da SAP HANA:
Experiência prática extensa com modelagem SAP HANA nos módulos SAP ERP
A capacidade de gerenciar dados de vários repositórios de dados, como SAP ERP e Non SAP Systems
Especialização na criação de planos de teste para garantir a precisão dentro da solução CDL
Experiência com problemas de solução de problemas e depuração em problemas complexos de ajuste de desempenho
Capacidade básica de trabalhar com ferramentas analíticas de BI, como o Tableau
Compreensão básica de ferramentas de provisionamento de dados, como SLT ou SRS
Os insights gerados a partir desta avaliação podem ser usados ​​pelos recrutadores e gerentes de contratação para identificar os melhores candidatos ao papel. Os recursos anti-tração permitem que você se sinta confortável em realizar avaliações on-line. O teste de desenvolvedor da SAP HANA é ideal para ajudar os recrutadores a identificar quais candidatos têm habilidades técnicas para se sair bem no trabalho.
Reason #2
No trick questions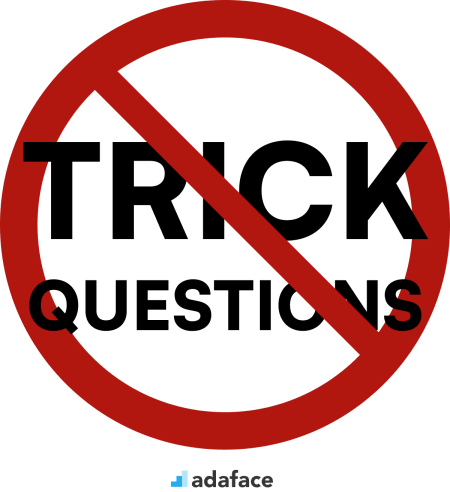 Traditional assessment tools use trick questions and puzzles for the screening, which creates a lot of frustration among candidates about having to go through irrelevant screening assessments.
The main reason we started Adaface is that traditional pre-employment assessment platforms are not a fair way for companies to evaluate candidates. At Adaface, our mission is to help companies find great candidates by assessing on-the-job skills required for a role.
Why we started Adaface ->
Reason #3
Non-googleable questions
We have a very high focus on the quality of questions that test for on-the-job skills. Every question is non-googleable and we have a very high bar for the level of subject matter experts we onboard to create these questions. We have crawlers to check if any of the questions are leaked online. If/ when a question gets leaked, we get an alert. We change the question for you & let you know.
These are just a small sample from our library of 10,000+ questions. The actual questions on this SAP HANA Online Test will be non-googleable.
🧐 Question

Medium

Output rows

Solve

Easy

Performance Improvement

Solve

Medium

Storing data

Solve
🧐 Question
🔧 Skill

Medium

Output rows

3 mins

SAP HANA

Solve

Easy

Performance Improvement

2 mins

SAP HANA

Solve

Medium

Storing data

2 mins

SAP HANA

Solve
| | 🧐 Question | 🔧 Skill | 💪 Difficulty | ⌛ Time | |
| --- | --- | --- | --- | --- | --- |
| | Output rows | SAP HANA | Medium | 3 mins | Solve |
| | Performance Improvement | SAP HANA | Easy | 2 mins | Solve |
| | Storing data | SAP HANA | Medium | 2 mins | Solve |
Reason #4
1200+ customers in 75 countries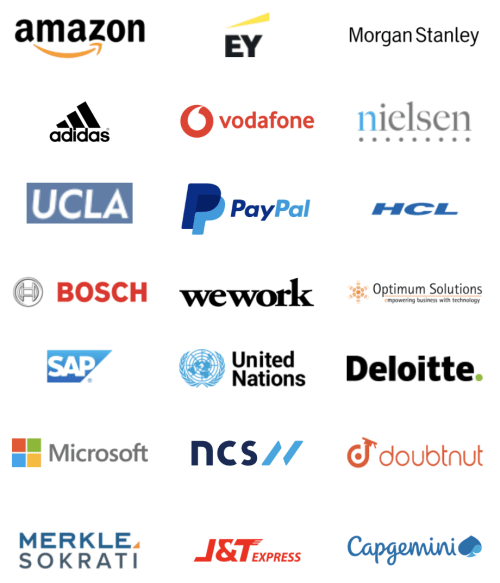 With Adaface, we were able to optimise our initial screening process by upwards of 75%, freeing up precious time for both hiring managers and our talent acquisition team alike!
Brandon Lee, Head of People, Love, Bonito
Reason #5
Designed for elimination, not selection
The most important thing while implementing the pre-employment SAP HANA Online Test in your hiring process is that it is an elimination tool, not a selection tool. In other words: you want to use the test to eliminate the candidates who do poorly on the test, not to select the candidates who come out at the top. While they are super valuable, pre-employment tests do not paint the entire picture of a candidate's abilities, knowledge, and motivations. Multiple easy questions are more predictive of a candidate's ability than fewer hard questions. Harder questions are often "trick" based questions, which do not provide any meaningful signal about the candidate's skillset.
Reason #6
1 click candidate invites
Email invites: You can send candidates an email invite to the SAP HANA Online Test from your dashboard by entering their email address.
Public link: You can create a public link for each test that you can share with candidates.
API or integrations: You can invite candidates directly from your ATS by using our pre-built integrations with popular ATS systems or building a custom integration with your in-house ATS.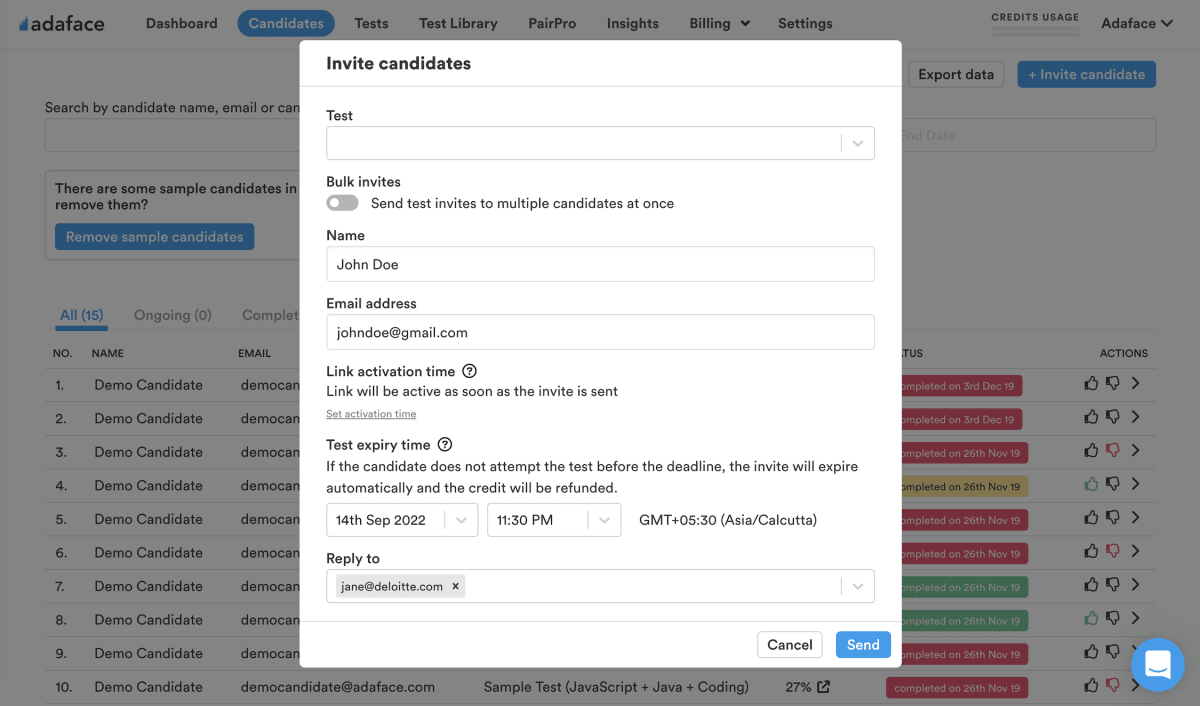 Reason #8
High completion rate
Adaface tests are conversational, low-stress, and take just 25-40 mins to complete.
This is why Adaface has the highest test-completion rate (86%), which is more than 2x better than traditional assessments.

Reason #9
Advanced Proctoring
Sobre o papel de desenvolvedor da SAP HANA
O SAP HANA é um sistema de gerenciamento de banco de dados relacional desenvolvido pelo SAP SE. O SAP HANA usa dados organizados de bancos de dados relacionais para processar grandes quantidades de dados em tempo real em um período limitado de tempo. Também é usado para processar consultas e gerenciar altas taxas de transação.
O principal recurso do SAP HANA como servidor de banco de dados é salvar e recuperar dados, como e quando solicitado pelos aplicativos. Além disso, fornece modelagem e análise avançadas de dados, juntamente com os recursos ETL para lidar com o Big Data.
Este teste on-line da SAP HANA para contratar candidatos se concentra em testes para habilidades no trabalho.
As responsabilidades típicas dos desenvolvedores da SAP HANA incluem:
Projetar, desenvolver e manter modelos de dados utilizando a modelagem SAP HANA
Colaborar com equipes de negócios ou tecnologia para garantir que os requisitos do projeto e os requisitos do usuário alinhem com a definição de solução de negócios e a arquitetura técnica
Desenvolver e gerenciar a documentação para equipes que capturam a estratégia de design em diferentes modelos de dados
Realizar testes de ponta a ponta de todas as aplicações
Apoiar os usuários por ferramentas que líderes liderando problemas de solução de problemas em problemas de ajuste de desempenho
What roles can I use the SAP HANA Online Test for?
SAP HANA Developer
Senior Solution Sales Executive - SAP HANA Cloud Platform  (1-3 years experience)
SAP Database Development - HANA (1-3 years experience)
SAP HANA Architect
S4 HANA CO Consultant
SAP BW HANA Consultant
SAP HANA Cloud Integration Developer
What topics are covered in the SAP HANA Online Test?

The hiring managers felt that through the technical questions that they asked during the panel interviews, they were able to tell which candidates had better scores, and differentiated with those who did not score as well. They are highly satisfied with the quality of candidates shortlisted with the Adaface screening.
reduction in screening time
FAQs
O que é a avaliação do SAP HANA?
O teste on -line do SAP HANA é ajuda os recrutadores a avaliar as habilidades SAP HANA da SAP HANA antes de uma entrevista. Os recrutadores podem usar este teste de pré-emprego para determinar quais candidatos têm experiência prática com o SAP HANA.
Posso combinar várias habilidades em uma avaliação personalizada?
Sim absolutamente. As avaliações personalizadas são configuradas com base na descrição do seu trabalho e incluirão perguntas sobre todas as habilidades obrigatórias que você especificar.
Você tem algum recurso anti-trapaça ou procurador?
Temos os seguintes recursos anti-trapaça:
Perguntas não-goleadas
IP Proctoring
Web Proctoring
Proctoring da webcam
Detecção de plágio
navegador seguro
Leia mais sobre os Recursos de Proctoring.
Como interpreto as pontuações dos testes?
O principal a ter em mente é que uma avaliação é uma ferramenta de eliminação, não uma ferramenta de seleção. Uma avaliação de habilidades é otimizada para ajudá -lo a eliminar os candidatos que não são tecnicamente qualificados para o papel, não é otimizado para ajudá -lo a encontrar o melhor candidato para o papel. Portanto, a maneira ideal de usar uma avaliação é decidir uma pontuação limite (normalmente 55%, ajudamos você a comparar) e convidar todos os candidatos que pontuam acima do limiar para as próximas rodadas da entrevista.
Para que nível de experiência posso usar este teste?
Cada avaliação do Adaface é personalizada para a descrição do seu trabalho/ persona do candidato ideal (nossos especialistas no assunto escolherão as perguntas certas para sua avaliação de nossa biblioteca de mais de 10000 perguntas). Esta avaliação pode ser personalizada para qualquer nível de experiência.
Todo candidato recebe as mesmas perguntas?
Sim, facilita muito a comparação de candidatos. As opções para perguntas do MCQ e a ordem das perguntas são randomizadas. Recursos anti-traking/proctoring no local. Em nosso plano corporativo, também temos a opção de criar várias versões da mesma avaliação com questões de níveis de dificuldade semelhantes.
Eu sou um candidato. Posso tentar um teste de prática?
Não. Infelizmente, não apoiamos os testes práticos no momento. No entanto, você pode usar nossas perguntas de amostra para prática.
Qual é o custo de usar este teste?
Posso obter uma avaliação gratuita?
Acabei de me mudar para um plano pago. Como posso solicitar uma avaliação personalizada?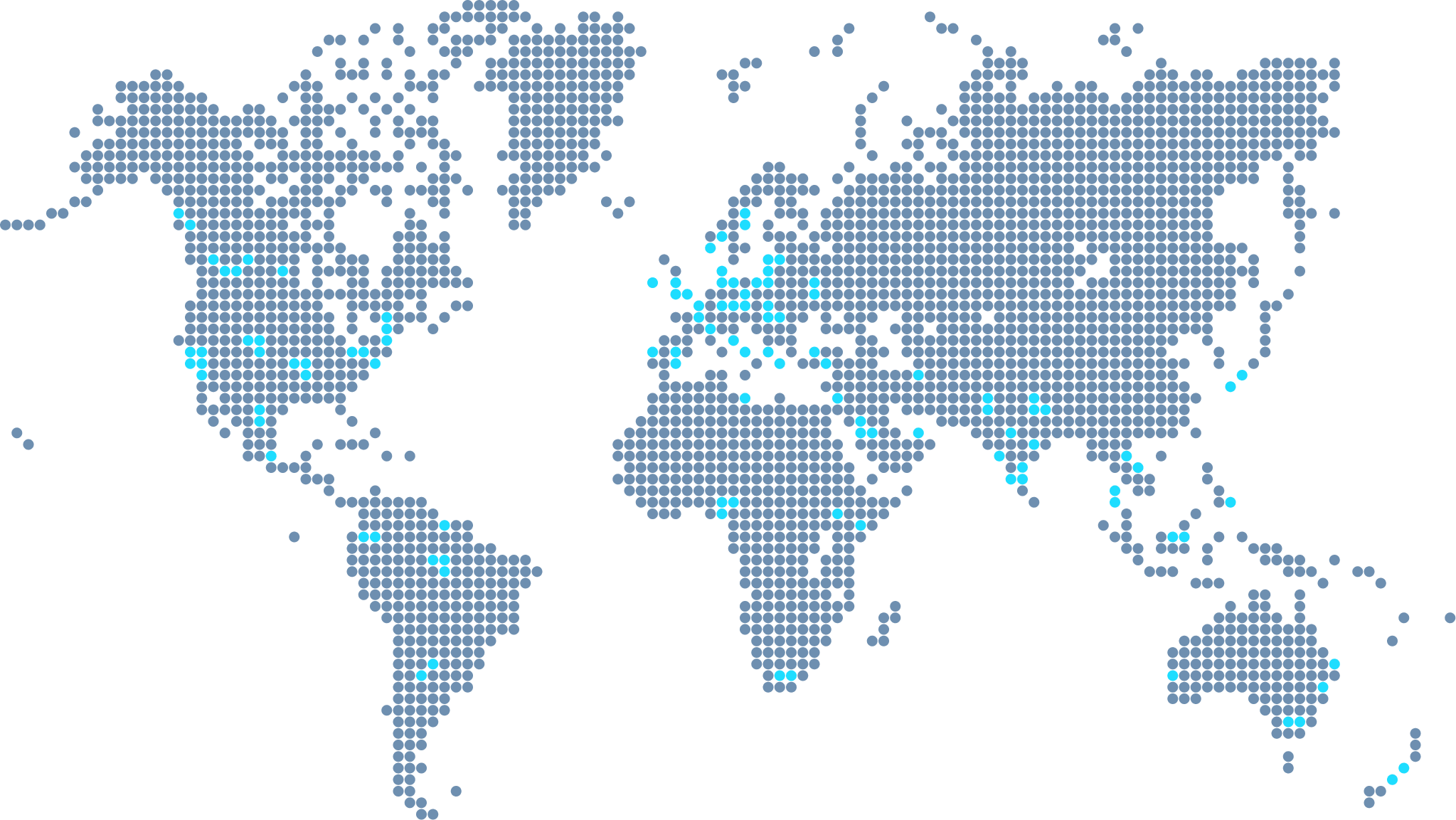 Join 1200+ companies in 75+ countries.
Try the most candidate friendly skills assessment tool today.

Ready to use the Adaface SAP HANA Online Test?
Ready to use the Adaface SAP HANA Online Test?