About the test:
The Excel test uses scenario-based MCQ questions to evaluate a candidate's ability to work with large datasets in Excel, navigate multiple spreadsheets, use advanced formulas and create reports. The test screens for the ability to sort/filter data, analyze data using PivotTables, create dashboards using charts, provide forms for user inputs, and record/ modify/ write macros.
Covered skills:
Basic formulas (MATCH; INDEX)
Advanced formulas (IF; VLOOKUP; HLOOKUP)
Math formulas (SUM; MIN; AVG)
Data types
See all covered skills
9 reasons why
9 reasons why
Adaface Excel Test is the most accurate way to shortlist Data Analysts
Reason #1
Tests for on-the-job skills
Microsoft Excel在线评估测试由行业专家设计和验证,以帮助招聘人员和雇用经理评估候选人的Excel技能。
Excel测试筛选候选人的招聘经理在候选人中寻找的以下技能:
诸如总和,索引,ifError vs if + iseror,间接和偏移等公式的使用情况
使用与匹配的Vookup这样的查找公式
细胞和范围对象的高级用法
使用枢轴表和枢轴图表利用数据
添加过滤器以报告菜单以缩小记录
使用Excel功能创建强大的计算
使用相对,绝对和混合参考
使用分类,小计和过滤等数据工具
使用图表和图表表示表格数据
数据清理和转换(删除重复项,换台,冻结)
与宏自动化
处理错误
3-DATA合并
数据清洁的组合技术
Reason #2
No trick questions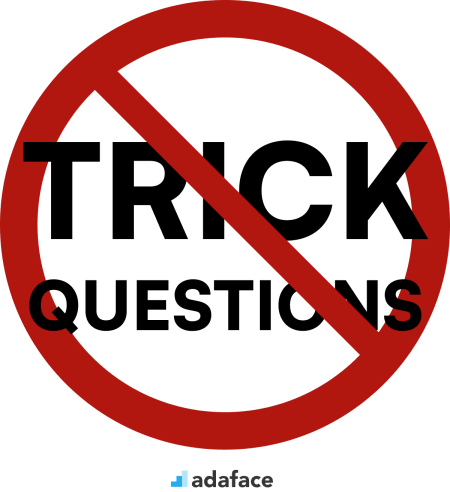 Traditional assessment tools use trick questions and puzzles for the screening, which creates a lot of frustration among candidates about having to go through irrelevant screening assessments.
The main reason we started Adaface is that traditional pre-employment assessment platforms are not a fair way for companies to evaluate candidates. At Adaface, our mission is to help companies find great candidates by assessing on-the-job skills required for a role.
Why we started Adaface ->
Reason #3
Non-googleable questions
We have a very high focus on the quality of questions that test for on-the-job skills. Every question is non-googleable and we have a very high bar for the level of subject matter experts we onboard to create these questions. We have crawlers to check if any of the questions are leaked online. If/ when a question gets leaked, we get an alert. We change the question for you & let you know.
These are just a small sample from our library of 10,000+ questions. The actual questions on this Excel Test will be non-googleable.
🧐 Question

Medium

MATCH INDEX LOOKUP

Solve

Medium

Organization data

Solve

Medium

Student scores

Solve

Medium

VLOOKUP blood donor

Solve
🧐 Question
🔧 Skill

Medium

MATCH INDEX LOOKUP

2 mins

Excel

Solve

Medium

Organization data

3 mins

Excel

Solve

Medium

Student scores

2 mins

Excel

Solve

Medium

VLOOKUP blood donor

2 mins

Excel

Solve
| | 🧐 Question | 🔧 Skill | 💪 Difficulty | ⌛ Time | |
| --- | --- | --- | --- | --- | --- |
| | MATCH INDEX LOOKUP | Excel | Medium | 2 mins | Solve |
| | Organization data | Excel | Medium | 3 mins | Solve |
| | Student scores | Excel | Medium | 2 mins | Solve |
| | VLOOKUP blood donor | Excel | Medium | 2 mins | Solve |
Reason #4
1200+ customers in 75 countries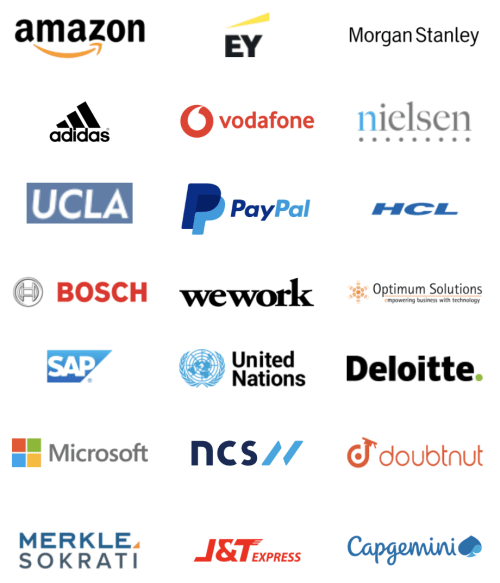 With Adaface, we were able to optimise our initial screening process by upwards of 75%, freeing up precious time for both hiring managers and our talent acquisition team alike!
Brandon Lee, Head of People, Love, Bonito
Reason #5
Designed for elimination, not selection
The most important thing while implementing the pre-employment Excel Test in your hiring process is that it is an elimination tool, not a selection tool. In other words: you want to use the test to eliminate the candidates who do poorly on the test, not to select the candidates who come out at the top. While they are super valuable, pre-employment tests do not paint the entire picture of a candidate's abilities, knowledge, and motivations. Multiple easy questions are more predictive of a candidate's ability than fewer hard questions. Harder questions are often "trick" based questions, which do not provide any meaningful signal about the candidate's skillset.
Reason #6
1 click candidate invites
Email invites: You can send candidates an email invite to the Excel Test from your dashboard by entering their email address.
Public link: You can create a public link for each test that you can share with candidates.
API or integrations: You can invite candidates directly from your ATS by using our pre-built integrations with popular ATS systems or building a custom integration with your in-house ATS.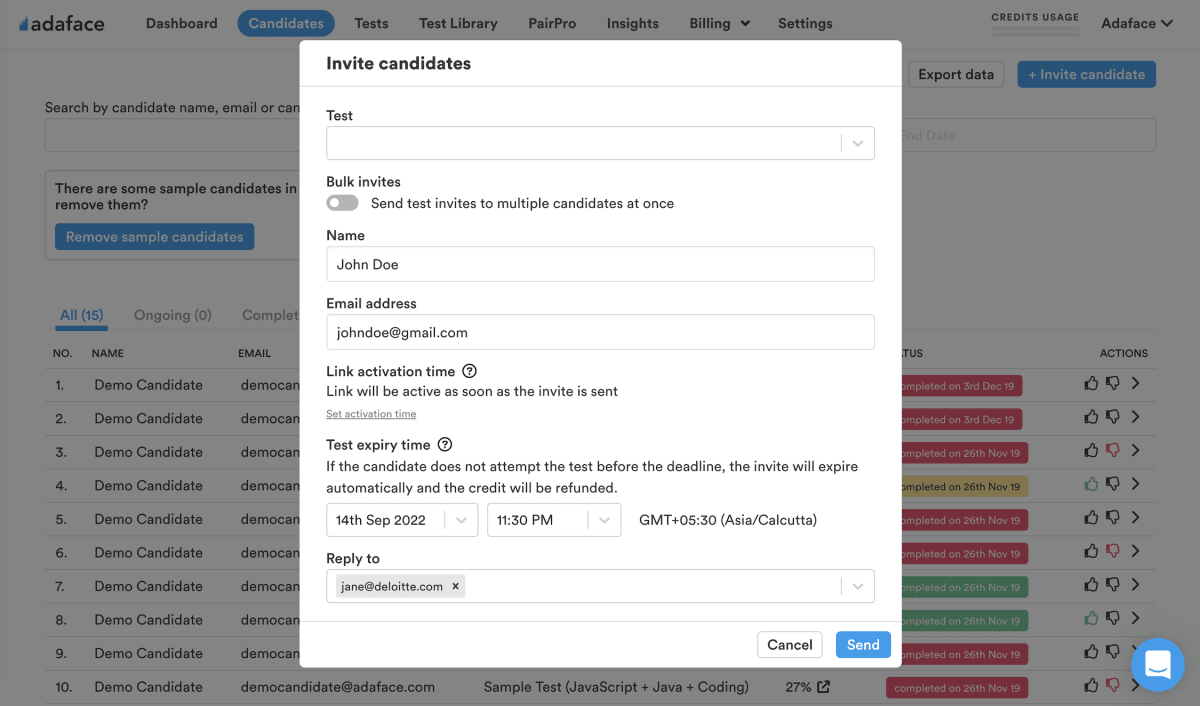 Reason #8
High completion rate
Adaface tests are conversational, low-stress, and take just 25-40 mins to complete.
This is why Adaface has the highest test-completion rate (86%), which is more than 2x better than traditional assessments.

Reason #9
Advanced Proctoring
这些问题将基于Advanced Excel主题:
关于计算自动总和,计数,百分比和生成分组数据标题的枢轴表技巧
使用变量类型:常数,静态,模块级,公共,私人,"选项私有模块"等
搜索具有高级模式匹配和比较的单元格和字符串,例如操作员和仪器功能
建立预测的损益表,资产负债表和现金流量
使用日期和时间数学函数来计算持续时间,长度和间隔
使用工作表和表单控件触发宏(按钮,形状,下拉列表,列表框,单击操作)
使用BYREF和BYVAL方法将数据从一个宏发送到另一个宏
预测和干扰的统计功能
创建自定义功能
连接到外部数据
创建财务模型
编程修改工作表
随机数生成器
What roles can I use the Excel Test for?
Data Analyst
Senior Data Analyst
Data Entry (Excel)
Business Analyst
Accountant
Financial Analyst
Senior Financial Analyst
What topics are covered in the Excel Test?

The hiring managers felt that through the technical questions that they asked during the panel interviews, they were able to tell which candidates had better scores, and differentiated with those who did not score as well. They are highly satisfied with the quality of candidates shortlisted with the Adaface screening.
reduction in screening time
Excel Test FAQs
是的,一点没错。自定义评估是根据您的职位描述进行的,并将包括有关您指定的所有必备技能的问题。
要记住的主要问题是评估是消除工具,而不是选择工具。优化了技能评估,以帮助您消除在技术上没有资格担任该角色的候选人,它没有进行优化以帮助您找到该角色的最佳候选人。因此,使用评估的理想方法是确定阈值分数(通常为55%,我们为您提供基准测试),并邀请所有在下一轮面试中得分高于门槛的候选人。
每个ADAFACE评估都是为您的职位描述/理想候选角色定制的(我们的主题专家将从我们的10000多个问题的图书馆中选择正确的问题)。可以为任何经验级别定制此评估。
Ready to use the Adaface Excel Test?
Ready to use the Adaface Excel Test?