About the test:
The HTML/ CSS test evaluates a candidate's ability to create web pages and style them using CSS. Using scenario-based MCQ questions, it evaluates knowledge of HTML (DOM, tags, forms, tables etc.) and critical CSS concepts (box model, positioning, styling, Flexbox, Grid etc.) and the ability to build responsive layouts. The test also includes simple coding questions to evaluate hands-on programming knowledge.
Covered skills:
Core HTML tags
Core CSS (box model; inheritance; specificity)
Handling HTML forms
Styling HTML elements with CSS
See all covered skills
9 reasons why
9 reasons why
Adaface HTML/ CSS Online Test is the most accurate way to shortlist Web Developers
Reason #1
Tests for on-the-job skills
HTML/ CSS Online Assessment Test is ontworpen en gevalideerd door experts uit de industrie om technische recruiters te helpen en managers inhuren om de HTML/ CSS -programmeervaardigheden van de kandidaat te beoordelen. Toptechnologiebedrijven gebruiken onze HTML/ CSS -programmeertest om de screeningstijd van kandidaten met 85%te verminderen.
De test zorgt ervoor dat kandidaten de volgende eigenschappen hebben:
Kennis van Core HTML -tags en CSS -eigenschappen
Mogelijkheid om responsieve HTML te creëren met moderne lay-outs-roosters, flexbox
Kennis van hoe CSS achter de schermen werkt
Styling HTML -elementen met CSS om dichter bij de ontwerpmockups te komen
Afhandeling van afbeeldingen, lettertypen, video's in HTML
Het maken van leesbare en schaalbare HTML- en CSS -code
Inzicht in JS Dom -manipulatie
Hands-on JavaScript-programmeertaal
Reason #2
No trick questions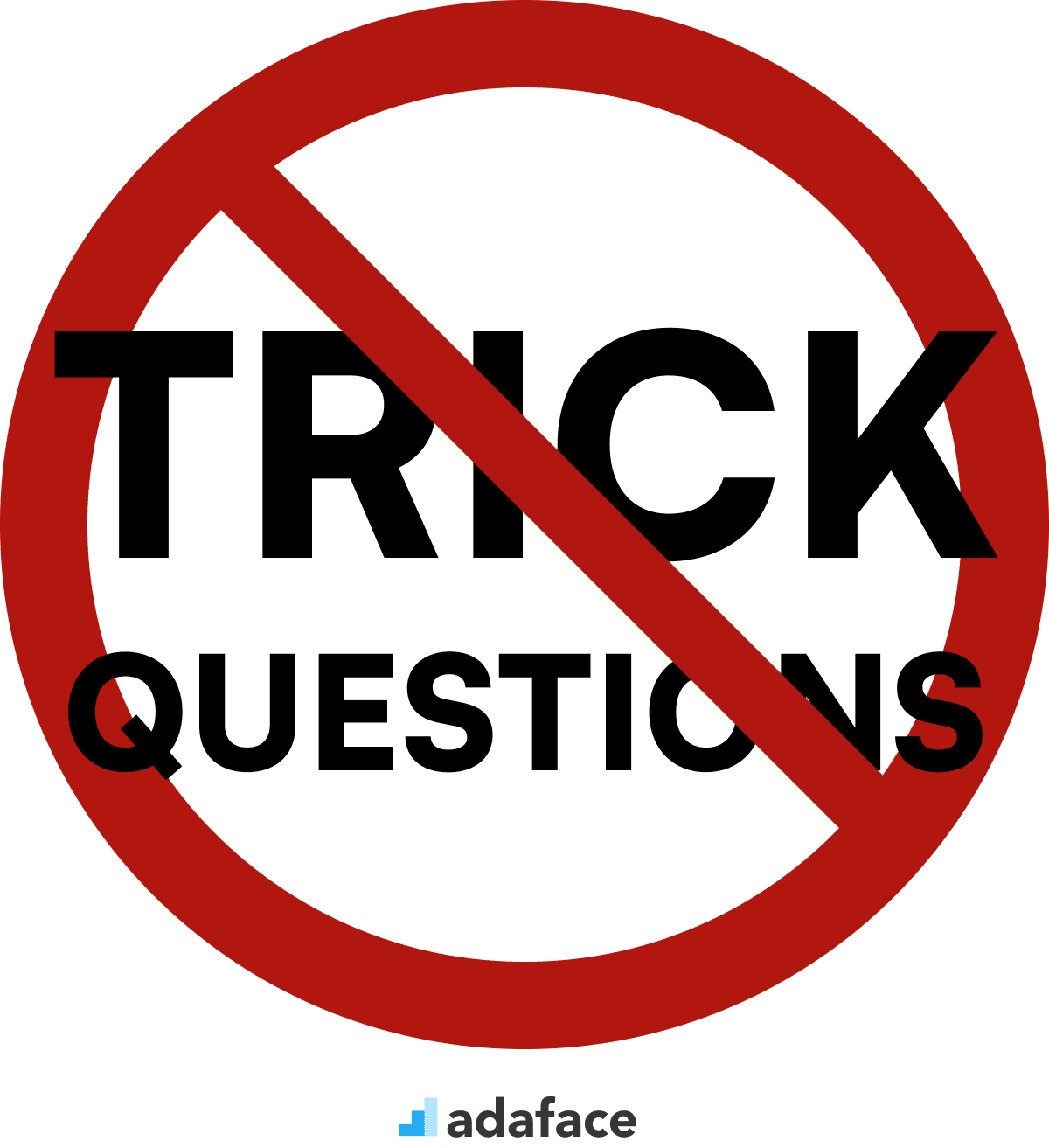 Traditional assessment tools use trick questions and puzzles for the screening, which creates a lot of frustration among candidates about having to go through irrelevant screening assessments.
The main reason we started Adaface is that traditional pre-employment assessment platforms are not a fair way for companies to evaluate candidates. At Adaface, our mission is to help companies find great candidates by assessing on-the-job skills required for a role.
Why we started Adaface ->
Reason #3
Non-googleable questions
We have a very high focus on the quality of questions that test for on-the-job skills. Every question is non-googleable and we have a very high bar for the level of subject matter experts we onboard to create these questions. We have crawlers to check if any of the questions are leaked online. If/ when a question gets leaked, we get an alert. We change the question for you & let you know.
These are just a small sample from our library of 10,000+ questions. The actual questions on this HTML/CSS Online Test will be non-googleable.
🧐 Question

Medium

Background Properties

Solve

Easy

Colorful sentences

Solve

Medium

Links

Solve

Medium

Let's Hack

Solve

Easy

Registration Queue

Solve

Medium

Longest Road

Solve

Medium

Visitors Count

Solve
🧐 Question
🔧 Skill

Medium

Background Properties

2 mins

HTML/CSS

Solve

Easy

Colorful sentences

2 mins

HTML/CSS

Solve

Medium

Links

2 mins

HTML/CSS

Solve

Medium

Let's Hack

3 mins

HTML/CSS

Solve

Easy

Registration Queue

30 mins

Coding

Solve

Medium

Longest Road

25 mins

Coding

Solve

Medium

Visitors Count

30 mins

Coding

Solve
| | 🧐 Question | 🔧 Skill | 💪 Difficulty | ⌛ Time | |
| --- | --- | --- | --- | --- | --- |
| | Background Properties | HTML/CSS | Medium | 2 mins | Solve |
| | Colorful sentences | HTML/CSS | Easy | 2 mins | Solve |
| | Links | HTML/CSS | Medium | 2 mins | Solve |
| | Let's Hack | HTML/CSS | Medium | 3 mins | Solve |
| | Registration Queue | Coding | Easy | 30 mins | Solve |
| | Longest Road | Coding | Medium | 25 mins | Solve |
| | Visitors Count | Coding | Medium | 30 mins | Solve |
Reason #4
1200+ customers in 75 countries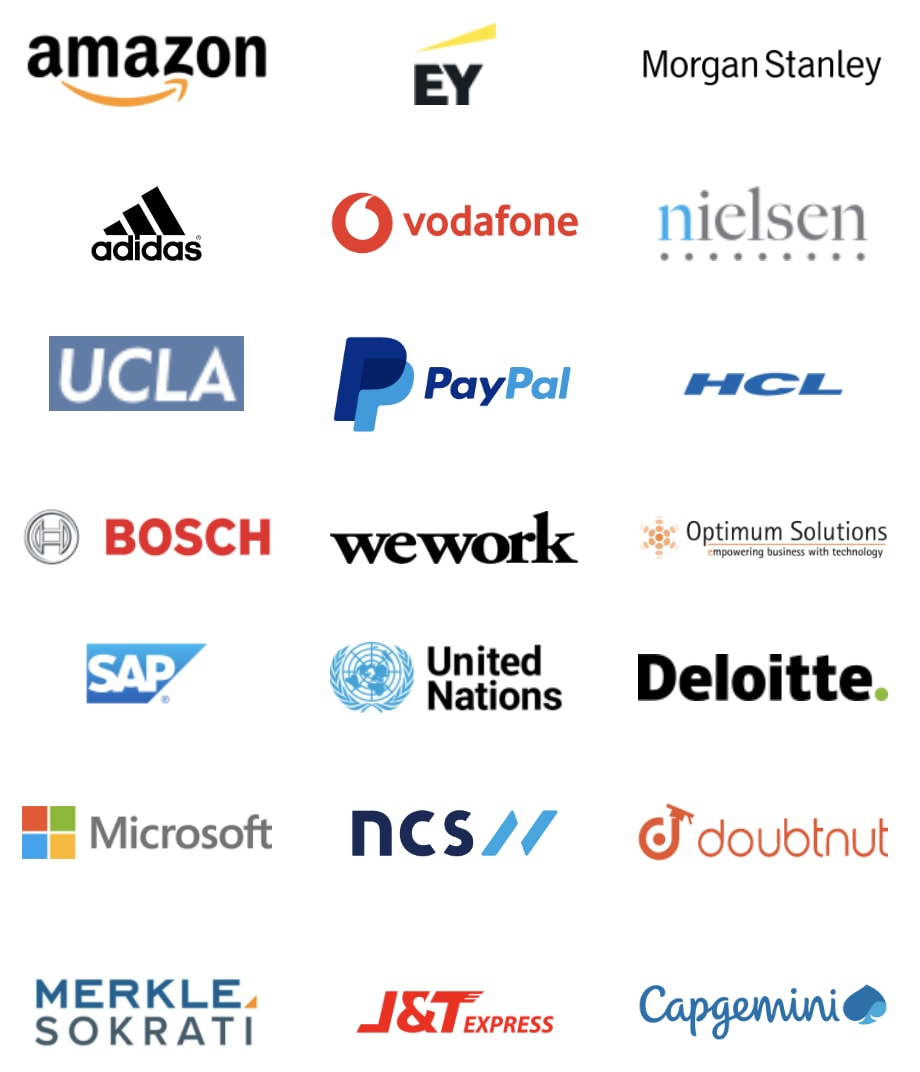 With Adaface, we were able to optimise our initial screening process by upwards of 75%, freeing up precious time for both hiring managers and our talent acquisition team alike!
Brandon Lee, Head of People, Love, Bonito
Reason #5
Designed for elimination, not selection
The most important thing while implementing the pre-employment HTML/CSS Online Test in your hiring process is that it is an elimination tool, not a selection tool. In other words: you want to use the test to eliminate the candidates who do poorly on the test, not to select the candidates who come out at the top. While they are super valuable, pre-employment tests do not paint the entire picture of a candidate's abilities, knowledge, and motivations. Multiple easy questions are more predictive of a candidate's ability than fewer hard questions. Harder questions are often "trick" based questions, which do not provide any meaningful signal about the candidate's skillset.
Reason #6
1 click candidate invites
Email invites: You can send candidates an email invite to the HTML/CSS Online Test from your dashboard by entering their email address.
Public link: You can create a public link for each test that you can share with candidates.
API or integrations: You can invite candidates directly from your ATS by using our pre-built integrations with popular ATS systems or building a custom integration with your in-house ATS.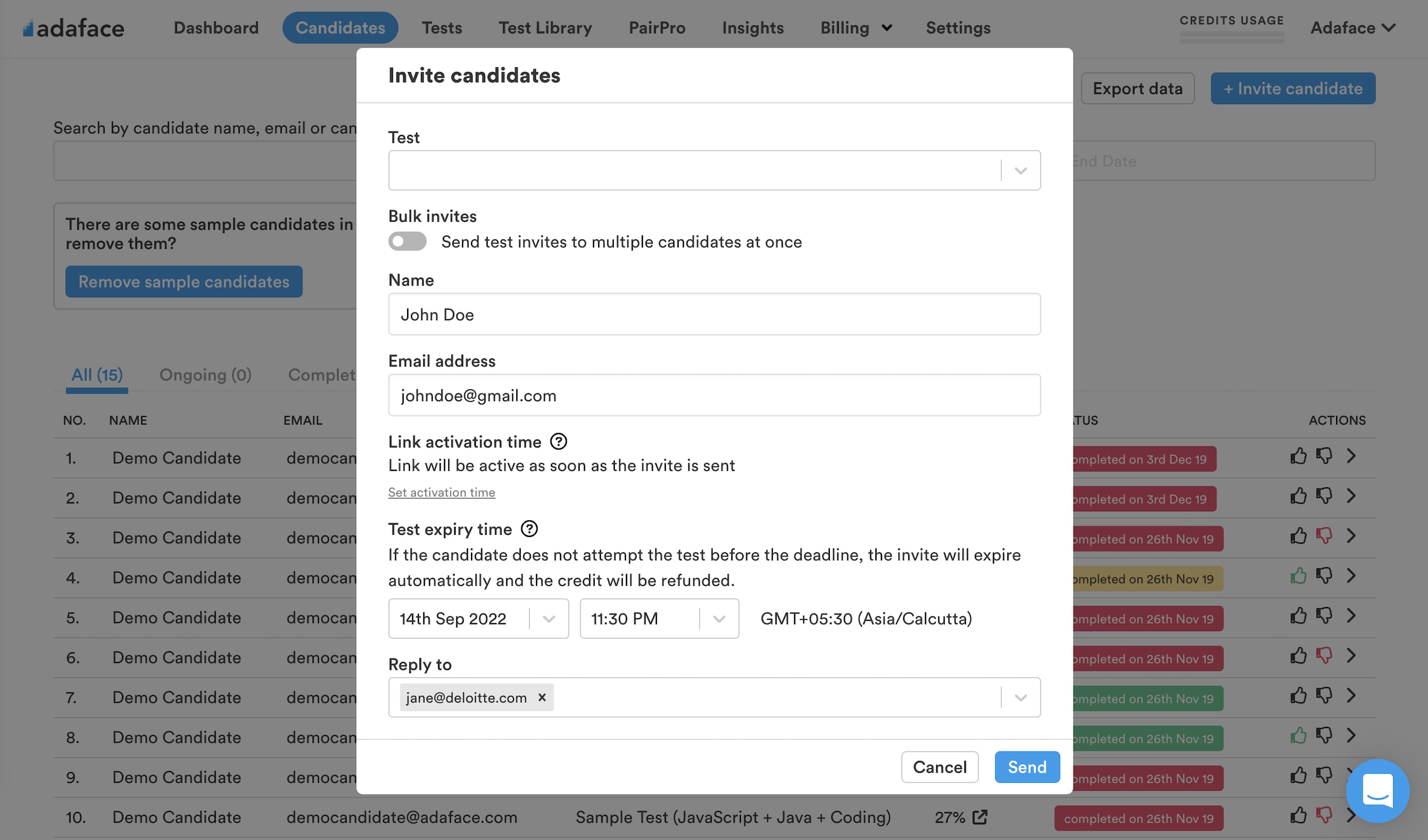 Reason #8
High completion rate
Adaface tests are conversational, low-stress, and take just 25-40 mins to complete.
This is why Adaface has the highest test-completion rate (86%), which is more than 2x better than traditional assessments.

Reason #9
Advanced Proctoring
Hoe pas je de test aan voor senior frontend -ontwikkelaars aan?
De vragen voor senior ontwikkelaars zullen geavanceerde onderwerpen met zich meebrengen en zullen van hoger moeilijkheidsgraden zijn. Hier zijn weinig onderwerpen waarop de vragen zullen worden gebaseerd voor intermediaire en ervaren webontwikkelaars:
Diepgaande kennis van hoe CSS achter de schermen werkt: de cascade, specificiteit, overerving, waardeverwerking, het visuele opmaakmodel, het boxmodel, boxtypen, positioneringsschema's en stapelcontexten
Responsieve afbeeldingen in HTML- en CSS voor snellere pagina -laden: resolutie schakelen, dichtheidsschakelen, kunstrichting;
DOM -manipulatie met behulp van JS
Geavanceerde CSS-selectors, pseudo-klassen en pseudo-elementen
Geavanceerde CSS -animaties met @KeyFrames, animatie en overgang
JS-gebaseerde animaties
SVG -afbeeldingen in HTML en CSS: hoe en waarom om SVG te gebruiken, SVG -sprites genereren, SVG -kleuren veranderen in CSS en best practices;
Advanced Responsive Design: Media Queries, Mobile-First vs Desktop-First, EM vs REM-eenheden, vloeistofroosters, lay-outtypen, flexibele afbeeldingen, met behulp van media-query's om te testen op verschillende schermbreedtes, pixeldichtheden en aanraakmogelijkheden
Moderne CSS-technieken om verbluffende ontwerpen te creëren: clip-path, achtergrond-clip, masker-beeld, achtergrondmengmodus, vorm-outside, filter, achtergrondfilter, object-fit, transformatie, kolom-count, koppeltekens, perspectief , calc () en aangepaste CSS -eigenschappen;
Bovendien zullen de coderingsvragen die worden gebruikt om JavaScript -vaardigheden te evalueren van hoger moeilijkheidsgraad.
What roles can I use the HTML/CSS Online Test for?
Web Developer
Frontend Software Developer
Senior HTML Web Developer
Front-end Developer
Software Engineer (HTML/ CSS)
Senior Frontend Developer
Web Designer
What topics are covered in the HTML/ CSS Online Test?

The hiring managers felt that through the technical questions that they asked during the panel interviews, they were able to tell which candidates had better scores, and differentiated with those who did not score as well. They are highly satisfied with the quality of candidates shortlisted with the Adaface screening.
Vermindering van de screeningstijd
HTML/CSS Online Test FAQs
Over HTML/ CSS -functie -rollen
HTML (HyperText Markup Language) is de meest elementaire bouwsteen van het web. Het definieert de betekenis en structuur van webinhoud. Andere technologieën naast HTML worden over het algemeen gebruikt om het uiterlijk/presentatie van een webpagina (CSS) of functionaliteit/gedrag (JavaScript) te beschrijven.
HTML-ontwikkelaars zijn verantwoordelijk voor de volledige end-to-end codering van websites. Ze bieden technische ondersteuning aan gebruikers, directe projecten, codewebsites, ontwikkelen webgebaseerde applicaties en voeren testen uit op websites. Ze werken met andere codeerders, ontwerpers en inhoudontwikkelaars, wat betekent dat communicatievaardigheden belangrijk zijn. HTML -ontwikkelaars moeten in staat zijn om ontwerpen in code te vertalen en technische documentatie te schrijven.
CSS -ontwikkelaars zijn webprofessionals wiens primaire verantwoordelijkheid is om een ​​gepolijst en gestileerd product te leveren aan de browser van een gebruiker. Bijna elke website gebruikt CSS. De meeste frontend of zelfs full-stack ontwikkelaars kunnen de CSS-code schrijven. Maar ze kunnen niet allemaal elke CSS -bug repareren of ontwerpen implementeren zonder HTML -code te convolueren of onnodig op JavaScript te vertrouwen.
De verantwoordelijkheden van een HTML/ CSS -ontwikkelaar zouden meestal omvatten:
-Vertaling van designer mock-ups en draadframes in front-end code -front-end integratie met een back-end framework
Optimaliseer de toepassing voor maximale snelheid en schaalbaarheid
Zorg ervoor dat alle gebruikersinvoer is gevalideerd voordat u zich indient naar back-end
Bouw herbruikbare code en bibliotheken voor toekomstig gebruik
Integreer gegevens van verschillende back-end services en databases
Samenwerken met webontwerpers om overeen te komen met visuele ontwerpintentie
Kan ik JavaScript evalueren samen met HTML/ CSS?
Ja. We ondersteunen het evalueren van JavaScript en HTML/ CSS in dezelfde beoordeling. U kunt onze standaard Ready-To-Go JavaScript, HTML/CSS bekijken om te begrijpen hoe de beoordeling zou worden ontworpen. Voor aangepaste beoordelingen ontwerpen we de vragen volgens uw functiebeschrijving en de laatste test zal JavaScript, HTML/ CSS en coderingsvaardigheden samen evalueren.
Kan ik frontend frameworks evalueren, samen met HTML/ CSS zoals React/ Angular/ Vue?
Ja. U kunt meerdere vaardigheden evalueren in één beoordeling. U kunt onze standaard [react] controleren (https://www.adaface.com/assessment-test/reactjs-test-online-assessment), [angular](https://www.adaface.com/assessment-test/ AngularJS-test), vue beoordelingen om een ​​idee te krijgen van welke vragen zouden worden gesteld. U kunt een aangepaste beoordeling ontvangen die vragen heeft om alle must-have vaardigheden van uw functiebeschrijving te evalueren. Dus voor een standaard REACT -ontwikkelaarsrol, zal de test vragen hebben om React, JavaScript, HTML/ CSS en coderingsvaardigheden te evalueren.
Kan ik meerdere vaardigheden combineren in één aangepaste beoordeling?
Ja absoluut. Aangepaste beoordelingen zijn opgezet op basis van uw functiebeschrijving en bevatten vragen over alle must-have vaardigheden die u opgeeft.
Heeft u functies tegen latere of proctoring op hun plaats?
We hebben de volgende anti-cheating-functies op zijn plaats:
Niet-googelbare vragen
IP Proctoring
Web Proctoring
Webcam Proctoring
Plagiaatdetectie
Beveilig browser
Lees meer over de Proctoring -functies.
Hoe interpreteer ik testscores?
Het belangrijkste om in gedachten te houden is dat een beoordeling een eliminatietool is, geen selectietool. Een vaardighedenbeoordeling is geoptimaliseerd om u te helpen kandidaten te elimineren die niet technisch gekwalificeerd zijn voor de rol, het is niet geoptimaliseerd om u te helpen de beste kandidaat voor de rol te vinden. Dus de ideale manier om een ​​beoordeling te gebruiken is om een ​​drempelscore te bepalen (meestal 55%, wij helpen u benchmark) en alle kandidaten uit te nodigen die boven de drempel scoren voor de volgende interviewrondes.
Voor welk ervaringsniveau kan ik deze test gebruiken?
Elke ADAFACE -beoordeling is aangepast aan uw functiebeschrijving/ ideale kandidaatpersonage (onze experts van het onderwerp zullen de juiste vragen kiezen voor uw beoordeling uit onze bibliotheek van 10000+ vragen). Deze beoordeling kan worden aangepast voor elk ervaringsniveau.
Krijgt elke kandidaat dezelfde vragen?
Ja, het maakt het veel gemakkelijker voor u om kandidaten te vergelijken. Opties voor MCQ -vragen en de volgorde van vragen worden gerandomiseerd. We hebben anti-cheating/proctoring functies. In ons bedrijfsplan hebben we ook de optie om meerdere versies van dezelfde beoordeling te maken met vragen over vergelijkbare moeilijkheidsniveaus.
Ik ben een kandidaat. Kan ik een oefentest proberen?
Nee. Helaas ondersteunen we op dit moment geen oefentests. U kunt echter onze voorbeeldvragen gebruiken voor praktijk.
Wat zijn de kosten van het gebruik van deze test?
Kan ik een gratis proefperiode krijgen?
Ik ben net naar een betaald plan verhuisd. Hoe kan ik een aangepaste beoordeling aanvragen?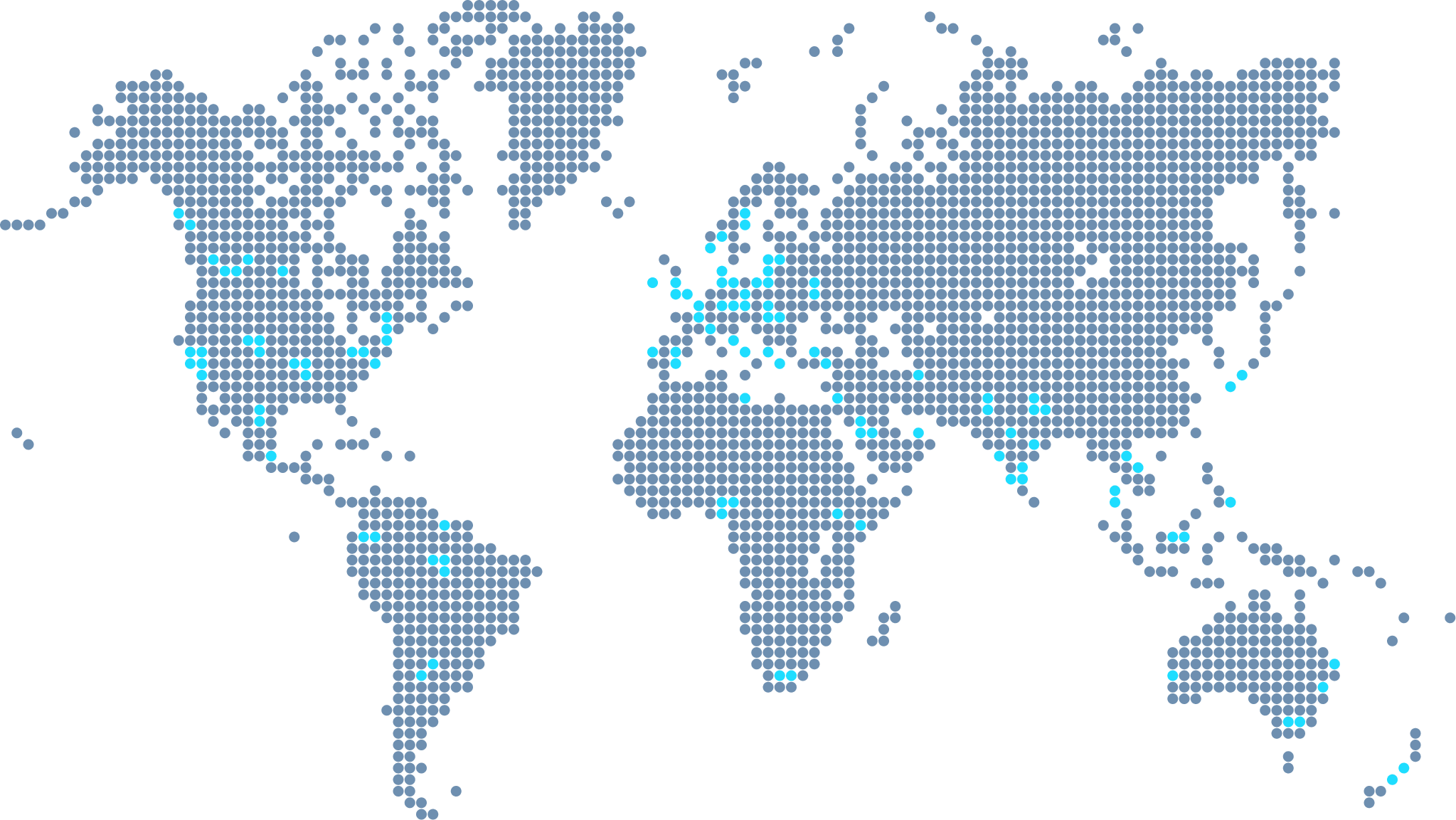 Join 1200+ companies in 75+ countries.
Probeer vandaag de meest kandidaatvriendelijke vaardighedenbeoordelingstool.

Ready to use the Adaface HTML/CSS Online Test?
Ready to use the Adaface HTML/CSS Online Test?