About the test:
The ETL assessment test evaluates a candidate's ability to identify tools used for extracting the data, merge extracted data logically or physically, define transformations to apply to source data to make the data contextual and outline methods for loading data into the destination system.
Covered skills:
Automate ETL jobs
Data Warehouse Architecture
Data Pipelines
Data Warehouse Layers
See all covered skills
Availability
Available on request
9 reasons why
9 reasons why
Adaface ETL Assessment Test is the most accurate way to shortlist ETL Developers
Reason #1
Tests for on-the-job skills
(Extract, Transform og Load) ETL Online Test hjælper rekrutterere og ansættelsesledere med at identificere kvalificerede kandidater fra en pulje af CV og hjælper med at tage objektive ansættelsesbeslutninger. Det reducerer den administrative omkostning ved at interviewe for mange kandidater og sparer tid ved at filtrere ukvalificerede kandidater.
ADAFACE ETL online testskærme kandidater til de typiske færdigheder Rekrutterere ser efter ETL -udviklerroller:
Identificering af metoder og værktøjer, der bruges til at udtrække dataene, fusionere dataene logisk eller fysisk og importere data til datalagre.
Definition af transformationer for at gælde for kildedata for at gøre dataene troværdige, kontekstuelle og tilgængelige for databrugere.
Skitseringsmetoder til indlæsning af data i destinationssystemet, verificering af datakvalitet og overvågning af belastningsfejl.
Brug af gendannelsesmekanismer i tilfælde af fiasko.
Automatisering af ETL -job og datarørledninger ved hjælp af værktøjer som Bash -scripts.
Design af datalagre ved hjælp af stjernekemaer og snefnugskemaer.
Indlæsning og verificering af data i iscenesættelsesområder.
Opbygning af terninger, rollups og materialiserede visninger/tabeller.
Analyse af data i lagre ved hjælp af interaktive rapporter og dashboards ved hjælp af BI -værktøjer.
ETL -udviklertesten er ideel til at hjælpe rekrutterere med at identificere, hvilke kandidater der har evnerne til at gøre godt på jobbet.
Reason #2
No trick questions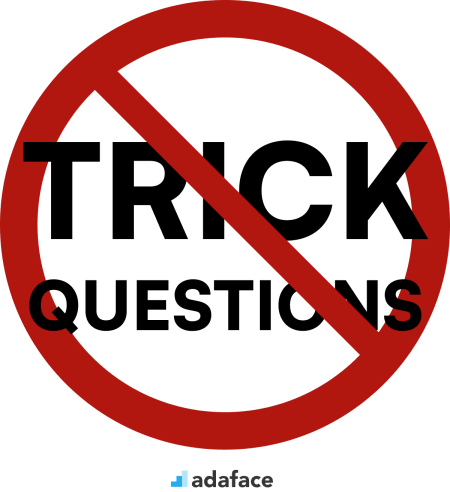 Traditional assessment tools use trick questions and puzzles for the screening, which creates a lot of frustration among candidates about having to go through irrelevant screening assessments.
The main reason we started Adaface is that traditional pre-employment assessment platforms are not a fair way for companies to evaluate candidates. At Adaface, our mission is to help companies find great candidates by assessing on-the-job skills required for a role.
Why we started Adaface ->
Reason #3
Non-googleable questions
We have a very high focus on the quality of questions that test for on-the-job skills. Every question is non-googleable and we have a very high bar for the level of subject matter experts we onboard to create these questions. We have crawlers to check if any of the questions are leaked online. If/ when a question gets leaked, we get an alert. We change the question for you & let you know.
Dette er kun en lille prøve fra vores bibliotek med 10.000+ spørgsmål. De faktiske spørgsmål om dette ETL Assessment Test vil være ikke-gåbart.
🧐 Question

Medium

Data Updates

Solve

Medium

Trade Index

Solve
🧐 Question
🔧 Skill

Medium

Data Updates

2 mins

ETL

Solve

Medium

Trade Index

3 mins

ETL

Solve
| | 🧐 Question | 🔧 Skill | 💪 Difficulty | ⌛ Time | |
| --- | --- | --- | --- | --- | --- |
| | Data Updates | ETL | Medium | 2 mins | Solve |
| | Trade Index | ETL | Medium | 3 mins | Solve |
Reason #4
1200+ customers in 75 countries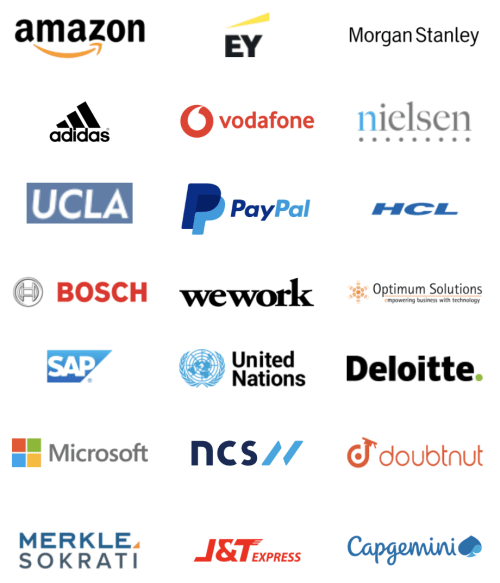 Med Adaface var vi i stand til at optimere vores indledende screeningsproces med op til 75%, hvilket frigør dyrebar tid for både ansættelsesledere og vores talentindsamlingsteam!
Brandon Lee, Leder af mennesker, Love, Bonito
Reason #5
Designed for elimination, not selection
The most important thing while implementing the pre-employment ETL Assessment Test in your hiring process is that it is an elimination tool, not a selection tool. In other words: you want to use the test to eliminate the candidates who do poorly on the test, not to select the candidates who come out at the top. While they are super valuable, pre-employment tests do not paint the entire picture of a candidate's abilities, knowledge, and motivations. Multiple easy questions are more predictive of a candidate's ability than fewer hard questions. Harder questions are often "trick" based questions, which do not provide any meaningful signal about the candidate's skillset.
Reason #6
1 click candidate invites
Email invites: You can send candidates an email invite to the ETL Assessment Test from your dashboard by entering their email address.
Public link: You can create a public link for each test that you can share with candidates.
API or integrations: You can invite candidates directly from your ATS by using our pre-built integrations with popular ATS systems or building a custom integration with your in-house ATS.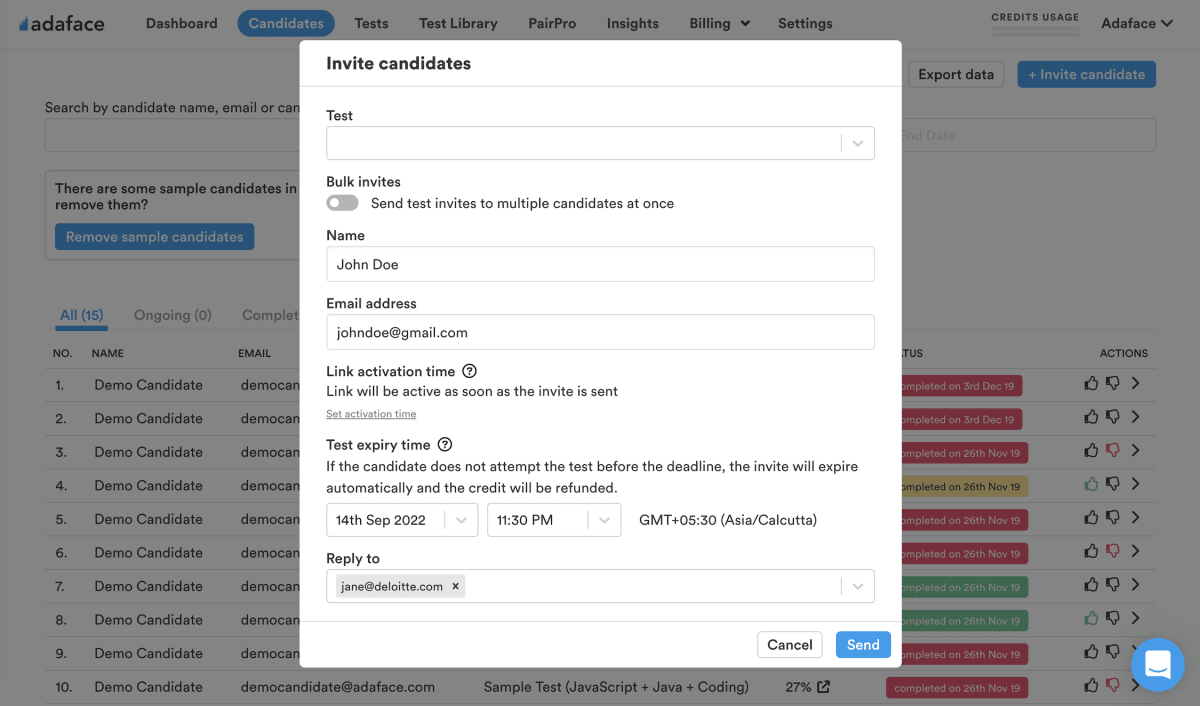 Reason #8
High completion rate
Adaface tests are conversational, low-stress, and take just 25-40 mins to complete.
This is why Adaface has the highest test-completion rate (86%), which is more than 2x better than traditional assessments.

Reason #9
Advanced Proctoring
Hvordan tilpasser du denne test?
Der er tre niveauer af tilpasning, vi udfører til en ETL -vurderingstest baseret på din jobbeskrivelse:
Emner og vanskelighedsniveau for spørgsmålene afgøres baseret på ETL -projekterne, som kandidaten vil arbejde på, når de deltager i rollen
Spørgsmål relateret til sekundære færdigheder, der følger med ETL som SQL/ MS SQL/ PL SQL, Linux, Bash -scripts vil blive tilføjet
Spørgsmål relateret til ETL -værktøjet, der bruges i din virksomhed, tilføjes. For eksempel er Informatica og Talend populære ETL -værktøjer, der bruges af ETL -udviklere
Udtrykket ETL står for ekstrakt, transformation og belastning. Det er en proces, hvor data udvindes og flyttes fra forskellige kilder til et datalager.
E-extract
Data ekstraheres fra kildesystemet i iscenesættelsesområdet. Disse kilder kan være tekstfiler, SQL -servere, regneark eller leverandørdata.
T-transform
Dataene, der er ekstraheret fra den forrige proces, skal renses, kortlægges og transformeres. Dette sker gennem de mange valideringer, der er indstillet til filtrering og rengøring af data.
L-Load
I dette trin indlæses data i Target Warehouse -databasen.
En ETL -udvikler er en IT -specialist, der designer datalagrings- og datalagringssystemer.
Typiske ETL -udvikleransvar inkluderer:
Design, udvikling og vedligeholdelse af datalagringssystemet til ønskede virksomhedsspecifikationer
Sikring af datakvaliteten for de ekstraherede data
Oprettelse af en forbedret dataløsning til den sømløse levering af data
Fejlfindingsproblemer for optimeret dataflow
What roles can I use the ETL Assessment Test for?
ETL Developer
ETL Analyst
Senior ETL Developer
ETL Lead
Senior Engineer (ETL)
Data Stage Developer
Informatica ETL Developer
Data Engineer - ETL
BI Developer
What topics are covered in the ETL Assessment Test?

De ansættelsesledere mente, at de gennem de tekniske spørgsmål, som de stillede under panelinterviewene, kunne fortælle, hvilke kandidater der havde bedre scoringer, og differentierede med dem, der ikke scorede så godt. De er meget tilfreds med kvaliteten af ​​kandidater, der er på listen med Adaface -screeningen.
Reduktion i screeningstid
ETL Online Test FAQs
Kan jeg evaluere andre relevante færdigheder som SQL i den samme test?
Ja. Vi understøtter screening af flere færdigheder i en enkelt test. Du kan gennemgå vores Standard SQL-test for at forstå, hvilken type spørgsmål vi bruger til at evaluere SQL-færdigheder. Når du tilmelder dig enhver plan, kan du anmode om en brugerdefineret vurdering, der tilpasses til din jobbeskrivelse. Den tilpassede vurdering vil omfatte spørgsmål til alle de must-have-færdigheder, der kræves til din ETL-rolle.
Kan jeg kombinere flere færdigheder i en brugerdefineret vurdering?
Ja absolut. Brugerdefinerede vurderinger er oprettet baseret på din jobbeskrivelse og vil omfatte spørgsmål om alle must-have-færdigheder, du angiver.
Har du nogen anti-cheating eller proctoring-funktioner på plads?
Vi har følgende anti-cheating-funktioner på plads:
Ikke-gåbare spørgsmål
IP Proctoring
Webproctoring
Webcam Proctoring
Detektion af plagiering
Sikker browser
Læs mere om Proctoring Features.
Hvordan fortolker jeg testresultater?
Den primære ting at huske på er, at en vurdering er et elimineringsværktøj, ikke et udvælgelsesværktøj. En færdighedsvurdering er optimeret for at hjælpe dig med at eliminere kandidater, der ikke er teknisk kvalificerede til rollen, den er ikke optimeret til at hjælpe dig med at finde den bedste kandidat til rollen. Så den ideelle måde at bruge en vurdering på er at beslutte en tærskelværdi (typisk 55%, vi hjælper dig med benchmark) og inviterer alle kandidater, der scorer over tærsklen for de næste interviewrunder.
Hvilken oplevelsesniveau kan jeg bruge denne test til?
Hver Adaface -vurdering tilpasses til din jobbeskrivelse/ ideel kandidatperson (vores emneeksperter vælger de rigtige spørgsmål til din vurdering fra vores bibliotek på 10000+ spørgsmål). Denne vurdering kan tilpasses til ethvert erfaringsniveau.
Får hver kandidat de samme spørgsmål?
Ja, det gør det meget lettere for dig at sammenligne kandidater. Valgmuligheder for MCQ -spørgsmål og rækkefølgen af ​​spørgsmål randomiseres. Vi har anti-cheating/proctoring funktioner på plads. I vores virksomhedsplan har vi også muligheden for at oprette flere versioner af den samme vurdering med spørgsmål om lignende vanskelighedsniveauer.
Jeg er kandidat. Kan jeg prøve en øvelsestest?
Nej. Desværre understøtter vi ikke praksisforsøg i øjeblikket. Du kan dog bruge vores eksempler på spørgsmål til praksis.
Hvad er omkostningerne ved at bruge denne test?
Kan jeg få en gratis prøve?
Jeg flyttede lige til en betalt plan. Hvordan kan jeg anmode om en brugerdefineret vurdering?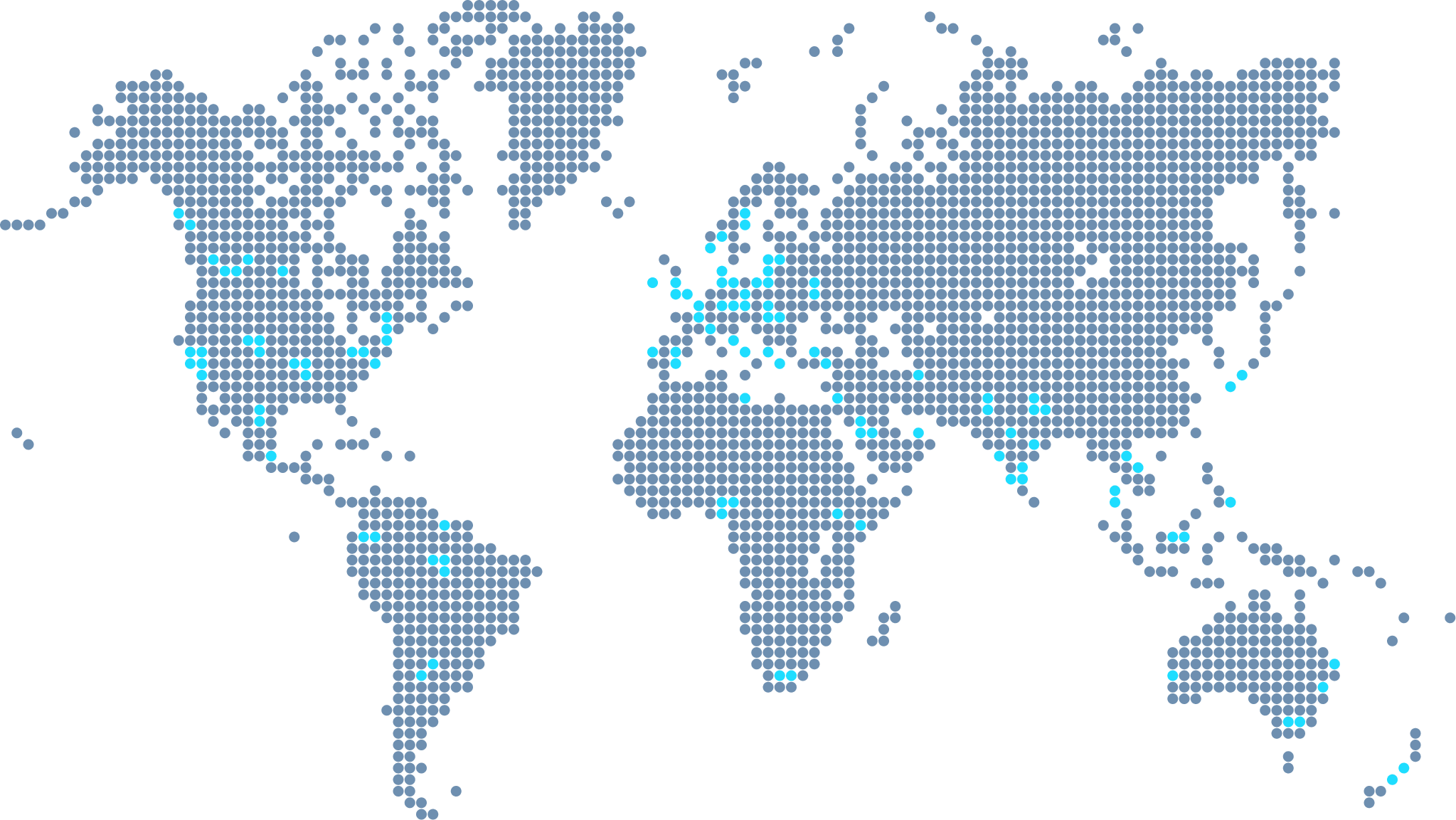 Join 1200+ companies in 75+ countries.
Prøv det mest kandidatvenlige færdighedsvurderingsværktøj i dag.

Ready to use the Adaface ETL Assessment Test?
Ready to use the Adaface ETL Assessment Test?