Key features of Adaface platform
At Adaface, we enable recruiters to hire the best candidates with conversational hiring. We are continuously innovating and shipping new features to help you level up your recruiting game.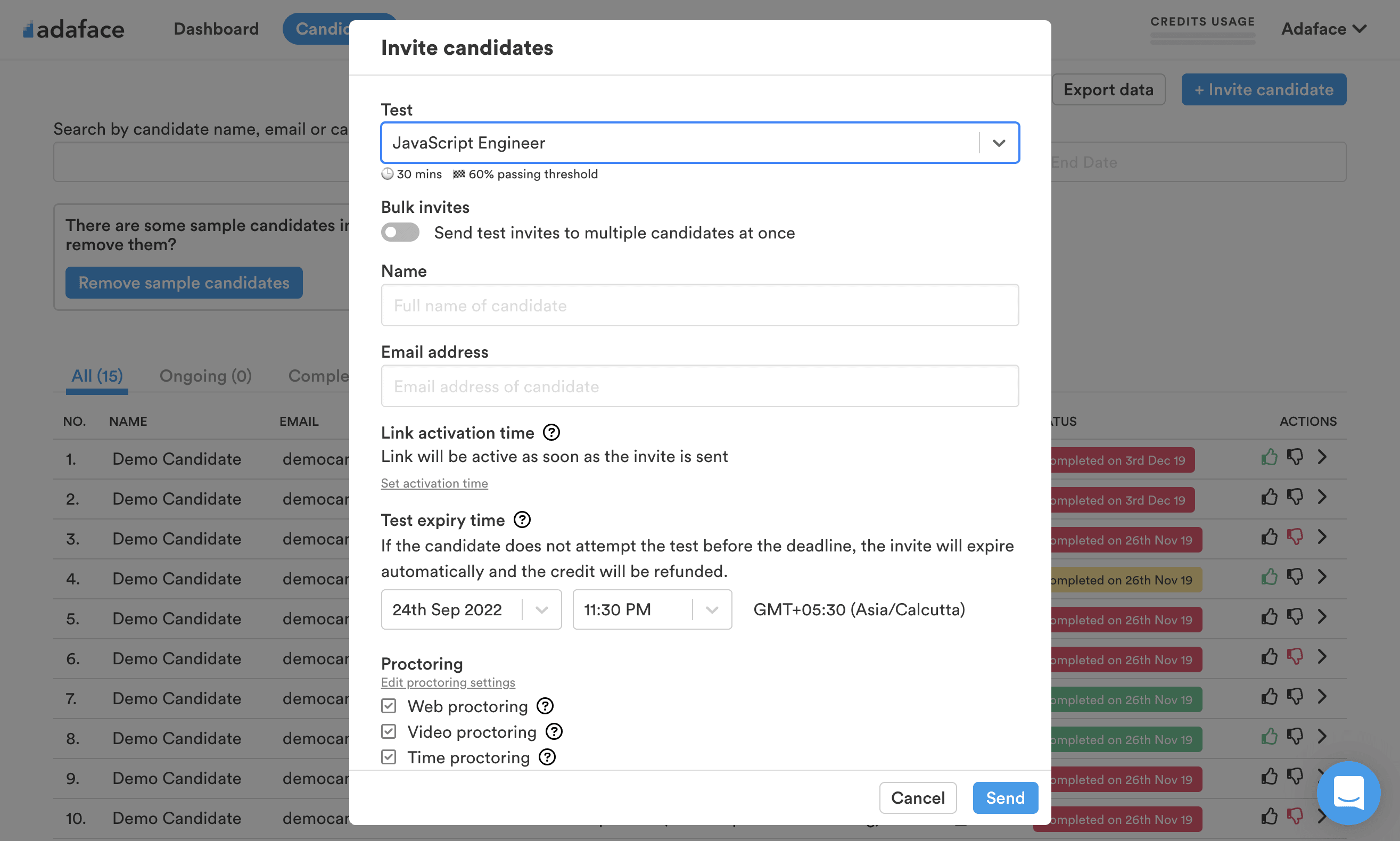 Easy 1-click invites
Send the test to a particular email id from the dashboard or send a public test link directly to your candidates.
The bulk invites feature enables you to invite multiple candidates to the test. You can do this by entering a list of email addresses or uploading a CSV file.
You can embed a public link into the Apply button on your careers page to enable candidates to complete the test, without having to invite them individually.
Learn more
Integrate with your ATS to send test invites with 1-click, directly from your ATS.
Learn more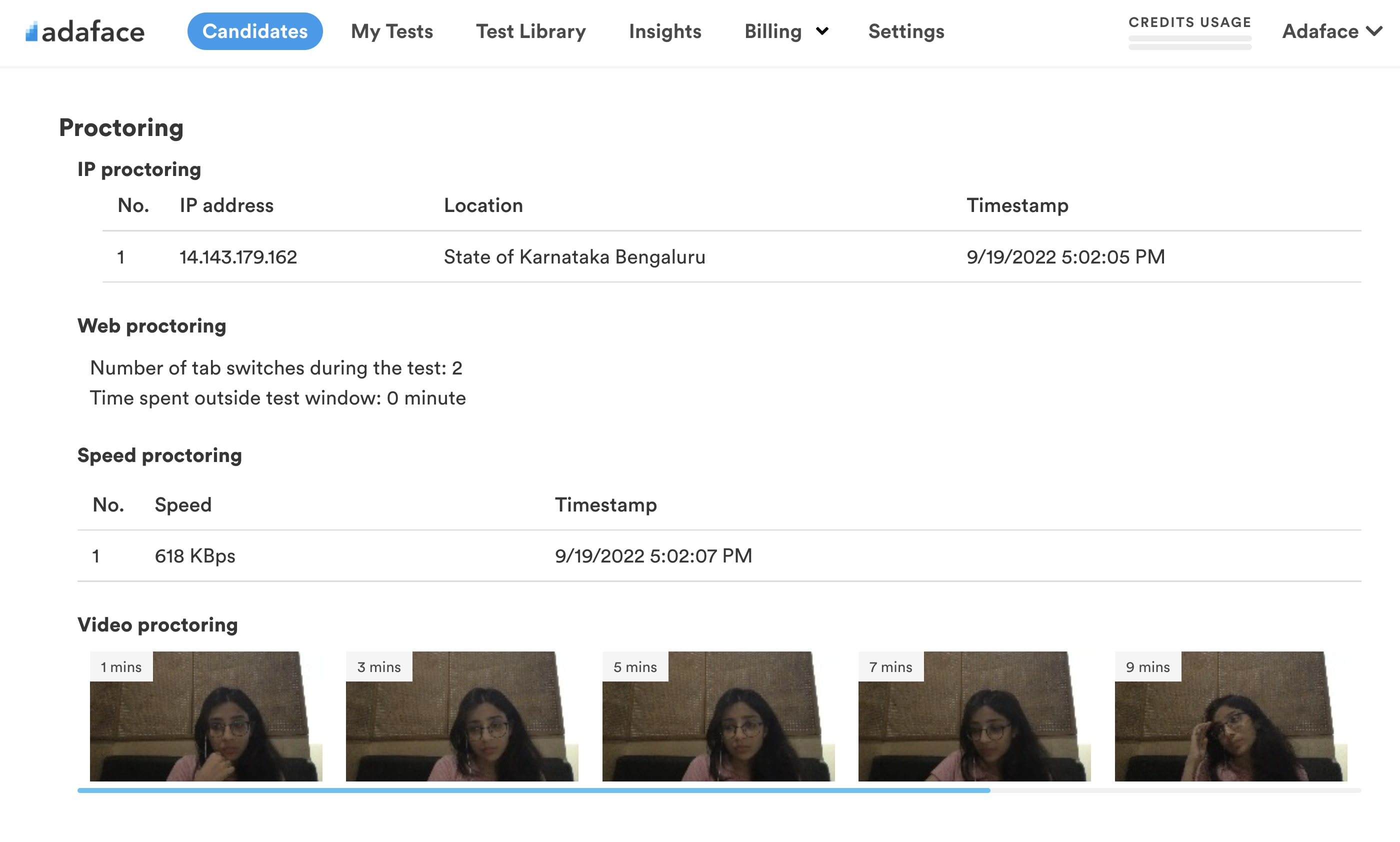 Anti-cheating features
With our anti-cheating & proctoring features, you can rest assured that the assessment is fair for all candidates and the results are accurate.
Learn more
Questions in our library are created in-house and hence the answers are not available online.
Learn more
You can restrict candidates to stay on the Adaface session. They will receive alerts if they switch tabs/ windows.
You can enable webcam proctoring to ensure that candidates can give the assessment only if they enable their webcam properly.
Adaface IP proctoring detection enables you to check if the same assessment was accessed from multiple IP addresses.
Screen share proctoring enables you to monitor candidate activity during the test. Ada will ask candidates to share their entire screen- if they leave the window or open another window, Ada will capture a screenshot in their scorecard for advanced cheating detection.
Every month, we validate if ChatGPT is able to solve Adaface questions. With screen-share proctoring, you can also verify which of your candidates are using ChatGPT to cheat.
Learn more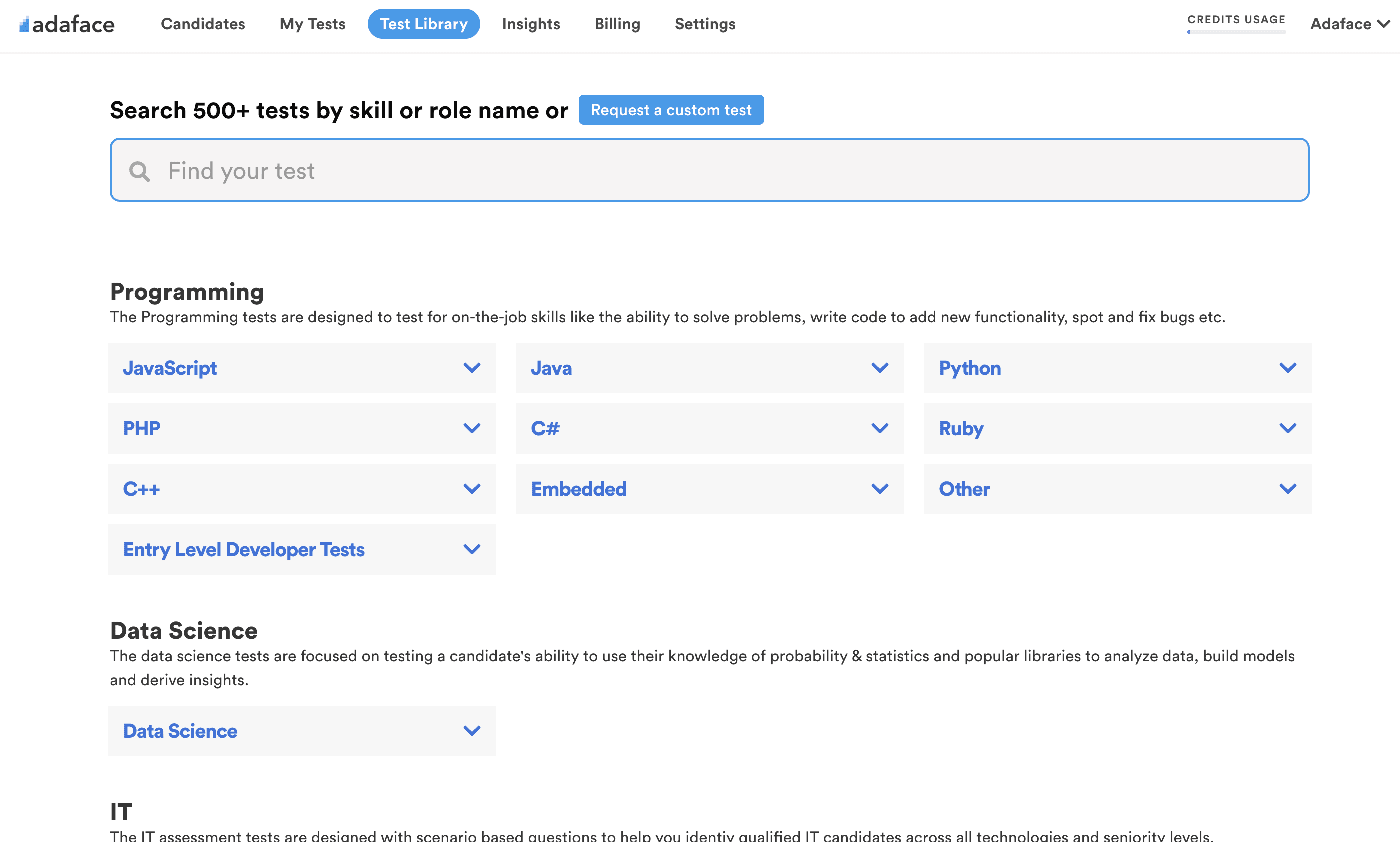 Assessment suite
Complete assessment suite to cater to all your assessment needs for technical and non-technical roles.
Test library
We have 150+ ready-to-use tests for several popular skill combinations (JavaScript, HTML/CSS & React or Excel, Data Interpretation & Numerical Reasoning) that you can start using immediately.
Adaface custom assessments are designed by subject matter experts, in accordance with your job description, seniority level and complexity of the role.
You can also customize an assessment with questions that you or your team have created, directly from your dashboard with our "Add custom question" feature.
Questions in our library are created in-house and hence the answers are not available online.
With the file upload feature, you can allow candidates to upload relevant documents (CV, portfolio etc). You can also ask them for Github/ LinkedIn profiles.
The Adaface code editor is built into the assessment interface with support for all popular programming languages and language documentation.
Candidates are scored in real-time & automatically given a pass/ border-line pass/ fail status based on their performance with a detailed scorecard.
Every scorecard contains a detailed breakdown of the candidate's performance & industry benchmarks.
Sample scorecard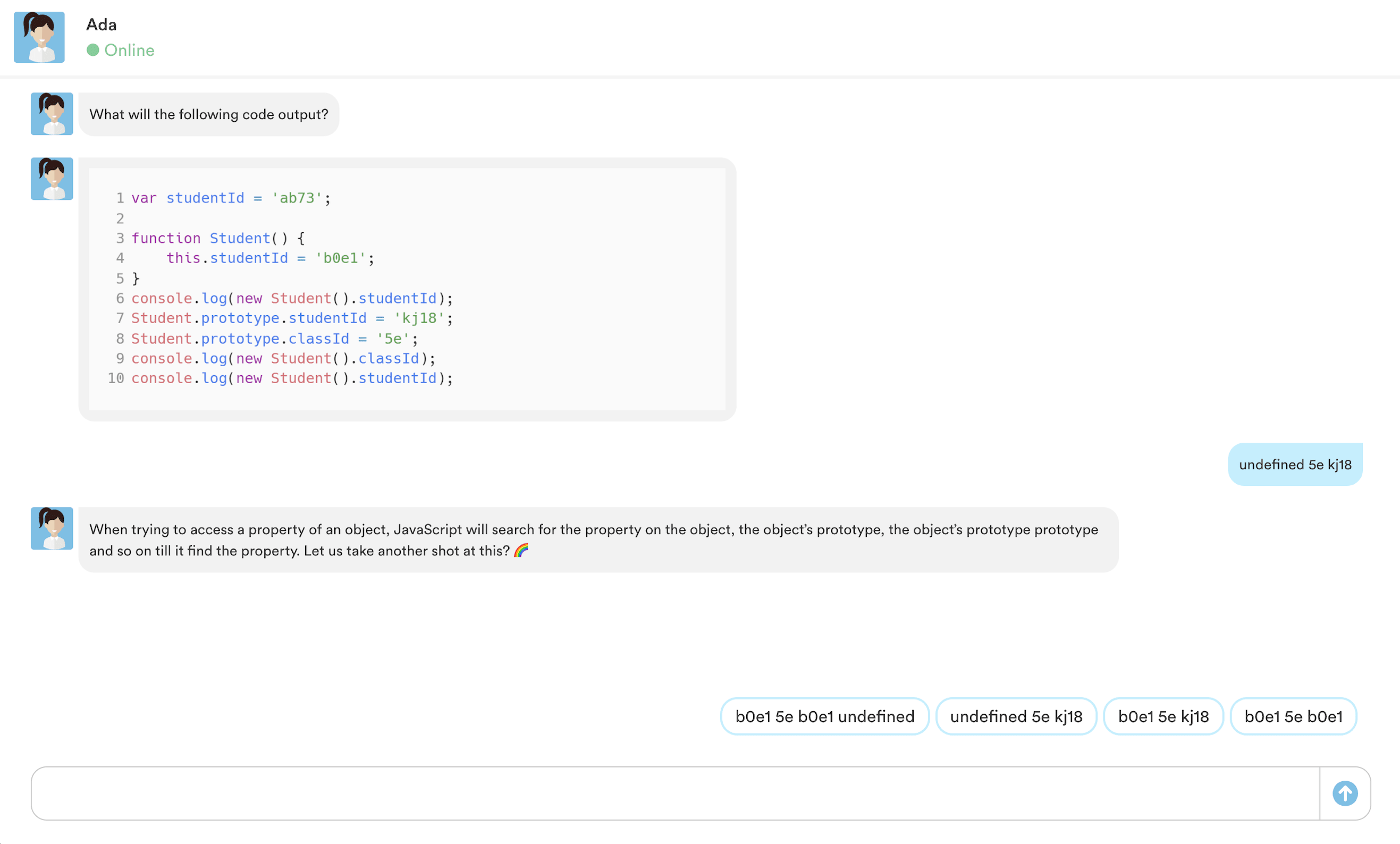 Conversational test
Our chatbot, Ada uses friendly messaging and guides your candidates through the assessment.
Everything from the invite email sent to your candidates to the conversational experience our chatbot facilities, every interaction is designed to delight.
You can upload popular questions & answers that your candidates frequently ask you during the recruitment process & Ada can answer those questions.
You can customize the email templates for inviting candidates, sending shortlist and rejection emails to keep candidates in loop.
Learn more
Enterprise-ready
We are continuously innovating and shipping new features to help you level up your recruiting game.
Learn more
You can add your logo & customize the candidate interface with your brand colors. You can edit the chatbot language according to your brand guidelines.
If you require multiple sets of the same test, we'll create those for you. They will be targeted at the same difficulty level, so it is easy to benchmark candidates.
Adaface integrates with popular ATS software. Our enterprise customers can also build custom integrations by using our API.
Learn more
Using the Adaface API, you can build out custom integrations catered for your teams.
API documentation
Adaface allows for the separation of admin privileges by user role. You can manage your team with roles like Super Admin, Tests Admin & Candidates Admin.
Learn more
Get priority support for any questions your team has. Our support team aims to resolve your high priority issues in the fastest time possible.
Adaface is a secure, safe, and effective platform for enterprises that meets global compliance standards on data, privacy, and protection including GDPR.
Learn more
Trusted by enterprises worldwide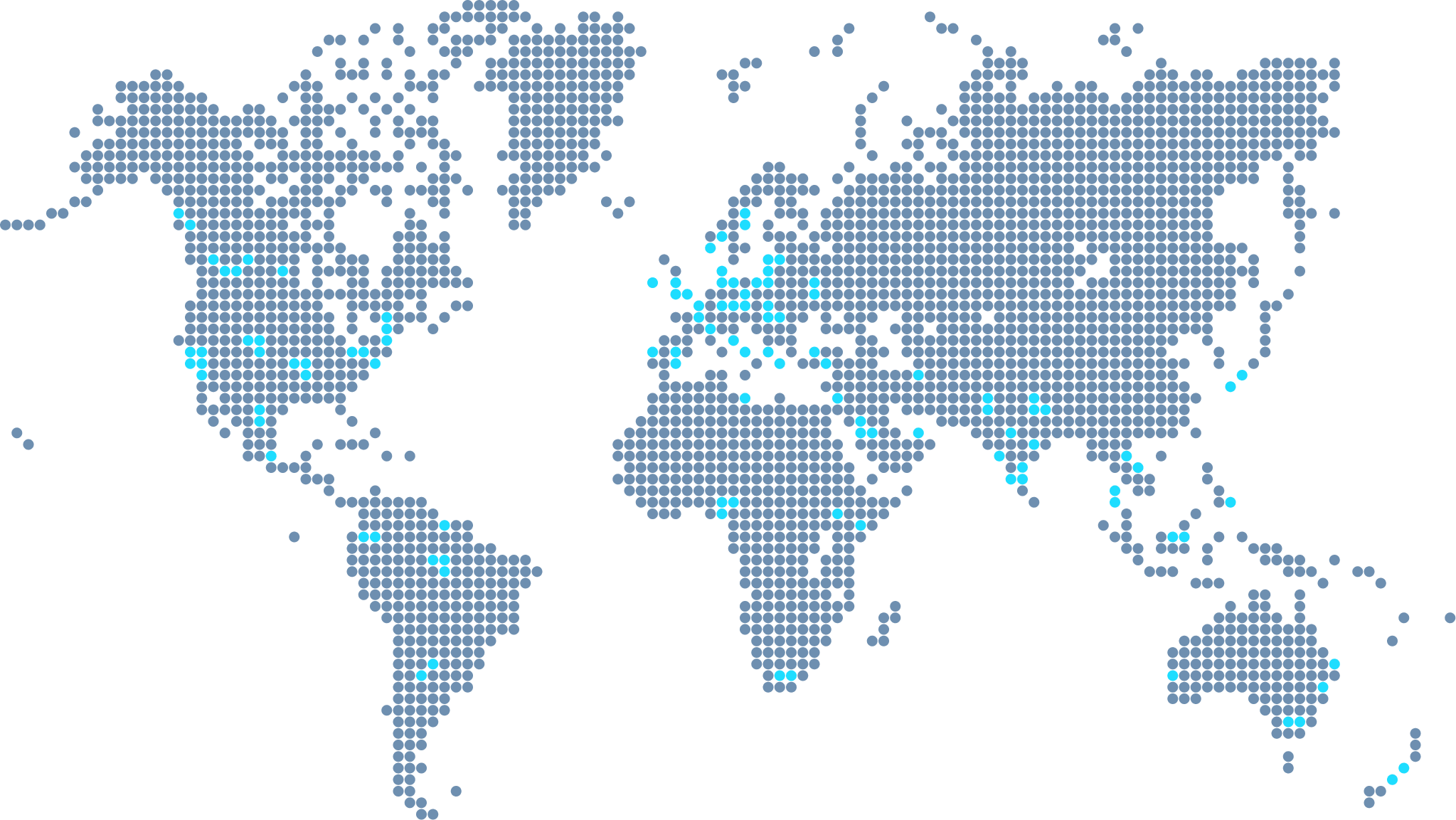 Join 1200+ companies in 75+ countries.
Wypróbuj dziś najbardziej przyjazne narzędzie do oceny umiejętności.