About the test:
The Hadoop Online Test uses scenario-based MCQ questions to evaluate candidates' ability to install Hadoop clusters on the cloud, run optimized MapReduce jobs on Hadoop clusters and write efficient Pig instructions and Hive queries to perform data analysis on complex datasets. The test screens for core Hadoop framework knowledge that hiring managers look for in Hadoop developers and administrators.
Covered skills:
Installing and configuring Hadoop clusters
Writing efficient Hive and Pig queries
Core Hadoop architecture (HDFS; YARN; MapReduce)
Publishing data to clusters
See all covered skills
Availability
Available on request
9 reasons why
9 reasons why
Adaface Hadoop online -test is the most accurate way to shortlist Hadoop Admins
Reason #1
Tests for on-the-job skills
Hadoop Online -testet hjälper rekryterare och anställda chefer att identifiera kvalificerade Hadoop -utvecklare och administratörer från en pool av CV. Det minskar den administrativa omkostnaderna för att intervjua för många kandidater och sparar dyr tekniktid genom att filtrera bort kandidater utan tidigare praktisk erfarenhet av Hadoop.
Hadoop online -testskärmar kandidater för de typiska färdigheterna som rekryterare letar efter i Big Data Hadoop -utvecklare:
Förståelse av buddatautmaningar och hur Hadoop löser big data -problem
Installera och konfigurera ett Hadoop -kluster på molntjänster som Amazon Web Services (AWS)
Översättning av komplexa analysproblem till MapReduce-jobb med flera steg
Integrering av HBase med MapReduce för databehandlingsuppgifter
Förståelse av Hadoop -arkitektur (sekundär/checkpoint/säkerhetskopiera noder, HA -konfiguration och garn)
Förstå andra Hadoop-baserade tekniker (Hive, Pig och Spark)
Arbeta med filformat som SequenceFile, AVRO etc.
Utföra CRUD -operationer från HBase
Analysera relationella data (Hive och MySQL) och icke-relationella data (HBase, Cassandra och MongoDB)
Förståelse för hur Hadoop -kluster hanteras (garn zookeeper, zeppelin etc)
Publicera data till Hadoop -kluster (Kafka, Sqoop och Flume)
Reason #2
No trick questions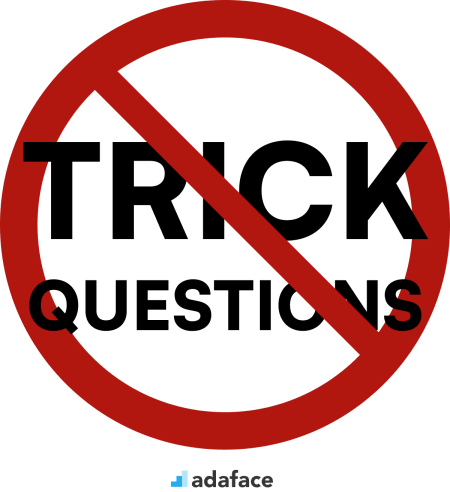 Traditional assessment tools use trick questions and puzzles for the screening, which creates a lot of frustration among candidates about having to go through irrelevant screening assessments.
The main reason we started Adaface is that traditional pre-employment assessment platforms are not a fair way for companies to evaluate candidates. At Adaface, our mission is to help companies find great candidates by assessing on-the-job skills required for a role.
Why we started Adaface ->
Reason #3
Non-googleable questions
We have a very high focus on the quality of questions that test for on-the-job skills. Every question is non-googleable and we have a very high bar for the level of subject matter experts we onboard to create these questions. We have crawlers to check if any of the questions are leaked online. If/ when a question gets leaked, we get an alert. We change the question for you & let you know.
Dessa är bara ett litet urval från vårt bibliotek med 10 000+ frågor. De faktiska frågorna om detta Hadoop Online Test kommer att vara icke-googleable.
🧐 Question

Easy

Count number of occurrences

Solve

Medium

Hive ngrams

Solve

Easy

P Q relations

Solve
🧐 Question
🔧 Skill

Easy

Count number of occurrences

3 mins

Hadoop

Solve

Medium

Hive ngrams

2 mins

Hadoop

Solve

Easy

P Q relations

2 mins

Hadoop

Solve
| | 🧐 Question | 🔧 Skill | 💪 Difficulty | ⌛ Time | |
| --- | --- | --- | --- | --- | --- |
| | Count number of occurrences | Hadoop | Easy | 3 mins | Solve |
| | Hive ngrams | Hadoop | Medium | 2 mins | Solve |
| | P Q relations | Hadoop | Easy | 2 mins | Solve |
Reason #4
1200+ customers in 75 countries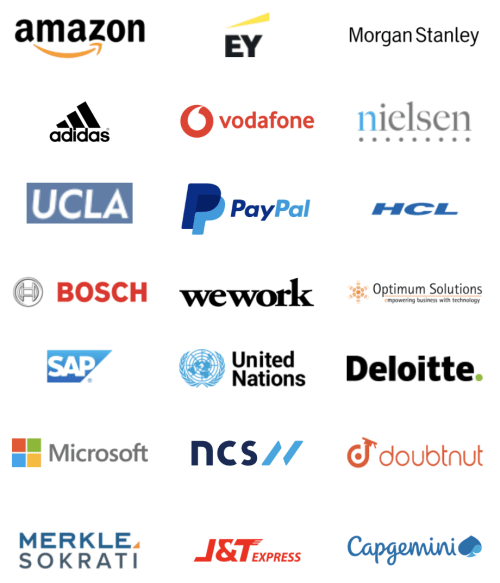 Med AdaFace kunde vi optimera vår första screeningprocess med upp till 75%, vilket frigör dyrbar tid för både anställningschefer och vårt Talent Acquisition Team lika!
Brandon Lee, Folkchef, Love, Bonito
Reason #5
Designed for elimination, not selection
The most important thing while implementing the pre-employment Hadoop Online Test in your hiring process is that it is an elimination tool, not a selection tool. In other words: you want to use the test to eliminate the candidates who do poorly on the test, not to select the candidates who come out at the top. While they are super valuable, pre-employment tests do not paint the entire picture of a candidate's abilities, knowledge, and motivations. Multiple easy questions are more predictive of a candidate's ability than fewer hard questions. Harder questions are often "trick" based questions, which do not provide any meaningful signal about the candidate's skillset.
Reason #6
1 click candidate invites
Email invites: You can send candidates an email invite to the Hadoop Online Test from your dashboard by entering their email address.
Public link: You can create a public link for each test that you can share with candidates.
API or integrations: You can invite candidates directly from your ATS by using our pre-built integrations with popular ATS systems or building a custom integration with your in-house ATS.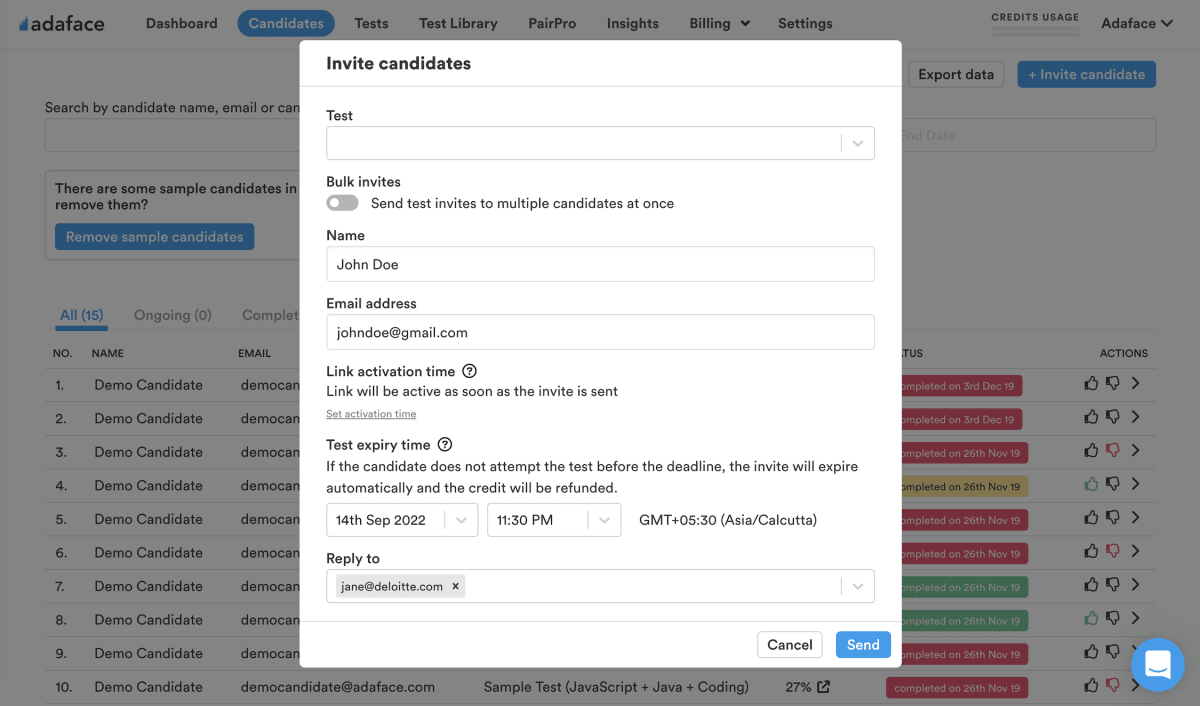 Reason #8
High completion rate
Adaface tests are conversational, low-stress, and take just 25-40 mins to complete.
This is why Adaface has the highest test-completion rate (86%), which is more than 2x better than traditional assessments.

Reason #9
Advanced Proctoring
Hur anpassas testet för senior Hadoop -utvecklare/ administratörer?
För mellanliggande/ seniorhadoop -administratörer anpassar vi frågorna för att inkludera avancerade ämnen och öka svårighetsnivån för frågorna. Senior Hadoop Developer -testet inkluderar att lägga till frågor om ämnen som
Kedja MapReduce -jobb tillsammans för att analysera komplexa datasätt
Förståelse av skillnadsfaser i MapReduce i detalj
Stämma och optimera avmattning av MapReduce -jobb, grisinstruktioner och Hive -frågor
Förstå hur man går med i arbetet bakom kulisserna och skriver optimerade Join -uttalande
Konsumera strömningsdata med gnistströmning, flink och storm
Idrifttagning, avvecklings- och rekommendationsmaskiner
Ta kluster säkerhetskopior och möjliggöra kapacitetsplanerare
Förståelse för Hadoop -säkerhet och autentisering
Komplexa ämnen som filformat, anpassade skrivbara och inmatnings-/utgångsformat
What roles can I use the Hadoop Online Test for?
Hadoop Admin
Hadoop Engineer
Hadoop Tester
Hadoop Application Developer
Big Data Developer - Hadoop
Senior Big Data Engineer - Hadoop
Senior Hadoop Administrator
What topics are covered in the Hadoop online -test?

Anställningscheferna ansåg att de genom de tekniska frågor som de ställde under panelintervjuerna kunde berätta vilka kandidater som hade bättre poäng och differentierade med dem som inte gjorde så bra. Dom är mycket nöjd med kvaliteten på kandidater som är kortlistade med AdaFace -screening.
minskning av screeningstiden
Vanliga frågor
Kan jag utvärdera Hadoop och gnista i samma test?
Ja. Du kan utvärdera flera färdigheter i samma test. Om din Hadoop -arbetsbeskrivning kräver att kandidater har erfarenhet av Hadoop och Apache Spark, inkluderar vi frågor om båda färdigheterna. Du kan kontrollera vårt standard Spark Online Test för att förstå vilken typ av frågor som kommer att användas för att utvärdera gnistkunskap.
Kan jag utvärdera andra big datatekniker som Hive, Pig, SQL i samma test?
Ja. Big data -roller hos olika företag kräver att kandidater har erfarenhet av olika tekniker. Vi stöder att anpassa bedömningarna för att fungera för din arbetsbeskrivning. Detta inkluderar att inkludera frågor för att utvärdera flera färdigheter i samma test. Populära Hadoop -roller kräver att kandidater har erfarenhet av relaterad teknik som Hive, Pig, SQL, Spark. Om du behöver inkluderar vi frågor om dessa ämnen i samma test så att du kan identifiera rätt kandidater för ditt företag. Du kan kontrollera vårt standard SQL Online-test och [Spark Online Test](https://www.adaface.com/assessment-- Test/Spark-Online-test) för att se hur dessa färdigheter utvärderas.
Kan jag kombinera flera färdigheter till en anpassad bedömning?
Ja absolut. Anpassade bedömningar ställs in baserat på din arbetsbeskrivning och kommer att innehålla frågor om alla måste-ha färdigheter du anger.
Har du några anti-cheating eller proctoring-funktioner på plats?
Vi har följande anti-cheating-funktioner på plats:
Icke-Googleable-frågor
IP -proctoring
webbproctoring
webbkamera proctoring
Detektion av plagiering
säker webbläsare
Läs mer om proctoring -funktionerna.
Hur tolkar jag testresultat?
Det främsta att tänka på är att en bedömning är ett eliminationsverktyg, inte ett urvalsverktyg. En kompetensbedömning är optimerad för att hjälpa dig att eliminera kandidater som inte är tekniskt kvalificerade för rollen, den är inte optimerad för att hjälpa dig hitta den bästa kandidaten för rollen. Så det ideala sättet att använda en bedömning är att bestämma en tröskelpoäng (vanligtvis 55%, vi hjälper dig att jämföra) och bjuda in alla kandidater som gör poäng över tröskeln för nästa intervjurundor.
Vilken erfarenhetsnivå kan jag använda detta test för?
Varje AdaFace -bedömning anpassas till din arbetsbeskrivning/ idealisk kandidatperson (våra ämnesexperter kommer att välja rätt frågor för din bedömning från vårt bibliotek med 10000+ frågor). Denna bedömning kan anpassas för alla erfarenhetsnivåer.
Får varje kandidat samma frågor?
Ja, det gör det mycket lättare för dig att jämföra kandidater. Alternativ för MCQ -frågor och ordningen på frågor randomiseras. Vi har anti-cheating/proctoring -funktioner på plats. I vår företagsplan har vi också möjlighet att skapa flera versioner av samma bedömning med frågor om liknande svårighetsnivåer.
Jag är kandidat. Kan jag prova ett träningstest?
Nej. Tyvärr stöder vi inte övningstester just nu. Du kan dock använda våra exempelfrågor för övning.
Vad är kostnaden för att använda detta test?
Kan jag få en gratis provperiod?
Plattformen är helt självbetjänande, så här är ett sätt att gå vidare:
Du kan registrera dig gratis för att få en känsla för hur det fungerar.
Den kostnadsfria provperioden inkluderar en provbedömning (Java/JavaScript) som du hittar i din instrumentpanel när du registrerar dig. Du kan använda den för att granska kvaliteten på frågorna och kandidaternas upplevelse av ett konversationstest på Adaface.
För att granska kvaliteten på frågorna kan du också granska våra offentliga frågor för 50+ färdigheter här.
När du är övertygad om att du vill testa det med riktiga bedömningar och kandidater kan du välja en plan enligt dina krav.
Jag flyttade precis till en betald plan. Hur kan jag begära en anpassad bedömning?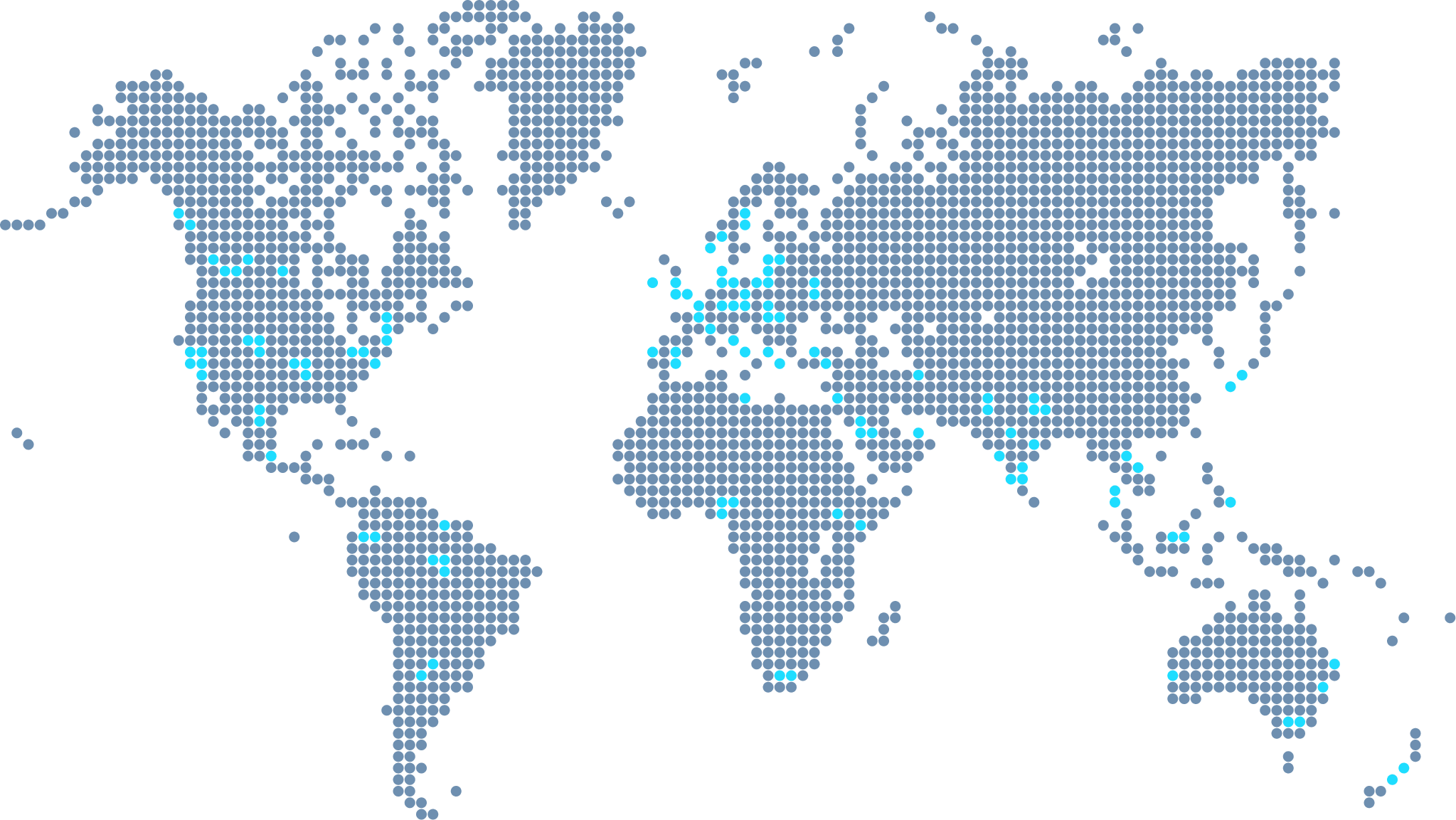 Join 1200+ companies in 75+ countries.
Prova det mest kandidatvänliga utvärderingsverktyget idag.

Ready to use the Adaface Hadoop Online Test?
Ready to use the Adaface Hadoop Online Test?