About the test:
The verbal reasoning online test uses 15 scenario-based MCQ questions to evaluate a candidate's ability to understand and comprehend workplace text. The test screens for verbal ability skills and shortlists candidates who can write and articulate clearly and concisely. Candidates must demonstrate an understanding of written English and be able to communicate effectively in business situations.
Covered skills:
Foundations of vocabulary
Understanding analogies and inferences
Using accurate grammar
Analyzing detailed written information
See all covered skills
9 reasons why
9 reasons why
Adaface Verbal Reasoning Test is the most accurate way to shortlist Content writers
Reason #1
Tests for on-the-job skills
Test online zdolności werbalnych zawiera 15 pytań MCQ w celu oceny zdolności językowych i logicznych kandydata i zajmuje ~ 20 minut. Raporty są automatycznie generowane, a rekruterzy mogą wykorzystywać wygenerowane spostrzeżenia, aby zidentyfikować kandydatów z najlepszymi umiejętnościami rozumowania ustnego.
Test rozumowania werbalnego przed zatrudnieniem mierzy, jak biegle są kandydaci w języku angielskim i jak są dobrzy w wyrażaniu pomysłów i koncepcji. Umiejętności umiejętności werbalnych są niezbędne dla różnych ról. Często są one włączone w ramach szerszego procesu aplikacyjnego, w którym kandydaci proszeni są o wykazanie wiedzy na temat gramatyki, pisowni, interpunkcji, składni i etykiety w miejscu pracy. Oczekuje się, że pytania w teście oceniają krytyczne umiejętności rozumowania werbalnego.
Umiejętności językowe i rozumienia
Zrozumienie języka biznesowego
Porównanie różnych tekstów pisanych ze sobą
Analiza pisemnych informacji w celu dokonywania logicznych i uzasadnionych potrąceń
Komunikowanie wniosków z kolegami
Reason #2
No trick questions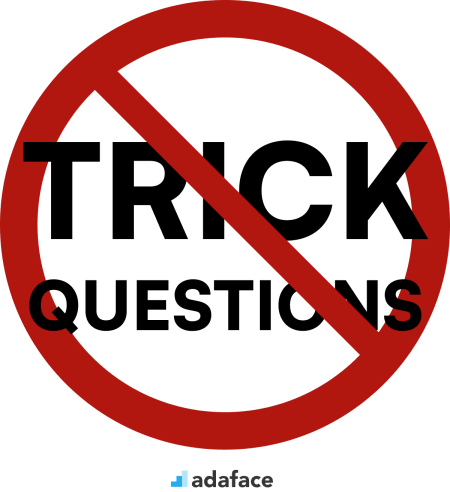 Traditional assessment tools use trick questions and puzzles for the screening, which creates a lot of frustration among candidates about having to go through irrelevant screening assessments.
The main reason we started Adaface is that traditional pre-employment assessment platforms are not a fair way for companies to evaluate candidates. At Adaface, our mission is to help companies find great candidates by assessing on-the-job skills required for a role.
Why we started Adaface ->
Reason #3
Non-googleable questions
We have a very high focus on the quality of questions that test for on-the-job skills. Every question is non-googleable and we have a very high bar for the level of subject matter experts we onboard to create these questions. We have crawlers to check if any of the questions are leaked online. If/ when a question gets leaked, we get an alert. We change the question for you & let you know.
These are just a small sample from our library of 10,000+ questions. The actual questions on this Verbal Reasoning Test will be non-googleable.
🧐 Question

Medium

Overseas office

Solve

Easy

China manufacturing

Solve

Medium

Commerical Premises

Solve
🧐 Question
🔧 Skill

Medium

Overseas office

2 mins

Verbal Reasoning

Solve

Easy

China manufacturing

2 mins

Verbal Reasoning

Solve

Medium

Commerical Premises

2 mins

Verbal Reasoning

Solve
| | 🧐 Question | 🔧 Skill | 💪 Difficulty | ⌛ Time | |
| --- | --- | --- | --- | --- | --- |
| | Overseas office | Verbal Reasoning | Medium | 2 mins | Solve |
| | China manufacturing | Verbal Reasoning | Easy | 2 mins | Solve |
| | Commerical Premises | Verbal Reasoning | Medium | 2 mins | Solve |
Reason #4
1200+ customers in 75 countries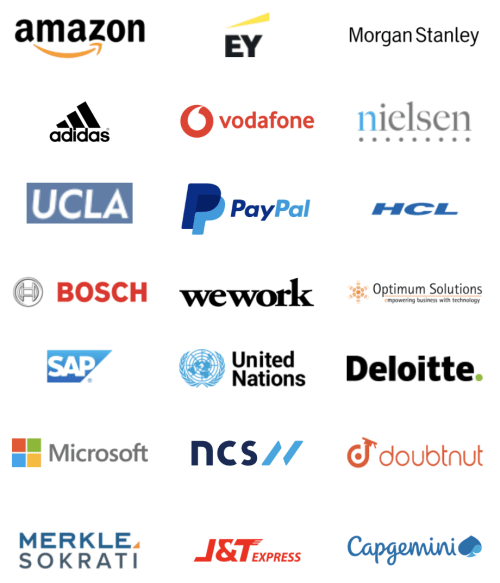 With Adaface, we were able to optimise our initial screening process by upwards of 75%, freeing up precious time for both hiring managers and our talent acquisition team alike!
Brandon Lee, Head of People, Love, Bonito
Reason #5
Designed for elimination, not selection
The most important thing while implementing the pre-employment Verbal Reasoning Test in your hiring process is that it is an elimination tool, not a selection tool. In other words: you want to use the test to eliminate the candidates who do poorly on the test, not to select the candidates who come out at the top. While they are super valuable, pre-employment tests do not paint the entire picture of a candidate's abilities, knowledge, and motivations. Multiple easy questions are more predictive of a candidate's ability than fewer hard questions. Harder questions are often "trick" based questions, which do not provide any meaningful signal about the candidate's skillset.
Reason #6
1 click candidate invites
Email invites: You can send candidates an email invite to the Verbal Reasoning Test from your dashboard by entering their email address.
Public link: You can create a public link for each test that you can share with candidates.
API or integrations: You can invite candidates directly from your ATS by using our pre-built integrations with popular ATS systems or building a custom integration with your in-house ATS.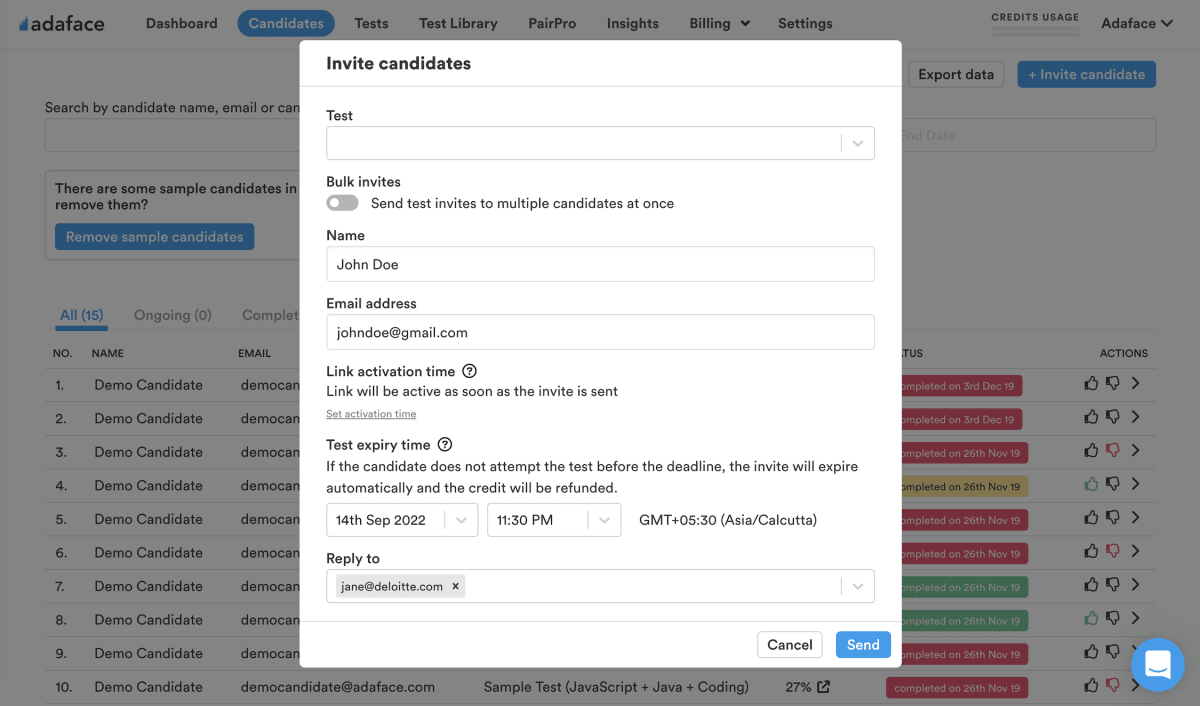 Reason #8
High completion rate
Adaface tests are conversational, low-stress, and take just 25-40 mins to complete.
This is why Adaface has the highest test-completion rate (86%), which is more than 2x better than traditional assessments.

Reason #9
Advanced Proctoring
Jakie pytania są używane w testach umiejętności werbalnych?
W standardowym formacie MCQ pojawi się 15 pytań MCQ opartych na scenariuszach. Kandydaci mają krótki fragment tekstu, który będą musieli zinterpretować i wybrać prawidłowe opcje spośród zestawu możliwych odpowiedzi. Pytania oparte są na dwóch głównych kategoriach:
Gramatyka/ słownictwo angielskie - kandydaci muszą znać reguły gramatyki angielskiej, aby wybrać poprawną odpowiedź.
Werbalne krytyczne rozumowanie i czytanie ze zrozumieniem - pytania są symulowane do reprezentowania tekstu w miejscu pracy. Kandydaci muszą trawić pisemne informacje i szybko i dokładnie wybrać poprawne odpowiedzi.
Wszystkie pytania nie wymagają kandydatów do posiadania wcześniejszej wiedzy ani nie wymagają przygotowania przed wystąpieniem do testu.
Czy mogę ocenić umiejętności umiejętności oraz umiejętności werbalne?
TAk. Możesz ocenić inne umiejętności poznawcze wraz z umiejętnościami werbalnymi, takimi jak rozumowanie numeryczne, rozumowanie przestrzenne i osąd sytuacyjny. W przypadku ról koncentrujących się na chrupaniu danych możesz ocenić umiejętności interpretacji danych w tym samym teście. Możesz przeczytać więcej o tym, w jaki sposób zaprojektowane są testy Adaface Testy umiejętności i przejrzeć kilka przykładowych pytań o umiejętności.
What roles can I use the Verbal Reasoning Test for?
Content writer
Analyst
Business Analyst
Data Analyst
Graduate
Intern
Customer-facing roles
Marketing Executives
What topics are covered in the Verbal Reasoning Test?

The hiring managers felt that through the technical questions that they asked during the panel interviews, they were able to tell which candidates had better scores, and differentiated with those who did not score as well. They are highly satisfied with the quality of candidates shortlisted with the Adaface screening.
reduction in screening time
FAQs
Co to jest test umiejętności werbalnych?
Testy umiejętności werbalnych mierzą, jak szybko i dokładnie osoba może czytać i rozumieć pisemne informacje. Kandydaci otrzymają krótki tekst, a następnie pytanie o to, co właśnie zostało przeczytane. Aby odpowiedzieć poprawnie, kandydaci muszą zidentyfikować główne punkty w tekście, a następnie powiązać je z powrotem z oryginalnym pytaniem. Niektóre pytania ustne rozumowania będą wymagać od kandydatów do zrobienia tego na odwrót. Testy rozumowania ustnego oceniają zrozumienie języka oraz poziom zrozumienia i logiki werbalnej. Werbalne testy rozumowania są przeznaczone dla różnych ról i miejsc pracy w hierarchii organizacji. W zależności od poziomu doświadczenia i opisu stanowiska, następujące różnią się w zależności od testu:
temat pytań
Scenariusz opierają się na (odzwierciedlenie komunikacji w miejscu pracy i przykładów w świecie rzeczywistym)
Poziom trudności w rozumowaniu pytań
Ile jest rodzajów werbalnych testów rozumowania?
Istnieje 21 rodzajów testów rozumowania zdolności werbalnych. Niektóre mają subtelne różnice, podczas gdy niektóre mają znaczące różnice w formacie i strukturze. Większość z tych różnic powstaje z powodu:
długość pisemnych informacji do analizy
kontekst, temat i styl przedstawionych informacji
Typ pytań i format prezentacji
Te 21 typów jest koncepcyjne i nie są dostosowane do zatrudniania. Oto 21 rodzajów:
Kod literowy
Seria listów
Wyrok listu
Słowo złożone
Zagubiony list
Przenieś list
Brak trójliterowego słowa
Twórz słowa w ten sam sposób
Sumy literowe
Seria numerów
Ukryte czteroliterowe słowo
Słowa najbliższe w znaczeniu
Powiązane słowa
Linki słów
Fakty i zagadki
Antonimy
Wypełnienie sum
Brakujący numer
Kod numeru
Ukończenie trzeciej pary
Podwójne znaczenie
Przeanalizowaliśmy te dawno zbadane typy i przetłumaczyliśmy te typy testów na testy rozumowania w miejscu pracy. Te werbalne testy rozumowania są wykorzystywane do różnych miejsc pracy w zakresie technicznych, miejsc, zatrudniania na średnim poziomie, zarządcy, administracyjnym i przywódczym.
W jaki sposób test rozumowania werbalnego jest dostosowany do odświeżaczy?
W przypadku absolwentów i świeższych ról pytania będą miały łatwiejsze do opanowania poziomy. Scenariusze używane do tworzenia pytań będą łatwe do zrozumienia bez żargonu w miejscu pracy, zapewniając jednocześnie, że pytania rejestrują podstawowe umiejętności rozumowania. Możesz także sprawdzić nasz test umiejętności rekrutacyjnych w kampusie, który ocenia rozumowanie werbalne i inne kluczowe umiejętności myślenia analitycznego.
W jaki sposób ustne rozumowanie internetowe jest dostosowane do starszych kandydatów?
Dla kandydatów na średnim poziomie i starszych kandydatach test jest dostosowywany na następujący sposób:
poziom trudności pytań wynika od średniego do twardego
Pisemne informacje podane dla każdego pytania będą oparte na scenariuszach w miejscu pracy
Wraz z zrozumieniem i rozumowaniem werbalne pytania będą oceniać sytuacyjne osądy i umiejętności komunikacyjne
Czy ekran testowy umiejętności werbalnych dla rozumienia angielskiego?
Czy mogę połączyć wiele umiejętności w jedną niestandardową ocenę?
Tak, absolutnie. Oceny niestandardowe są konfigurowane na podstawie opisu stanowiska i będą zawierać pytania dotyczące wszystkich określonych umiejętności, które określasz.
Czy masz jakieś funkcje anty-cheatingowe lub proktorowe?
Mamy następujące funkcje anty-cheatingowe:
Pytania o niezgodne z nich
Proctoring IP
Proctoring Web
Proctoring kamery internetowej
Wykrywanie plagiatu
Bezpieczna przeglądarka
Przeczytaj więcej o funkcjach Proctoring.
Jak interpretować wyniki testów?
Najważniejsze, o czym należy pamiętać, jest to, że ocena jest narzędziem eliminacyjnym, a nie narzędziem wyboru. Ocena umiejętności jest zoptymalizowana, aby pomóc Ci wyeliminować kandydatów, którzy nie są technicznie zakwalifikowani do roli, nie jest zoptymalizowana, aby pomóc Ci znaleźć najlepszego kandydata do tej roli. Dlatego idealnym sposobem na wykorzystanie oceny jest podjęcie decyzji o wyniku progowym (zwykle 55%, pomagamy Ci porównać) i zaprosić wszystkich kandydatów, którzy wyniki powyżej progu na następne rundy wywiadu.
Do jakiego poziomu doświadczenia mogę użyć tego testu?
Każda ocena Adaface jest dostosowana do opisu stanowiska/ idealnego kandydującego osobowości (nasi eksperci przedmiotu będą podejmować właściwe pytania dotyczące oceny z naszej biblioteki ponad 10000 pytań). Ocenę tę można dostosować do dowolnego poziomu doświadczenia.
Czy każdy kandydat otrzymuje te same pytania?
Tak, znacznie ułatwia porównanie kandydatów. Opcje pytań MCQ i kolejność pytań są losowe. Mamy funkcje anty-cheating/proctoring. W naszym planie korporacyjnym mamy również możliwość tworzenia wielu wersji tej samej oceny z pytaniami o podobnych poziomach trudności.
Jestem kandydatem. Czy mogę spróbować testu ćwiczeniowego?
Nie. Niestety, w tej chwili nie wspieramy testów ćwiczeń. Możesz jednak użyć naszych przykładowych pytań do ćwiczeń.
Jaki jest koszt korzystania z tego testu?
Czy mogę dostać bezpłatny proces?
Właśnie przeniosłem się do płatnego planu. Jak mogę poprosić o ocenę niestandardową?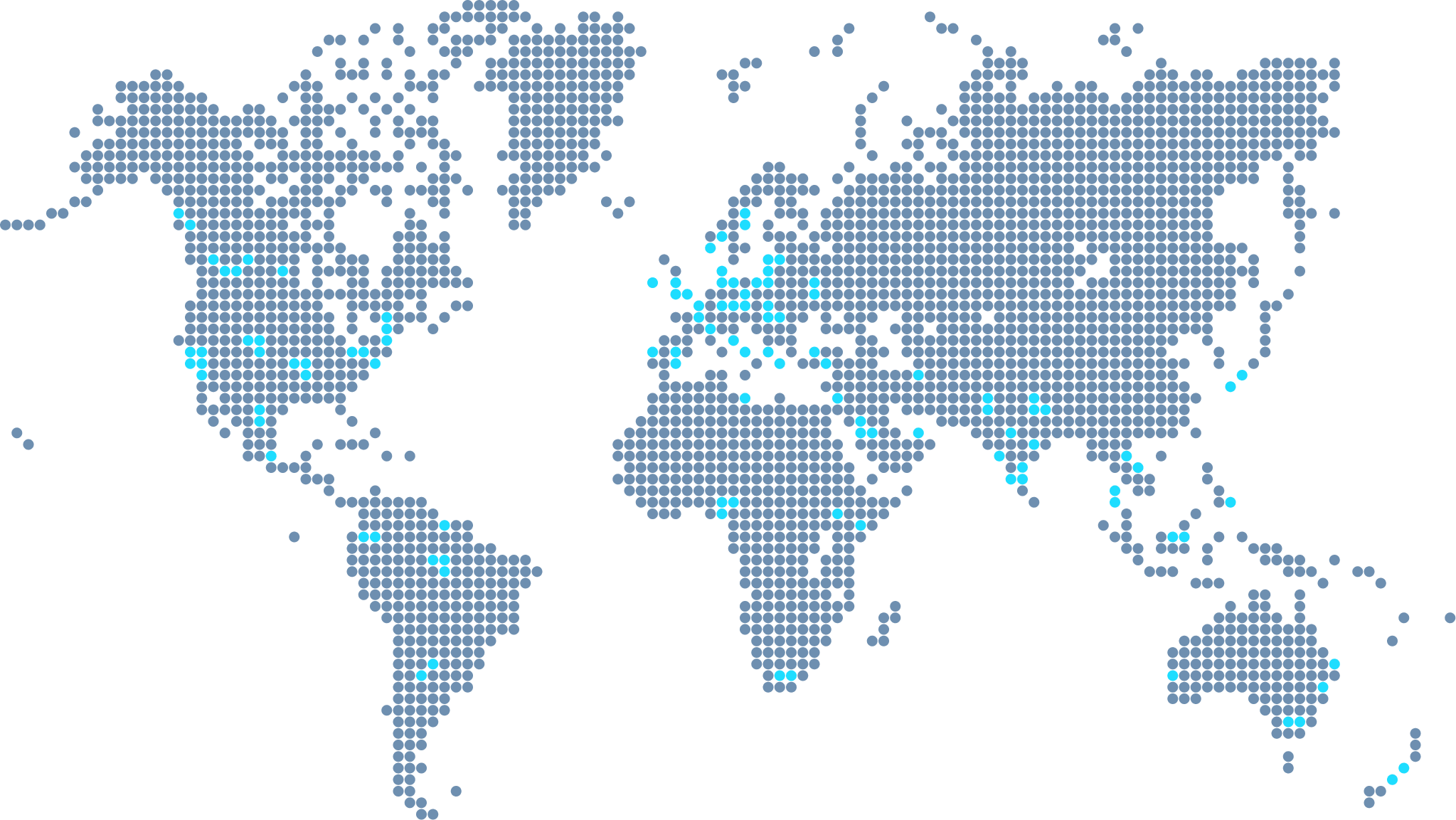 Join 1200+ companies in 75+ countries.
Try the most candidate friendly skills assessment tool today.

Ready to use the Adaface Verbal Reasoning Test?
Ready to use the Adaface Verbal Reasoning Test?