About the test:
The Adaface Tableau test evaluates the candidate's ability to connect data from multiple sources into Tableau, analyze the cleaned data with sort and filters, create and format the data dashboards and publish the visualizations in Tableau.
Covered skills:
Connecting with data from multiple sources
Data types
Cleaning data
Managing Tableau worksheets and workbooks
See all covered skills
9 reasons why
9 reasons why
Adaface Tableau Online Test is the most accurate way to shortlist Tableau Developers
Reason #1
Tests for on-the-job skills
Tableau Online Assessment Test hjelper rekrutterere og ansettelsesledere til å identifisere kvalifiserte tablåkandidater fra et basseng med CV, og hjelper til med å ta objektive ansettelsesbeslutninger.
Adaface Tableau Online Test Screens -kandidater for de typiske ferdighetene som ansetter ledere ser etter i en Tableau -utvikler:
Dataforberedelse: jokertegn, håndtering av uoverensstemmede felt, svinger, blandinger, fagforeninger, blir med
Basics Tableau - Dimensjoner vs tiltak, aggregering og granularitet, diskrete vs kontinuerlige felt
Administrere data: Beregnet og manuell sortering, hierarkier, grupper vs sett, dynamiske og statiske sett
Beregninger: Aritmetikk, streng og datoberegninger, logiske utsagn, beregninger i en blanding, beregninger med parametere
Analyse: Referanselinjer, referansebånd, trendlinjer, øyeblikkelig analyse, boksplott, prognoser
Tabellberegninger: % av total, rangering, kjørt totalt osv
Dashbordoppsett og handlinger: Størrelser, standardoppsett, layouts på tvers av enheter, beste praksis, filter / høydepunkt / parameter / sett handlinger, regnearkhandlinger
LOD -uttrykk: Fast, inkluderer, ekskluderer etc
Innsikten som genereres fra denne vurderingen kan brukes av rekrutterere og ansettelsesledere for å identifisere de beste kandidatene for rollen. Anti-juksede funksjoner gjør at du kan være komfortabel med å gjennomføre vurderinger på nettet.
Reason #2
No trick questions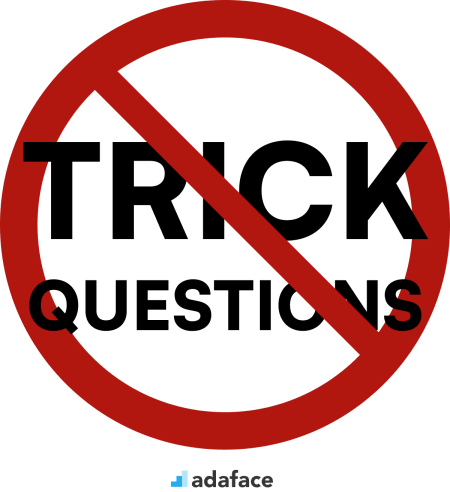 Traditional assessment tools use trick questions and puzzles for the screening, which creates a lot of frustration among candidates about having to go through irrelevant screening assessments.
The main reason we started Adaface is that traditional pre-employment assessment platforms are not a fair way for companies to evaluate candidates. At Adaface, our mission is to help companies find great candidates by assessing on-the-job skills required for a role.
Why we started Adaface ->
Reason #3
Non-googleable questions
We have a very high focus on the quality of questions that test for on-the-job skills. Every question is non-googleable and we have a very high bar for the level of subject matter experts we onboard to create these questions. We have crawlers to check if any of the questions are leaked online. If/ when a question gets leaked, we get an alert. We change the question for you & let you know.
Dette er bare en liten prøve fra biblioteket vårt med 10.000+ spørsmål. De faktiske spørsmålene om dette Tableau Test vil være ikke-googlable.
🧐 Question

Medium

Calculated Properties

Solve

Medium

Change display icon

Solve

Easy

Pie Chart

Solve
🧐 Question
🔧 Skill

Medium

Calculated Properties

3 mins

Tableau

Solve

Medium

Change display icon

2 mins

Tableau

Solve

Easy

Pie Chart

3 mins

Tableau

Solve
| | 🧐 Question | 🔧 Skill | 💪 Difficulty | ⌛ Time | |
| --- | --- | --- | --- | --- | --- |
| | Calculated Properties | Tableau | Medium | 3 mins | Solve |
| | Change display icon | Tableau | Medium | 2 mins | Solve |
| | Pie Chart | Tableau | Easy | 3 mins | Solve |
Reason #4
1200+ customers in 75 countries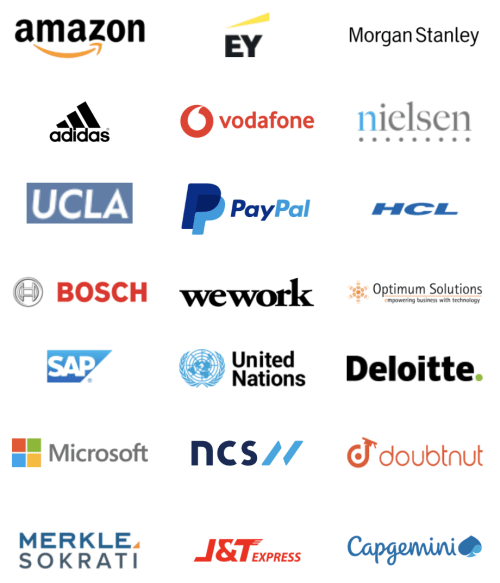 Med Adaface klarte vi å optimalisere vår første screeningprosess med oppover 75%, og frigjøre dyrebare tid for både ansettelsesledere og vårt talentinnsamlingsteam!
Brandon Lee, Menneskers leder, Love, Bonito
Reason #5
Designed for elimination, not selection
The most important thing while implementing the pre-employment Tableau Test in your hiring process is that it is an elimination tool, not a selection tool. In other words: you want to use the test to eliminate the candidates who do poorly on the test, not to select the candidates who come out at the top. While they are super valuable, pre-employment tests do not paint the entire picture of a candidate's abilities, knowledge, and motivations. Multiple easy questions are more predictive of a candidate's ability than fewer hard questions. Harder questions are often "trick" based questions, which do not provide any meaningful signal about the candidate's skillset.
Reason #6
1 click candidate invites
Email invites: You can send candidates an email invite to the Tableau Test from your dashboard by entering their email address.
Public link: You can create a public link for each test that you can share with candidates.
API or integrations: You can invite candidates directly from your ATS by using our pre-built integrations with popular ATS systems or building a custom integration with your in-house ATS.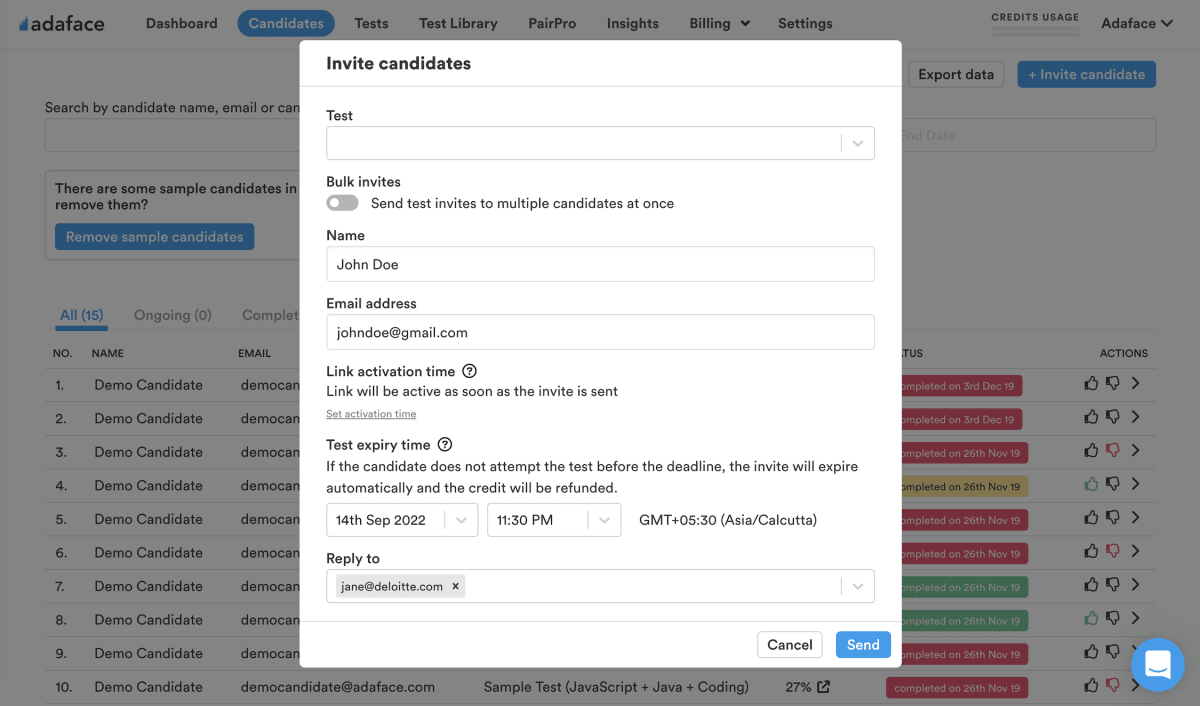 Reason #8
High completion rate
Adaface tests are conversational, low-stress, and take just 25-40 mins to complete.
This is why Adaface has the highest test-completion rate (86%), which is more than 2x better than traditional assessments.

Reason #9
Advanced Proctoring
Hvordan tilpasser du testen for senior Tableau -utviklere?
Spørsmål i Senior Tableau Developer Test vil være basert på avanserte emner som krever at kandidater har noen års praktisk erfaring med Tableau. Her er noen avanserte emner som er spesifikke for mellomliggende/ erfarne Adaface Tableau -tester:
Koble Tableau til hvilken som helst big datakilde (MongoDB og Salesforce)
Kombiner flere datakilder ved hjelp av sammenføyninger, blandinger, fagforeninger og forhold
Opprette tilpassede beregninger og felt
Tilkobling ved hjelp av tilpasset SQL
Bygg komplekse beregninger for å manipulere dataene dine
Bygg avanserte karttyper og visualiseringer
Lag trendlinjer og forstå relevante statistiske beregninger som P-verdi og R-kvadrat
Lag prognoser med prediksjonsintervaller, regnskap for sesongvariabilitet
hekkende LOD -uttrykk
Segmentering og kohortanalyse i Tableau
Tidsserie og prediktiv analyse i Tableau
Animasjoner i Tableau
Om Tableau Developer -roller
Som navnet antyder, utvikler Tableau -utviklere, vedlikehold og administrerer et BI -system ved hjelp av Tableau. Det er en av de mest etterspurte ferdighetene blant selskaper som har dataanalyse som en prioritet.
Typiske ansvarsutviklingsansvar inkluderer:
Bruk algoritmer og statistiske metoder for å få svar fra data
Definer tilgangskontroller og iverksette sikkerhetstiltak når det er nødvendig
Lag wireframes og beta dashboards med fokus på brukeropplevelse
Samle, avgrense og prep data for analyse og visualisering
Forstå forretningskrav og planløsninger for å imøtekomme databehov
What roles can I use the Tableau Test for?
Tableau Developer
Senior Tableau Developer
Data Analyst (Tableau)
Tableau Consultant
Business Intelligence Developer
What topics are covered in the Tableau Online Test?

Ansettelseslederne følte at de gjennom de tekniske spørsmålene de stilte under panelintervjuene, kunne fortelle hvilke kandidater som hadde bedre score, og differensierte med de som ikke scoret også. De er Svært fornøyd med kvaliteten på kandidatene på listen med adaface -screeningen.
Reduksjon i screeningstid
Tableau Online Test FAQs
Kan jeg evaluere Tableau- og SQL -ferdigheter i en enkelt test?
Ja. Vi støtter screening av flere ferdigheter i en enkelt test. Du kan gjennomgå Standard SQL Test for å forstå hvilken type spørsmål vi bruker for å evaluere SQL-ferdigheter. Når du har registrert deg for en plan, kan du be om en tilpasset vurdering som vil bli tilpasset stillingsbeskrivelsen din. Den tilpassede vurderingen vil inneholde spørsmål for alle de må ha ferdigheter som kreves for din rolle.
Kan jeg kombinere flere ferdigheter til en tilpasset vurdering?
Ja absolutt. Tilpassede vurderinger er satt opp basert på stillingsbeskrivelsen din, og vil inneholde spørsmål om alle må-ha ferdigheter du spesifiserer.
Har du noen anti-juksende eller proktoreringsfunksjoner på plass?
Vi har følgende anti-juksede funksjoner på plass:
Ikke-googlable spørsmål
IP Proctoring
Nettproctoring
Webcam Proctoring
Deteksjon av plagiering
Sikker nettleser
Les mer om Proctoring -funksjonene.
Hvordan tolker jeg testresultater?
Den viktigste tingen å huske på er at en vurdering er et eliminasjonsverktøy, ikke et seleksjonsverktøy. En ferdighetsvurdering er optimalisert for å hjelpe deg med å eliminere kandidater som ikke er teknisk kvalifisert for rollen, det er ikke optimalisert for å hjelpe deg med å finne den beste kandidaten for rollen. Så den ideelle måten å bruke en vurdering på er å bestemme en terskelpoeng (vanligvis 55%, vi hjelper deg med å benchmark) og invitere alle kandidater som scorer over terskelen for de neste rundene med intervjuet.
Hvilken opplevelsesnivå kan jeg bruke denne testen til?
Hver ADAFACE -vurdering er tilpasset din stillingsbeskrivelse/ ideell kandidatperson (våre fageksperter vil velge de riktige spørsmålene for din vurdering fra vårt bibliotek med 10000+ spørsmål). Denne vurderingen kan tilpasses for ethvert opplevelsesnivå.
Får hver kandidat de samme spørsmålene?
Ja, det gjør det mye lettere for deg å sammenligne kandidater. Alternativer for MCQ -spørsmål og rekkefølgen på spørsmål er randomisert. Vi har anti-juksing/proctoring funksjoner på plass. I vår bedriftsplan har vi også muligheten til å lage flere versjoner av den samme vurderingen med spørsmål med lignende vanskelighetsnivåer.
Jeg er en kandidat. Kan jeg prøve en praksisprøve?
Nei. Dessverre støtter vi ikke praksisprøver for øyeblikket. Du kan imidlertid bruke eksemplet spørsmål for praksis.
Hva koster ved å bruke denne testen?
Kan jeg få en gratis prøveperiode?
Jeg flyttet nettopp til en betalt plan. Hvordan kan jeg be om en tilpasset vurdering?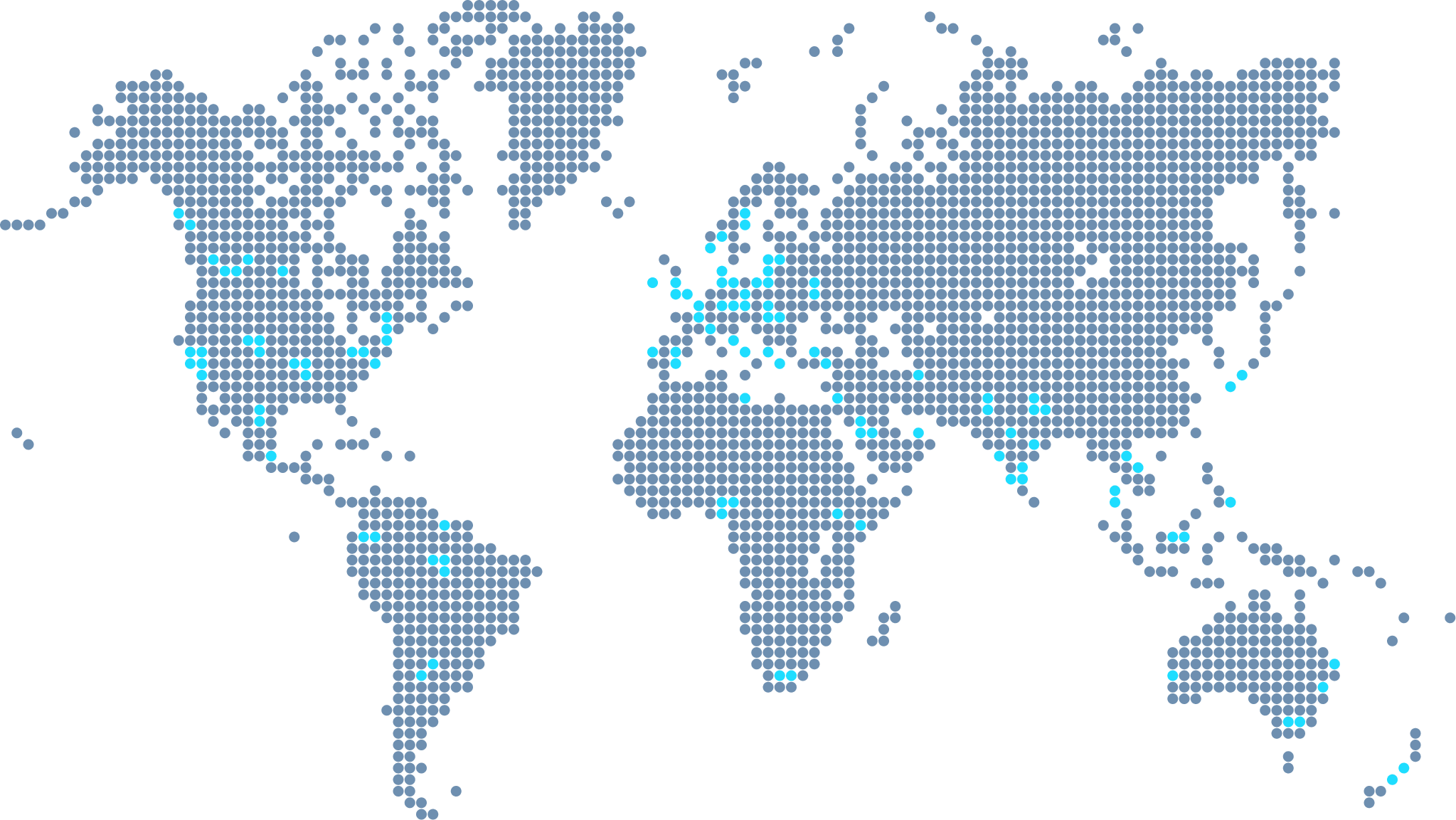 Join 1200+ companies in 75+ countries.
Prøv det mest kandidatvennlige ferdighetsvurderingsverktøyet i dag.

Ready to use the Adaface Tableau Test?
Ready to use the Adaface Tableau Test?