About the test:
The SQL online test evaluates a candidate's ability to design and build relational databases and tables from scratch, apply CRUD options, write efficient queries and subqueries to filter data and create efficient indexes for faster SQL queries.
Covered skills:
Creating databases
CRUD operations on tables
Creating and deleting tables
Joins & Subqueries
See all covered skills
9 reasons why
9 reasons why
Adaface SQL Online Test is the most accurate way to shortlist SQL Developers
Reason #1
Tests for on-the-job skills
De SQL online beoordelingstest helpt recruiters en wervingsmanagers gekwalificeerde SQL -experts te identificeren uit een pool van cv's en helpt bij het nemen van objectieve aanwervingsbeslissingen. Het vermindert de administratieve overhead van het interviewen van te veel kandidaten en bespaart dure technische tijd door ongekwalificeerde kandidaten uit te filteren. De ADAFACE SQL online testschermen kandidaten voor de typische vaardigheden die recruiters zoeken in een SQL -ontwikkelaar:
Maak een relationele database helemaal opnieuw
Maak, wijzigen en verwijderen tabellen uit een database
Voeg gegevens uit, update en verwijder van een tabel
Ophalen van gegevens uit een database met behulp van geselecteerde query's
Filtergegevens met behulp van waar clausules en logische operators
Bestel en beperk gegevens opgehaald uit een tabel
Gebruik geaggregeerde functies en groepsgegevens om meer betekenisvolle inzichten uit een database te verkrijgen
Relateer tabellen samen met databaserelaties
Gebruik SQL -join query's om gegevens uit meerdere tabellen op te halen in een enkele query
Master Complex SQL Subqueries
Pas SQL -stringfuncties toe
Reason #2
No trick questions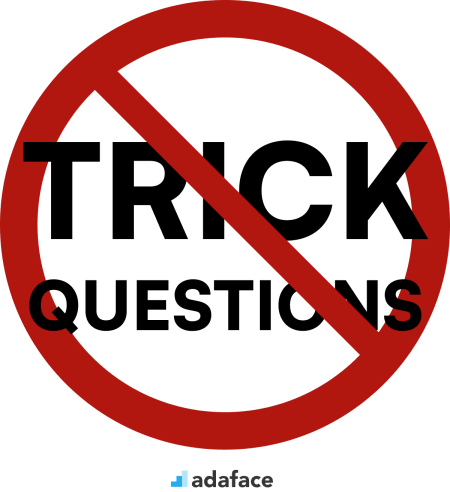 Traditional assessment tools use trick questions and puzzles for the screening, which creates a lot of frustration among candidates about having to go through irrelevant screening assessments.
The main reason we started Adaface is that traditional pre-employment assessment platforms are not a fair way for companies to evaluate candidates. At Adaface, our mission is to help companies find great candidates by assessing on-the-job skills required for a role.
Why we started Adaface ->
Reason #3
Non-googleable questions
We have a very high focus on the quality of questions that test for on-the-job skills. Every question is non-googleable and we have a very high bar for the level of subject matter experts we onboard to create these questions. We have crawlers to check if any of the questions are leaked online. If/ when a question gets leaked, we get an alert. We change the question for you & let you know.
These are just a small sample from our library of 10,000+ questions. The actual questions on this SQL Online Test will be non-googleable.
🧐 Question

Medium

Multi Select

Solve

Easy

Select & IN

Solve

Medium

With, AVG & SUM

Solve
🧐 Question
🔧 Skill

Medium

Multi Select

2 mins

SQL

Solve

Easy

Select & IN

3 mins

SQL

Solve

Medium

With, AVG & SUM

2 mins

SQL

Solve
| | 🧐 Question | 🔧 Skill | 💪 Difficulty | ⌛ Time | |
| --- | --- | --- | --- | --- | --- |
| | Multi Select | SQL | Medium | 2 mins | Solve |
| | Select & IN | SQL | Easy | 3 mins | Solve |
| | With, AVG & SUM | SQL | Medium | 2 mins | Solve |
Reason #4
1200+ customers in 75 countries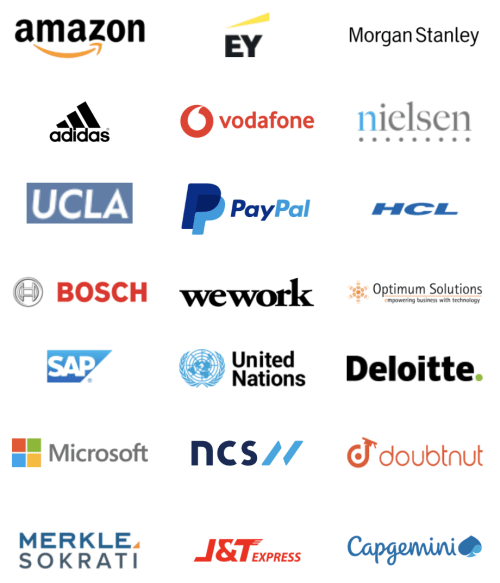 With Adaface, we were able to optimise our initial screening process by upwards of 75%, freeing up precious time for both hiring managers and our talent acquisition team alike!
Brandon Lee, Head of People, Love, Bonito
Reason #5
Designed for elimination, not selection
The most important thing while implementing the pre-employment SQL Online Test in your hiring process is that it is an elimination tool, not a selection tool. In other words: you want to use the test to eliminate the candidates who do poorly on the test, not to select the candidates who come out at the top. While they are super valuable, pre-employment tests do not paint the entire picture of a candidate's abilities, knowledge, and motivations. Multiple easy questions are more predictive of a candidate's ability than fewer hard questions. Harder questions are often "trick" based questions, which do not provide any meaningful signal about the candidate's skillset.
Reason #6
1 click candidate invites
Email invites: You can send candidates an email invite to the SQL Online Test from your dashboard by entering their email address.
Public link: You can create a public link for each test that you can share with candidates.
API or integrations: You can invite candidates directly from your ATS by using our pre-built integrations with popular ATS systems or building a custom integration with your in-house ATS.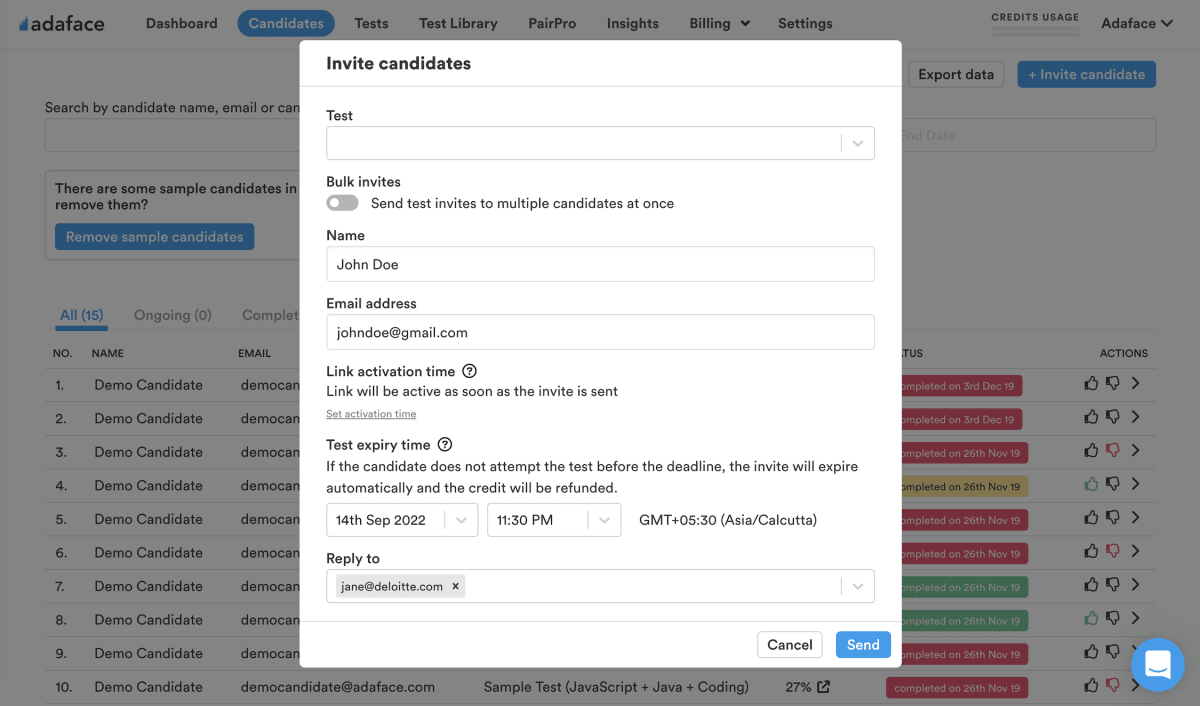 Reason #8
High completion rate
Adaface tests are conversational, low-stress, and take just 25-40 mins to complete.
This is why Adaface has the highest test-completion rate (86%), which is more than 2x better than traditional assessments.

Reason #9
Advanced Proctoring
Hoe past u deze test aan voor senior SQL -ontwikkelaars aan?
De onderwerpen van vragen variëren op basis van de anciënniteitsniveau/ ervaring van de kandidaten voor uw rol. Hier zijn een paar geavanceerde SQL -onderwerpen vragen gebaseerd op:
Schrijven en analyseren van geavanceerde SQL -query's en subquery's
Weergaven maken en gebruiken
Het maken en gebruiken van sequenties
Windowing -functies voor het werken met geordende gegevenssets
Het maken en gebruiken van efficiënte indexen
Synoniemen maken en gebruiken
Weergaven van gegevenswoordenboek
SQL -scripts genereren (dynamische)
Geavanceerde aggregatietechnieken
Het beheren van gebruikersrechten en rollen
met behulp van reguliere uitdrukkingen
Database -triggers
Lokale en globale variabelen
opgeslagen routines
Scaling -database (sharding, replicatie, back -ups)
Verticaal + horizontale schaling
Een SQL -database verbinden met een server
Gegevensmodellering (ER -diagram en normalisatie)
ETL Fundamentals
De exacte onderwerpen worden gekozen op basis van uw functiebeschrijving.
Over SQL -ontwikkelaars -functies
SQL (Structured Query Language) is een standaard databasetaal die wordt gebruikt om relationele databases te maken, te onderhouden en op te halen. SQL zelf is geen programmeertaal, maar de standaard maakt het mogelijk om procedurele extensies ervoor te creëren, waardoor het wordt uitgebreid tot de functionaliteit van een volwassen programmeertaal.
SQL -ontwikkelaars zijn verantwoordelijk voor het ontwikkelen van SQL -databases en het schrijven van applicaties naar interface met SQL -databases. Ontwikkeling bestaat vaak uit het ontwerpen van tabellen, het opslaan van procedures, weergaven en functies.
Typische SQL -ontwikkelaarsverantwoordelijkheden kunnen zijn:
Ontwikkeling van hoogwaardige database-oplossingen
Bekijk en interpreteer de lopende vereisten voor bedrijfsrapporten
Analyseer bestaande SQL -query's voor prestatieverbeteringen
Serveronderhoud, waarbij ook databaseprogramma's en -bewerkingen van problemen oplossen,
Ontwikkel procedures en scripts voor gegevensmigratie
Behandel gemeenschappelijke databaseprocedures zoals upgrade, back -up, herstel, migratie, enz.
What roles can I use the SQL Online Test for?
SQL Developer
Data Analyst
Data Scientist
DevOps Engineer
SQL Database Administrator
Software Engineer - SQL
Senior SQL Developer
Senior Database Developer
Business Analyst (SQL)
What topics are covered in the SQL Online Test?

The hiring managers felt that through the technical questions that they asked during the panel interviews, they were able to tell which candidates had better scores, and differentiated with those who did not score as well. They are highly satisfied with the quality of candidates shortlisted with the Adaface screening.
reduction in screening time
SQL Online Test FAQs
Kan ik relationele databasebeheersystemen zoals MySQL, PostgreSQL, MS SQL evalueren in plaats van SQL?
Ja. Wij bieden gerichte tests die u kunnen helpen bij het beoordelen van databasebeheersystemen in plaats van querytaal SQL. U kunt onze zelfstandige MySQL-test bekijken, [Postgresql Test](https://www.adaface.com/assessment-test/ Postgresql-test) en MS SQL Test voor diepgaande details over wat voor soort vragen worden gebruikt om die vaardigheden te evalueren.
Kan ik SQL- en coderingsvaardigheden evalueren in dezelfde test?
Ja. We ondersteunen het testen van meerdere vaardigheden in dezelfde test. U kunt een aangepaste test krijgen waarbij MCQ-vragen worden gebruikt om SQL-kennis te evalueren en coderende vragen worden gebruikt om hands-on programmeervaardigheden te evalueren. We kunnen ook de coderingsvragen beperken die alleen moeten worden opgelost met behulp van een bepaalde programmeertaal als uw functiebeschrijving een specifieke taal verwacht.
Kan ik SQL en NoSQL (zoals MongoDB) in dezelfde test evalueren?
Ja. U kunt onze standaard MongoDB -test bekijken om een ​​idee te krijgen van welke vragen worden gesteld om MongoDB -vaardigheden te evalueren. In de uiteindelijke beoordeling heeft u vragen om SQL en MongoDB in dezelfde test te evalueren.
Kan ik andere relevante vaardigheden zoals Python in dezelfde test evalueren?
Ja. We ondersteunen screening meerdere vaardigheden in één test. U kunt onze standaard Python-test bekijken om te begrijpen welk type vragen we gebruiken om Python-vaardigheden te evalueren. Nadat u zich voor elk plan hebt aangemeld, kunt u een aangepaste beoordeling aanvragen die wordt aangepast aan uw functiebeschrijving. De aangepaste beoordeling bevat vragen voor alle must-have vaardigheden die nodig zijn voor uw SQL-rol.
Kan ik meerdere vaardigheden combineren in één aangepaste beoordeling?
Ja absoluut. Aangepaste beoordelingen zijn opgezet op basis van uw functiebeschrijving en bevatten vragen over alle must-have vaardigheden die u opgeeft.
Heeft u functies tegen latere of proctoring op hun plaats?
We hebben de volgende anti-cheating-functies op zijn plaats:
Niet-googelbare vragen
IP Proctoring
Web Proctoring
Webcam Proctoring
Plagiaatdetectie
Beveilig browser
Lees meer over de Proctoring -functies.
Hoe interpreteer ik testscores?
Het belangrijkste om in gedachten te houden is dat een beoordeling een eliminatietool is, geen selectietool. Een vaardighedenbeoordeling is geoptimaliseerd om u te helpen kandidaten te elimineren die niet technisch gekwalificeerd zijn voor de rol, het is niet geoptimaliseerd om u te helpen de beste kandidaat voor de rol te vinden. Dus de ideale manier om een ​​beoordeling te gebruiken is om een ​​drempelscore te bepalen (meestal 55%, wij helpen u benchmark) en alle kandidaten uit te nodigen die boven de drempel scoren voor de volgende interviewrondes.
Voor welk ervaringsniveau kan ik deze test gebruiken?
Elke ADAFACE -beoordeling is aangepast aan uw functiebeschrijving/ ideale kandidaatpersonage (onze experts van het onderwerp zullen de juiste vragen kiezen voor uw beoordeling uit onze bibliotheek van 10000+ vragen). Deze beoordeling kan worden aangepast voor elk ervaringsniveau.
Krijgt elke kandidaat dezelfde vragen?
Ja, het maakt het veel gemakkelijker voor u om kandidaten te vergelijken. Opties voor MCQ -vragen en de volgorde van vragen worden gerandomiseerd. We hebben anti-cheating/proctoring functies. In ons bedrijfsplan hebben we ook de optie om meerdere versies van dezelfde beoordeling te maken met vragen over vergelijkbare moeilijkheidsniveaus.
Ik ben een kandidaat. Kan ik een oefentest proberen?
Nee. Helaas ondersteunen we op dit moment geen oefentests. U kunt echter onze voorbeeldvragen gebruiken voor praktijk.
Wat zijn de kosten van het gebruik van deze test?
Kan ik een gratis proefperiode krijgen?
Ik ben net naar een betaald plan verhuisd. Hoe kan ik een aangepaste beoordeling aanvragen?
Ready to use the Adaface SQL Online Test?
Ready to use the Adaface SQL Online Test?