IBM Mainframe Online Test
About the test:
The Mainframe Online Test uses scenario-based MCQs to evaluate candidates on their knowledge of mainframe technologies, including COBOL programming language, JCL, VSAM, CICS, and DB2. The test aims to evaluate a candidate's ability to design and develop mainframe applications that adhere to industry standards and best practices effectively.
Covered skills:
Mainframe Developer
Mainframe Analyst
Mainframe Programmer
Mainframe Specialist
See all covered skills
Availability
Available on request
9 reasons why
9 reasons why
Adaface IBM Mainframe Online Test is the most accurate way to shortlist Mainframe Developers
Reason #1
Tests for on-the-job skills
The Mainframe Online Test helps recruiters and hiring managers to identify qualified candidates from a pool of resumes, and helps in taking objective hiring decisions. It reduces the administrative overhead of interviewing too many candidates and saves time by filtering out unqualified candidates.
The Adaface Mainframe Online test screens candidates for the typical skills recruiters look for Mainframe Developer roles:
Strong knowledge of COBOL (CICS), CA7, DB2 and/ or SQL, Other Mainframe Technologies & Tools
Experience Developing, troubleshooting, and modifying Mainframe systems
Understanding of the complex logic of COBOL and PL/I applications
Ability to quickly identify code errors
Vast knowledge of business processes in specific industries
The insights generated from this assessment can be used by recruiters and hiring managers to identify the best candidates for the Mainframe Developer role. Anti-cheating features enable you to be comfortable with conducting assessments online. The Mainframe Developer test is ideal for helping recruiters identify which candidates have the skills to do well on the job.
Reason #2
No trick questions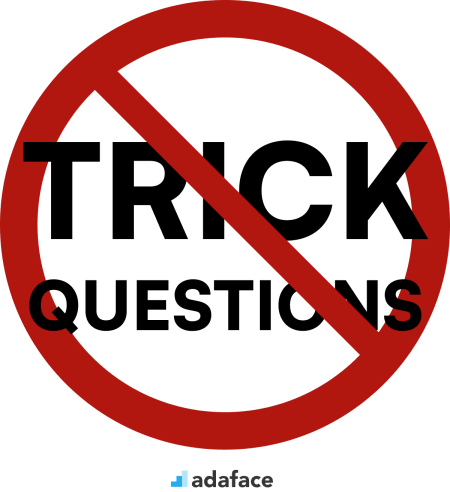 Traditional assessment tools use trick questions and puzzles for the screening, which creates a lot of frustration among candidates about having to go through irrelevant screening assessments.
The main reason we started Adaface is that traditional pre-employment assessment platforms are not a fair way for companies to evaluate candidates. At Adaface, our mission is to help companies find great candidates by assessing on-the-job skills required for a role.
Why we started Adaface ->
Reason #3
Non-googleable questions
We have a very high focus on the quality of questions that test for on-the-job skills. Every question is non-googleable and we have a very high bar for the level of subject matter experts we onboard to create these questions. We have crawlers to check if any of the questions are leaked online. If/ when a question gets leaked, we get an alert. We change the question for you & let you know.
Reason #4
1200+ customers in 75 countries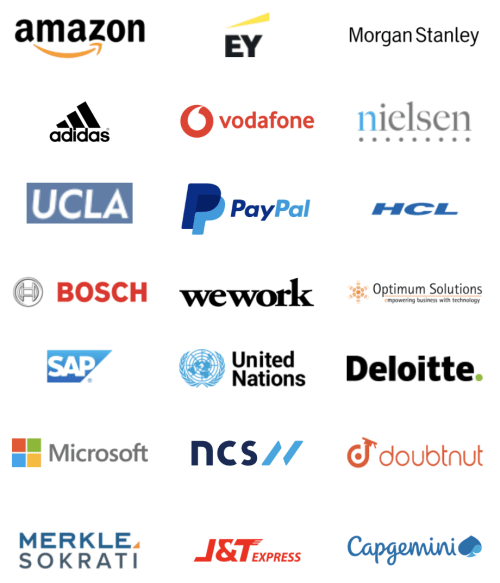 Met Adaface konden we ons eerste screeningproces optimaliseren met meer dan 75%, waardoor we kostbare tijd vrijmaken voor zowel wervingsmanagers als ons talent -acquisitieteam!
Brandon Lee, Hoofd van mensen, Love, Bonito
Reason #5
Designed for elimination, not selection
The most important thing while implementing the pre-employment IBM Mainframe Test in your hiring process is that it is an elimination tool, not a selection tool. In other words: you want to use the test to eliminate the candidates who do poorly on the test, not to select the candidates who come out at the top. While they are super valuable, pre-employment tests do not paint the entire picture of a candidate's abilities, knowledge, and motivations. Multiple easy questions are more predictive of a candidate's ability than fewer hard questions. Harder questions are often "trick" based questions, which do not provide any meaningful signal about the candidate's skillset.
Reason #6
1 click candidate invites
Email invites: You can send candidates an email invite to the IBM Mainframe Test from your dashboard by entering their email address.
Public link: You can create a public link for each test that you can share with candidates.
API or integrations: You can invite candidates directly from your ATS by using our pre-built integrations with popular ATS systems or building a custom integration with your in-house ATS.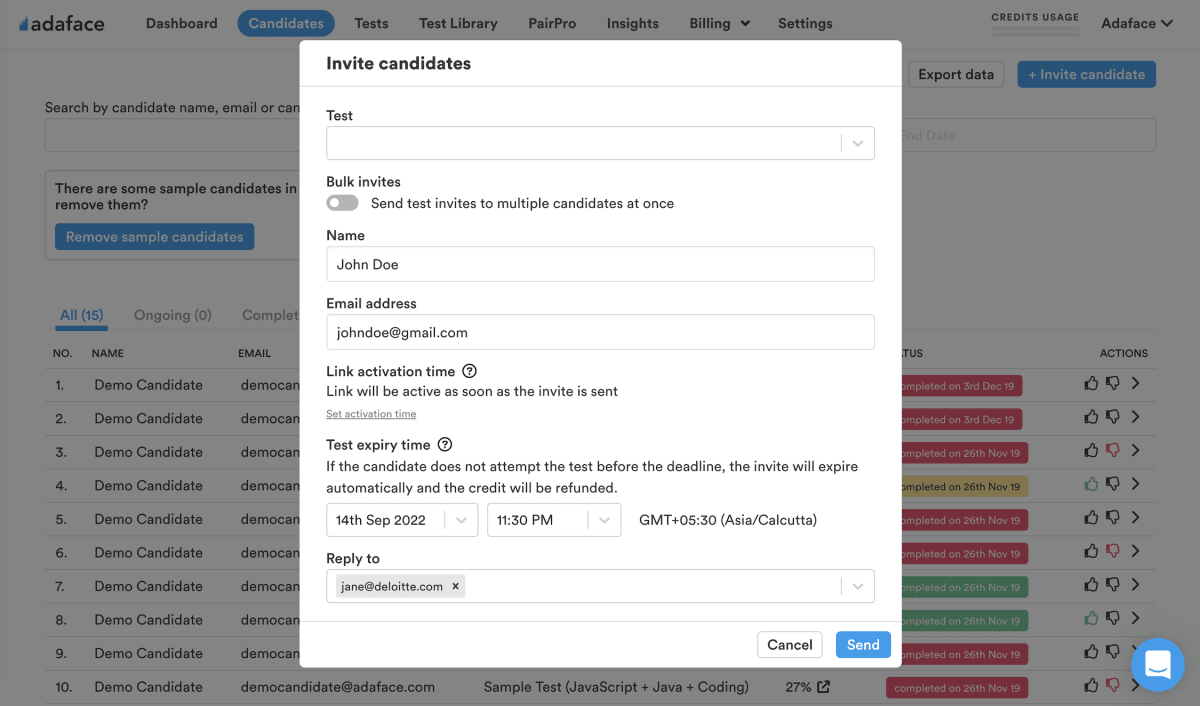 Reason #8
High completion rate
Adaface tests are conversational, low-stress, and take just 25-40 mins to complete.
This is why Adaface has the highest test-completion rate (86%), which is more than 2x better than traditional assessments.

Reason #9
Advanced Proctoring
About Mainframe Developer Roles
Mainframes are high-performance computers with large amounts of memory and processors that process billions of simple calculations and transactions in real time.
A mainframe developer is essentially a software developer who works within the mainframe system.
Mainframe experts are a diminishing group of developers. This has created an increasing demand for mainframe experts on a global scale.
Typical Mainframe Developer responsibilities include:
Design, develop and maintain Mainframe COBOL & JCL
Develop and execute unit test and integration plans/scripts to validate that application changes meet technical specifications
Provide Solution Delivery Methodology artifacts associated with application components
Perform application support tasks like: systems support, security reviews, & maintenance tasks
What roles can I use the IBM Mainframe Test for?
Mainframe Developer
Mainframe Programmer
What topics are covered in the IBM Mainframe Online Test?

De aanwervingsmanagers vonden dat door de technische vragen die ze tijdens de interviews van het panel stelden, ze konden vertellen welke kandidaten betere scores hadden, en onderscheidden zich met degenen die niet zo goed scoor. Zij zijn zeer tevreden met de kwaliteit van kandidaten genomineerd met de ADAFACE -screening.
Vermindering van de screeningstijd
FAQ's
Kan ik meerdere vaardigheden combineren in één aangepaste beoordeling?
Ja absoluut. Aangepaste beoordelingen zijn opgezet op basis van uw functiebeschrijving en bevatten vragen over alle must-have vaardigheden die u opgeeft.
Heeft u functies tegen latere of proctoring op hun plaats?
We hebben de volgende anti-cheating-functies op zijn plaats:
Niet-googelbare vragen
IP Proctoring
Web Proctoring
Webcam Proctoring
Plagiaatdetectie
Beveilig browser
Lees meer over de Proctoring -functies.
Hoe interpreteer ik testscores?
Het belangrijkste om in gedachten te houden is dat een beoordeling een eliminatietool is, geen selectietool. Een vaardighedenbeoordeling is geoptimaliseerd om u te helpen kandidaten te elimineren die niet technisch gekwalificeerd zijn voor de rol, het is niet geoptimaliseerd om u te helpen de beste kandidaat voor de rol te vinden. Dus de ideale manier om een ​​beoordeling te gebruiken is om een ​​drempelscore te bepalen (meestal 55%, wij helpen u benchmark) en alle kandidaten uit te nodigen die boven de drempel scoren voor de volgende interviewrondes.
Voor welk ervaringsniveau kan ik deze test gebruiken?
Elke ADAFACE -beoordeling is aangepast aan uw functiebeschrijving/ ideale kandidaatpersonage (onze experts van het onderwerp zullen de juiste vragen kiezen voor uw beoordeling uit onze bibliotheek van 10000+ vragen). Deze beoordeling kan worden aangepast voor elk ervaringsniveau.
Krijgt elke kandidaat dezelfde vragen?
Ja, het maakt het veel gemakkelijker voor u om kandidaten te vergelijken. Opties voor MCQ -vragen en de volgorde van vragen worden gerandomiseerd. We hebben anti-cheating/proctoring functies. In ons bedrijfsplan hebben we ook de optie om meerdere versies van dezelfde beoordeling te maken met vragen over vergelijkbare moeilijkheidsniveaus.
Ik ben een kandidaat. Kan ik een oefentest proberen?
Nee. Helaas ondersteunen we op dit moment geen oefentests. U kunt echter onze voorbeeldvragen gebruiken voor praktijk.
Wat zijn de kosten van het gebruik van deze test?
Kan ik een gratis proefperiode krijgen?
Ik ben net naar een betaald plan verhuisd. Hoe kan ik een aangepaste beoordeling aanvragen?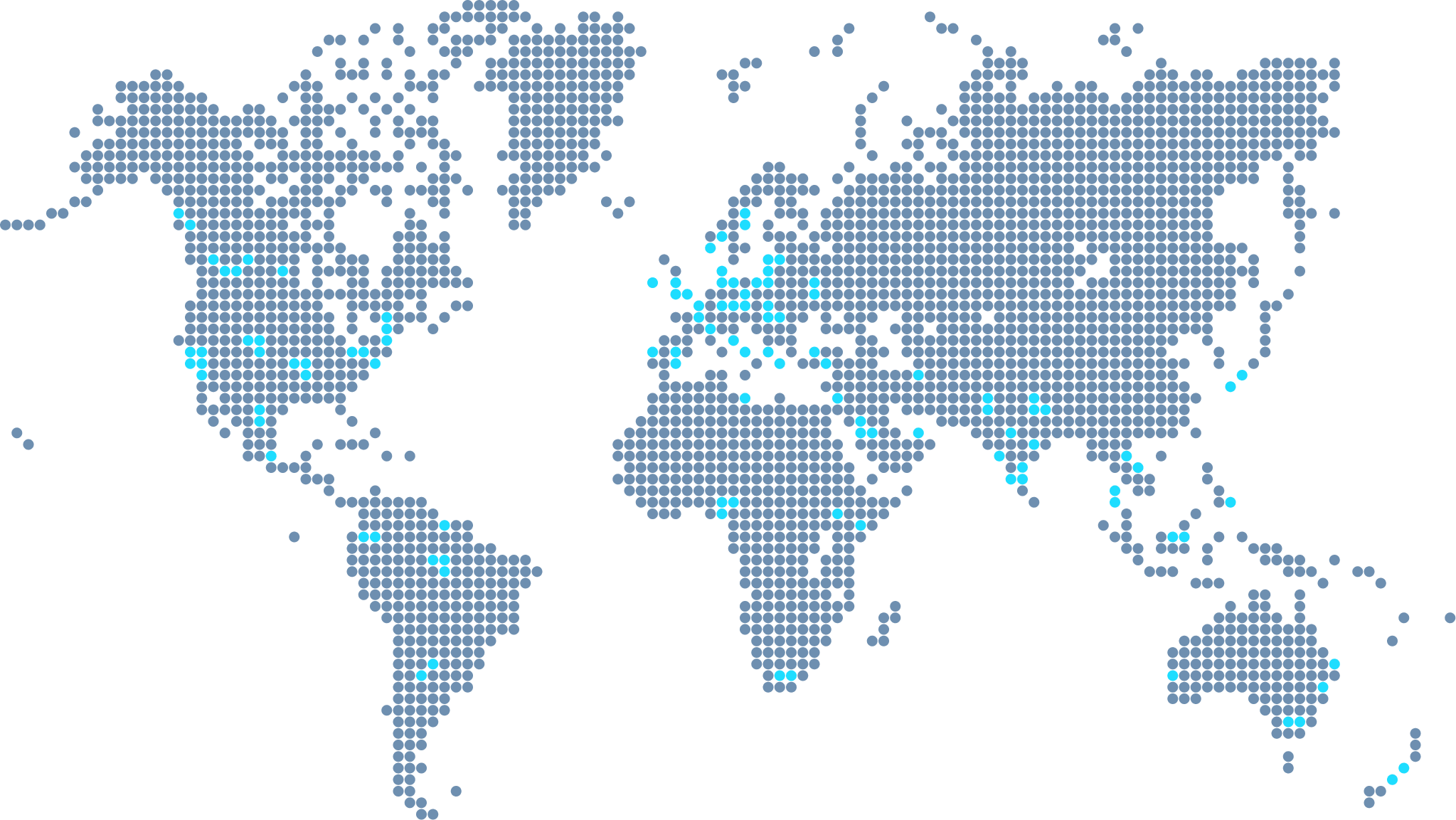 Join 1200+ companies in 75+ countries.
Probeer vandaag de meest kandidaatvriendelijke vaardighedenbeoordelingstool.

Ready to use the Adaface IBM Mainframe Test?
Ready to use the Adaface IBM Mainframe Test?