Adaface provides companies with real-time insights about the screening funnel that goes through our chatbot. It enables everyone on the team to know what's going right and what can be improved. This document highlights a few key features of the insights we provide and how to analyze them for your own Adaface assessments.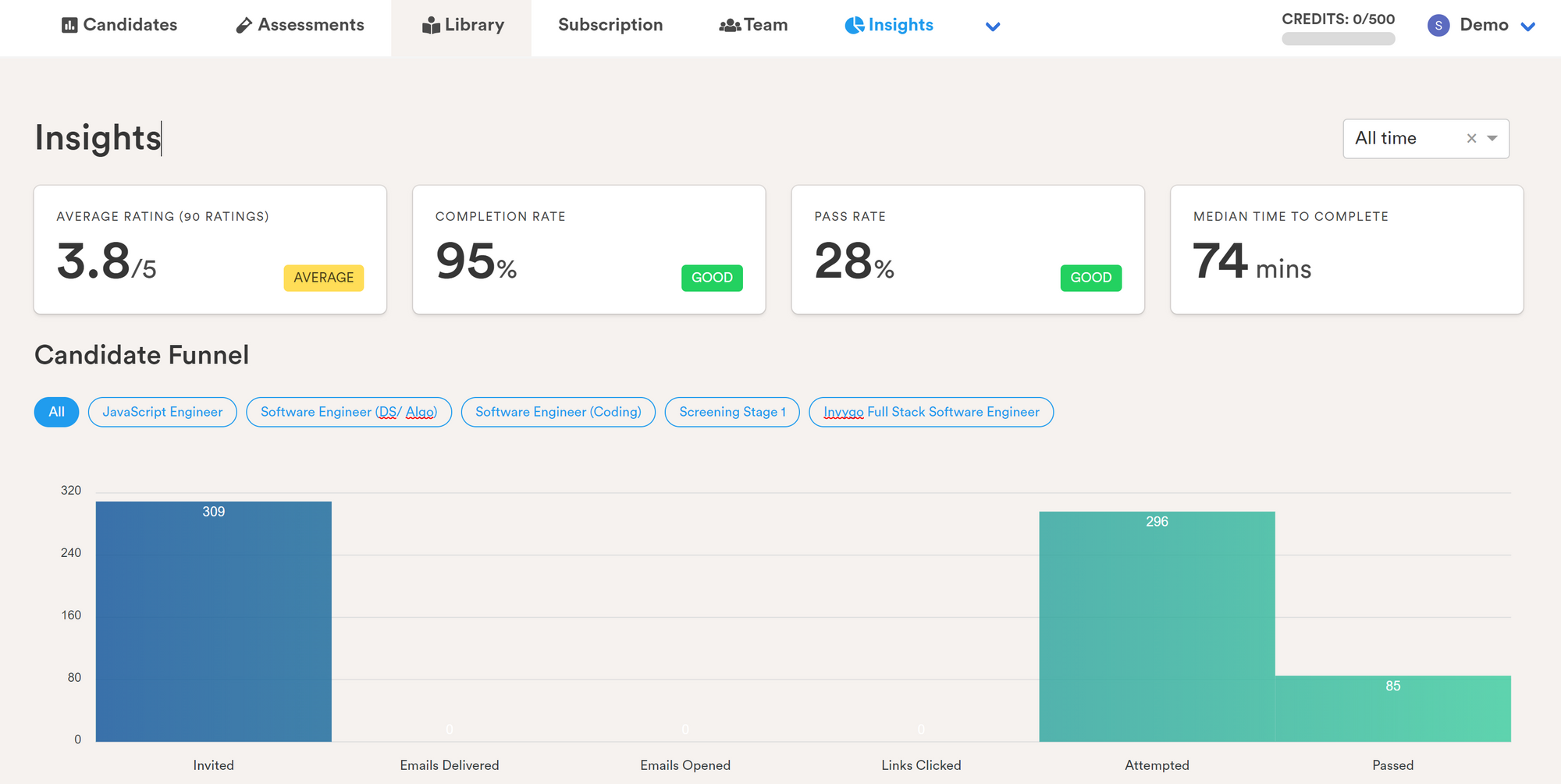 How to access Insights
Login to your Adaface dashboard.
You must be a Super Admin.
Click on 'Insights' tab on the top header of your dashboard.
Tip: By default, you will get a snapshot of analytics/ insights of all the candidates' data. If you want to view the data for a different time range, you can choose that from the dropdown provided.
Snapshot Insights

This gives you a snapshot of key KPIs of your screening funnel. The KPIs are tagged with how they are performing against the desired levels. You can work with your Adaface Customer Success Manager in creating a process in improving those numbers.
Candidate Funnel
You can view the candidate funnel for all tests or individual tests to get a sense of how candidates are progressing in different steps of the funnel. Here are the reported stages:
Invites sent
Emails delivered*
Emails opened*
Links clicked
Attempted
Passed
Note: 'Emails delivered' and 'Emails opened' data might be lower than what it really is. This happens because of incorrect email ids or data blockers that candidates might have installed and there is no way for Adaface to track this information accurately.
Tip: By default, you will see the funnel data of all tests combined. You can click on different test buttons available to view the data of a single test.
Score distribution
Score chart tells you how many candidates are scoring low, how many are scoring medium and how many are scoring high marks for the assessments. The desired scenario is for the client to get as much granularity as possible. So in an ideal scenario, you would see a bell curve of sorts.

Others
We provide few select reviews from your candidates (anonymized) as well as a few interesting observations at the end for curious viewers.
If you require any other data to be part of your insights view, please reach out to us at [email protected]