Audit logs helps companies have a record of state changing transactions of data belonging to them. We provide admins with a viewable snapshot in Adaface dashboard for easy access.
Audit logs is an enterprise only feature. Please contact us at [email protected] to know more.
What do we log?
We log two types of actions - state changing and errors.
State changing
We log all actions performed by any user of a company (or candidate) that changes the state of data belonging to that company (or candidate). Ex: When a user from HR team invites a technical team user to their Adaface dashboard. In this scenario, we track who initiated the request, who was it sent to etc.
Here's another sample audit logs entry:
According to this log, user [email protected] generated public link for a test

Errors
Along with state changing errors, we log actions that were initiated but not executed due to any errors (in most cases, due to insufficient permissions). Ex: A user with 'Candidates admin' permissions tried to change test settings, which is a feature that requires permissions level of 'Tests admin' or 'Super admin'. In every such scenario, user is notified in our application about the error and a log entry is made. (You can read more about our roles & permissions here)
For e.g. : According to this audit log, user [email protected] tried to invite a candidate but the team has already used all allocated credits.

How to access the data?
You must be an enterprise customer for the feature to be available
You must be a 'Super Admin'
Visit your Adaface dashboard
Hover on your company name in the header
Click on "Audit Logs"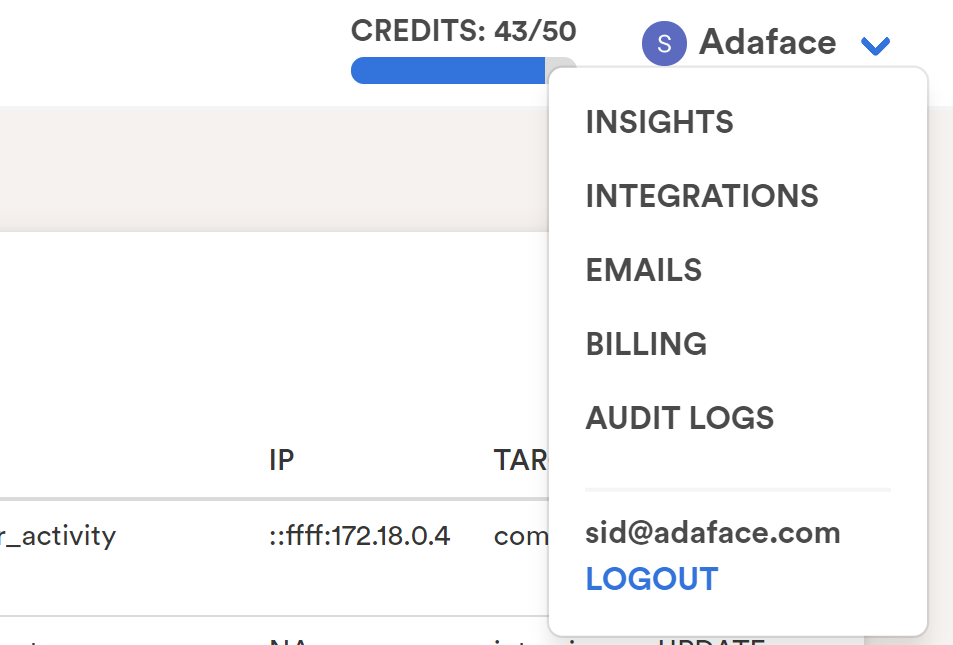 How to use it?
This can be used for your internal GDPR audit or any other security checks. One such usage we have seen is when any user encounters an error or tried accessing information/ feature that they are not permissioned for, audit logs helps you debug these situations. They also help understand if any other team member in your company made changes to the test/ candidate/ company entities so that you don't override the changes your teammate made.
FAQs
Can I export this data?
Yes! but not through the dashboard. Please write to us at [email protected] for exporting audit logs.
Can I filter and sort through the data?
Not at the moment (version v1.4.72). These features are in our roadmap though :) Until then, contact us at [email protected]
What are different types of events/ actions that are logged in audit logs?
We are adding new features and events/ actions with every release, so it's not possible for us to provide here an up-to-date list of events. Please contact us at [email protected] for full list. If you would like to know any more information regarding any event, please contact us.
Can I add my own events to audit logs?
Please contact us and we are happy to add it to our roadmap as long as it meets the requirements for audit logging.