About the test:
The verbal reasoning online test uses 15 scenario-based MCQ questions to evaluate a candidate's ability to understand and comprehend workplace text. The test screens for verbal ability skills and shortlists candidates who can write and articulate clearly and concisely. Candidates must demonstrate an understanding of written English and be able to communicate effectively in business situations.
Covered skills:
Foundations of vocabulary
Understanding analogies and inferences
Using accurate grammar
Analyzing detailed written information
See all covered skills
Questions
14 Verbal ræsonnement MCQs
9 reasons why
9 reasons why
Adaface Verbal ræsonnementstest is the most accurate way to shortlist Business Analysts
Reason #1
Tests for on-the-job skills
Den verbale evne online -test indeholder 15 MCQ -spørgsmål til at vurdere en kandidats sproglige og logiske evner og tager ~ 20 minutter. Rapporterne genereres automatisk, og rekrutterere kan bruge den genererede indsigt til at identificere kandidaterne med de bedste verbale ræsonnementsevner.
Den verbale ræsonnementstest før ansættelse måler, hvor flydende kandidater er på engelsk, og hvor gode de er til artikulering af ideer og koncepter. Verbale evner er vigtige for en række roller. De er ofte inkluderet som en del af en bredere ansøgningsproces, hvor kandidaterne bliver bedt om at demonstrere deres viden om grammatik, stavemåde, tegnsætning, syntaks og arbejdspladsetikette. Spørgsmålene i testen evaluerer kritiske verbale ræsonnementskompetencer, som kandidater forventes at have:
Sprog- og forståelsesevner
Forståelse af forretningssprog
Sammenligning af forskellige skriftlige tekster med hinanden
Analyse af skriftlige oplysninger for at foretage logiske og begrundede fradrag
Kommunikation af konklusionerne med kolleger
Reason #2
No trick questions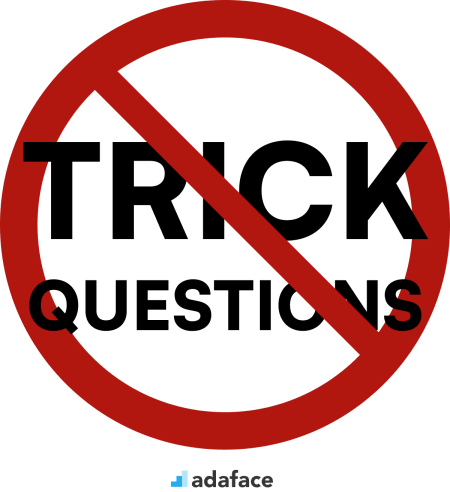 Traditional assessment tools use trick questions and puzzles for the screening, which creates a lot of frustration among candidates about having to go through irrelevant screening assessments.
The main reason we started Adaface is that traditional pre-employment assessment platforms are not a fair way for companies to evaluate candidates. At Adaface, our mission is to help companies find great candidates by assessing on-the-job skills required for a role.
Why we started Adaface ->
Reason #3
Non-googleable questions
We have a very high focus on the quality of questions that test for on-the-job skills. Every question is non-googleable and we have a very high bar for the level of subject matter experts we onboard to create these questions. We have crawlers to check if any of the questions are leaked online. If/ when a question gets leaked, we get an alert. We change the question for you & let you know.
Dette er kun en lille prøve fra vores bibliotek med 10.000+ spørgsmål. De faktiske spørgsmål om dette Verbal Reasoning Test vil være ikke-gåbart.
🧐 Question

Easy

Overseas office

Solve

Medium

China manufacturing

Solve

Medium

Commerical Premises

Solve
🧐 Question
🔧 Skill

Easy

Overseas office

2 mins

Verbal Reasoning

Solve

Medium

China manufacturing

2 mins

Verbal Reasoning

Solve

Medium

Commerical Premises

2 mins

Verbal Reasoning

Solve
| | 🧐 Question | 🔧 Skill | 💪 Difficulty | ⌛ Time | |
| --- | --- | --- | --- | --- | --- |
| | Overseas office | Verbal Reasoning | Easy | 2 mins | Solve |
| | China manufacturing | Verbal Reasoning | Medium | 2 mins | Solve |
| | Commerical Premises | Verbal Reasoning | Medium | 2 mins | Solve |
Reason #4
1200+ customers in 75 countries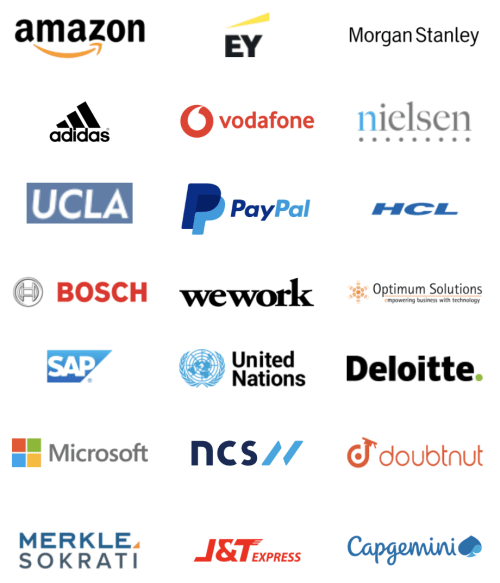 Med Adaface var vi i stand til at optimere vores indledende screeningsproces med op til 75%, hvilket frigør dyrebar tid for både ansættelsesledere og vores talentindsamlingsteam!
Brandon Lee, Leder af mennesker, Love, Bonito
Reason #5
Designed for elimination, not selection
The most important thing while implementing the pre-employment Verbal Reasoning Test in your hiring process is that it is an elimination tool, not a selection tool. In other words: you want to use the test to eliminate the candidates who do poorly on the test, not to select the candidates who come out at the top. While they are super valuable, pre-employment tests do not paint the entire picture of a candidate's abilities, knowledge, and motivations. Multiple easy questions are more predictive of a candidate's ability than fewer hard questions. Harder questions are often "trick" based questions, which do not provide any meaningful signal about the candidate's skillset.
Reason #6
1 click candidate invites
Email invites: You can send candidates an email invite to the Verbal Reasoning Test from your dashboard by entering their email address.
Public link: You can create a public link for each test that you can share with candidates.
API or integrations: You can invite candidates directly from your ATS by using our pre-built integrations with popular ATS systems or building a custom integration with your in-house ATS.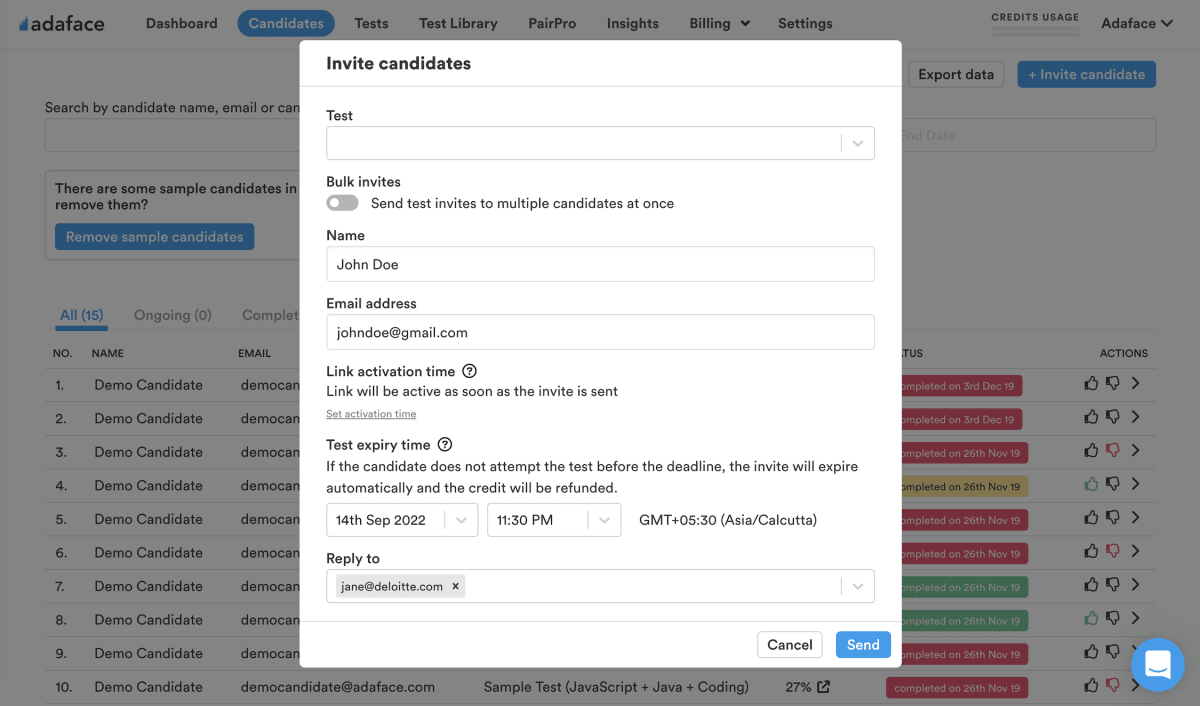 Reason #8
High completion rate
Adaface tests are conversational, low-stress, and take just 25-40 mins to complete.
This is why Adaface has the highest test-completion rate (86%), which is more than 2x better than traditional assessments.

Reason #9
Advanced Proctoring
Hvilken slags spørgsmål bruges i verbale evnerundersøgelser?
Der vil være 15 scenariebaserede MCQ-spørgsmål i standard MCQ-formatet. Kandidater præsenteres for en kort passage af tekst, som de bliver nødt til at fortolke og vælge de rigtige muligheder blandt et sæt mulige svar. Spørgsmålene er baseret på to hovedkategorier:
Engelsk grammatik/ ordforråd - Kandidater skal kende engelske grammatikregler for at vælge det rigtige svar.
Verbal kritisk ræsonnement og læseforståelse - Spørgsmålene simuleres for at repræsentere arbejdstekst. Kandidater skal fordøje skriftlige oplysninger og vælge de rigtige svar hurtigt og præcist.
Alle spørgsmål kræver ikke, at kandidater har nogen tidligere viden eller kræver nogen forberedelse, før de vises til testen.
Kan jeg evaluere evner til egnethed sammen med verbale evner?
Ja. Du kan evaluere andre færdigheder i kognitive evner sammen med verbale evner færdigheder såsom numerisk ræsonnement, rumlig ræsonnement og situationel vurdering. For roller, der er fokuseret på dataknusning, kan du evaluere datatolkningsevner i den samme test. Du kan læse mere om, hvordan adaface egnethedstest er designet og gennemgå et par prøveperiode.
What roles can I use the Verbal Reasoning Test for?
Business Analyst
Content Writer
Marketing Professional
Consultant
Translator
Customer-facing roles
Marketing Associates
What topics are covered in the Verbal ræsonnementstest?

De ansættelsesledere mente, at de gennem de tekniske spørgsmål, som de stillede under panelinterviewene, kunne fortælle, hvilke kandidater der havde bedre scoringer, og differentierede med dem, der ikke scorede så godt. De er meget tilfreds med kvaliteten af ​​kandidater, der er på listen med Adaface -screeningen.
Reduktion i screeningstid
FAQS
Hvad er en verbal evne -test?
Verbale evner Tests måler, hvor hurtigt og nøjagtigt en person kan læse og forstå skriftlige oplysninger. Kandidaterne får en kort tekst, efterfulgt af et spørgsmål om, hvad der lige blev læst. For at svare korrekt skal kandidaterne identificere hovedpunkterne i teksten og derefter knytte dem tilbage til det originale spørgsmål. Nogle verbale begrundelsesspørgsmål kræver, at kandidaterne gør dette omvendt. De verbale ræsonnementstest evaluerer forståelsen af ​​sprog og niveauet for verbal forståelse og logik. De verbale ræsonnementstest er designet til forskellige roller og job i en organisations hierarki. Afhængigt af oplevelsesniveauet og jobbeskrivelsen varierer følgende fra test til test:
emnet for spørgsmålene
Scenariet Spørgsmålene er baseret på (reflekterende for kommunikation på arbejdspladsen og eksempler i den virkelige verden))
vanskelighedsniveauet for begrundelsesspørgsmålene
Hvor mange typer verbale ræsonnementstest er der?
Der er 21 typer verbale evner, der resonnerer test. Nogle har subtile forskelle, mens nogle få har betydelige variationer i formatet og strukturen. De fleste af disse forskelle opstår på grund af:
Længde på de skriftlige oplysninger til analyse
kontekst, emne og stil for de præsenterede oplysninger
Spørgsmålstype og præsentationsformat
Disse 21 typer er konceptuelle og er ikke afstemt på at ansætte. Her er de 21 typer:
bogstavkode
Letter Series
bogstavsdom
Forbindelsesord
Manglende brev
Flyt et brev
mangler ord med tre bogstaver
Opret ord på samme måde
Brevbeløb
nummerserier
Skjulte ord med fire bogstaver
Ord tættest i mening
Relaterede ord
Word -links
fakta og gåder
Antonymer
Afslutning af summen
mangler nummer
nummerkode
Afslutning af det tredje par
Dobbelt betydning
Vi har analyseret disse langundersøgte typer og oversat disse testtyper til verbale ræsonnementsprøver på arbejdspladsen. Disse verbale ræsonnementstest bruges til forskellige job inden for tekniske, placeringer, mellemniveau, ledelsesmæssige, administrative og ledelsesansættelse.
Hvordan tilpasses den verbale ræsonnementstest til freshers?
For kandidater og friskere roller vil spørgsmålene være af mere håndterbare niveauer. Scenarierne, der bruges til at skabe spørgsmål, vil være lette at forstå uden jargon på arbejdspladsen, samtidig med at de sikrer, at spørgsmålene fanger kerne ræsonnementsevner. Du kan også tjekke vores campusrekrutteringstest, der evaluerer verbal ræsonnement og andre afgørende analytiske tænkningsevner.
Hvordan tilpasses den verbale ræsonnement online test til seniorkandidater?
For mellemniveau og seniorkandidater tilpasses testen på følgende måder:
Sværhedsgraden af ​​spørgsmål er fra medium til hårdt
De skriftlige oplysninger, der leveres for hvert spørgsmål, vil være baseret på arbejdspladsscenarier
Sammen med verbal forståelse og ræsonnement vil spørgsmålene dømme for situationelle dømmekraft og kommunikationsevner
Testskærmen for verbal evne til engelsk forståelse?
Kan jeg kombinere flere færdigheder i en brugerdefineret vurdering?
Ja absolut. Brugerdefinerede vurderinger er oprettet baseret på din jobbeskrivelse og vil omfatte spørgsmål om alle must-have-færdigheder, du angiver.
Har du nogen anti-cheating eller proctoring-funktioner på plads?
Vi har følgende anti-cheating-funktioner på plads:
Ikke-gåbare spørgsmål
IP Proctoring
Webproctoring
Webcam Proctoring
Detektion af plagiering
Sikker browser
Læs mere om Proctoring Features.
Hvordan fortolker jeg testresultater?
Den primære ting at huske på er, at en vurdering er et elimineringsværktøj, ikke et udvælgelsesværktøj. En færdighedsvurdering er optimeret for at hjælpe dig med at eliminere kandidater, der ikke er teknisk kvalificerede til rollen, den er ikke optimeret til at hjælpe dig med at finde den bedste kandidat til rollen. Så den ideelle måde at bruge en vurdering på er at beslutte en tærskelværdi (typisk 55%, vi hjælper dig med benchmark) og inviterer alle kandidater, der scorer over tærsklen for de næste interviewrunder.
Hvilken oplevelsesniveau kan jeg bruge denne test til?
Hver Adaface -vurdering tilpasses til din jobbeskrivelse/ ideel kandidatperson (vores emneeksperter vælger de rigtige spørgsmål til din vurdering fra vores bibliotek på 10000+ spørgsmål). Denne vurdering kan tilpasses til ethvert erfaringsniveau.
Får hver kandidat de samme spørgsmål?
Ja, det gør det meget lettere for dig at sammenligne kandidater. Valgmuligheder for MCQ -spørgsmål og rækkefølgen af ​​spørgsmål randomiseres. Vi har anti-cheating/proctoring funktioner på plads. I vores virksomhedsplan har vi også muligheden for at oprette flere versioner af den samme vurdering med spørgsmål om lignende vanskelighedsniveauer.
Jeg er kandidat. Kan jeg prøve en øvelsestest?
Nej. Desværre understøtter vi ikke praksisforsøg i øjeblikket. Du kan dog bruge vores eksempler på spørgsmål til praksis.
Hvad er omkostningerne ved at bruge denne test?
Kan jeg få en gratis prøve?
Jeg flyttede lige til en betalt plan. Hvordan kan jeg anmode om en brugerdefineret vurdering?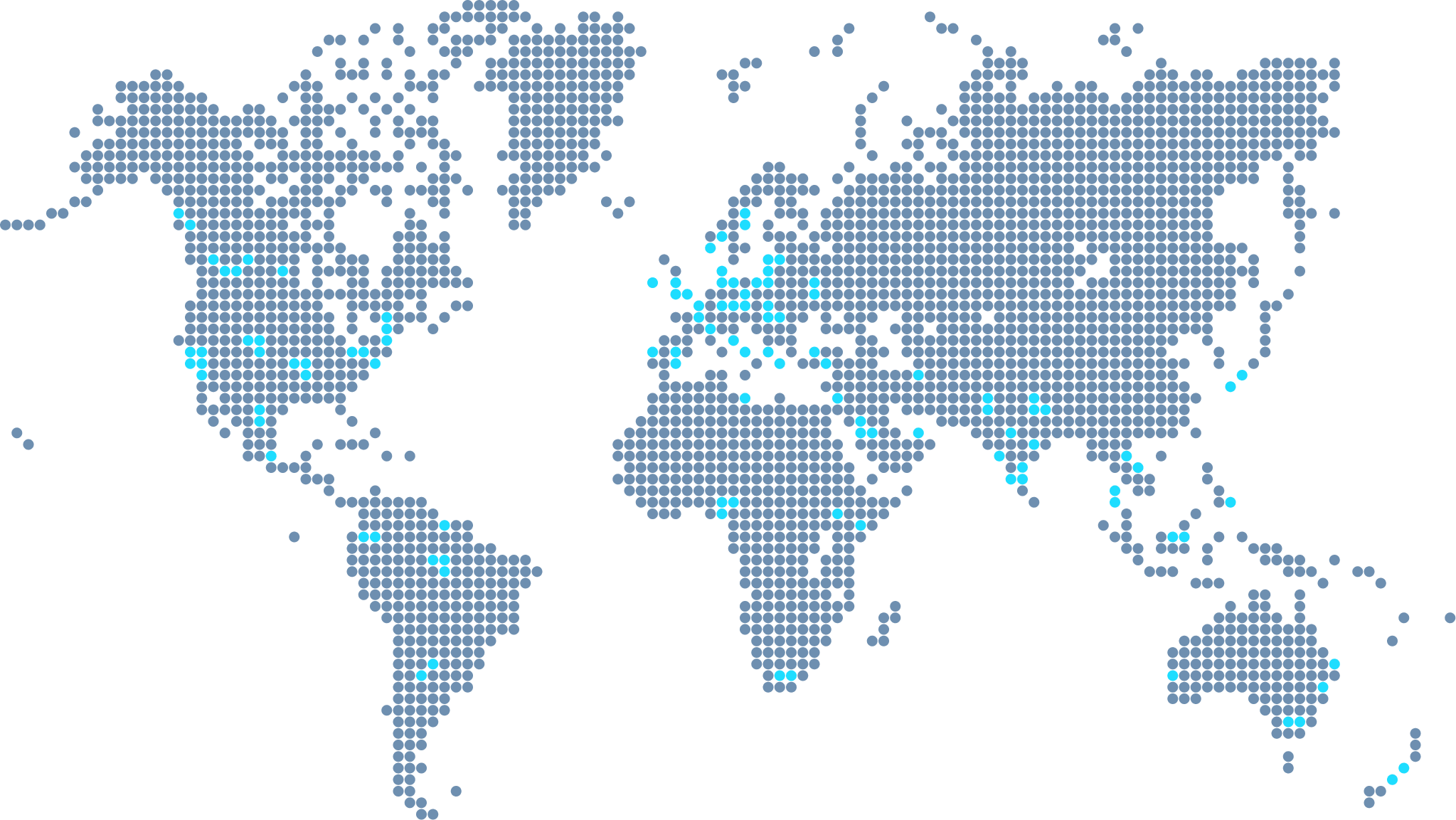 Join 1200+ companies in 75+ countries.
Prøv det mest kandidatvenlige færdighedsvurderingsværktøj i dag.

Ready to use the Adaface Verbal Reasoning Test?
Ready to use the Adaface Verbal Reasoning Test?