About the test:
The Selenium Online Test evaluates candidates' ability to perform automation testing using the Selenium web driver. The test uses scenario-based MCQ questions to assess automation testing fundamentals and knowledge of the Selenium framework. With the test, you can identify candidates who have used the Selenium framework to find issues on live sites, conduct cross-browser tests, develop QA frameworks and generate insightful reports.
Covered skills:
Architecture and features of Selenium Webdriver
Cross-browser testing with Selenium Grid
Interacting with live websites and components
API testing (manual and automation)
See all covered skills
9 reasons why
9 reasons why
Adaface Selenium online test is the most accurate way to shortlist Test Engineers
Reason #1
Tests for on-the-job skills
Selenium-online-testen bruger 12 ikke-googleable scenariebaserede MCQ-spørgsmål til at evaluere on-the-job selenium færdigheder. Vores seleneksperter designer hvert spørgsmål for at vurdere de centrale færdigheder, der kræves for at få succes i automatiseringstest.
Rekrutterere kan bruge testen til at finde kandidater med forudgående selenviden. Hver kandidat er benchmarket mod branchegennemsnit, og rekrutterere modtager en detaljeret rapport om kandidatens præstation med emne-vis analyse.
Testen evaluerer efter følgende kernefærdigheder, som ansættelse af ledere forventer, at gode selen -ingeniører skal vide:
Selenium Webdriver Fundamentals
Interaktion mellem webelement på statiske og dynamiske websteder (Mus- og tastaturinteraktioner, implicitte og eksplicitte venter)
Design af testtilfælde og automatisering af tests
Oprettelse af større rammer fra bunden (datadrevet, nøgleordsdrevet, hybrid, sideobjektmodel, sidefabrikker)
Brug af databaser i selen -testtilfælde
Parallel udførelse med Selenium Grid
Reason #2
No trick questions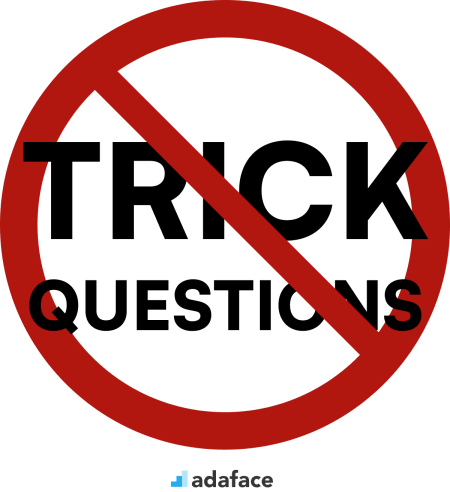 Traditional assessment tools use trick questions and puzzles for the screening, which creates a lot of frustration among candidates about having to go through irrelevant screening assessments.
The main reason we started Adaface is that traditional pre-employment assessment platforms are not a fair way for companies to evaluate candidates. At Adaface, our mission is to help companies find great candidates by assessing on-the-job skills required for a role.
Why we started Adaface ->
Reason #3
Non-googleable questions
We have a very high focus on the quality of questions that test for on-the-job skills. Every question is non-googleable and we have a very high bar for the level of subject matter experts we onboard to create these questions. We have crawlers to check if any of the questions are leaked online. If/ when a question gets leaked, we get an alert. We change the question for you & let you know.
Dette er kun en lille prøve fra vores bibliotek med 10.000+ spørgsmål. De faktiske spørgsmål om dette Selenium Online Test vil være ikke-gåbart.
🧐 Question

Medium

Check if dialog dismissed

Solve

Medium

Page Object Class

Solve
🧐 Question
🔧 Skill

Medium

Check if dialog dismissed

2 mins

Selenium

Solve

Medium

Page Object Class

3 mins

Selenium

Solve
| | 🧐 Question | 🔧 Skill | 💪 Difficulty | ⌛ Time | |
| --- | --- | --- | --- | --- | --- |
| | Check if dialog dismissed | Selenium | Medium | 2 mins | Solve |
| | Page Object Class | Selenium | Medium | 3 mins | Solve |
Reason #4
1200+ customers in 75 countries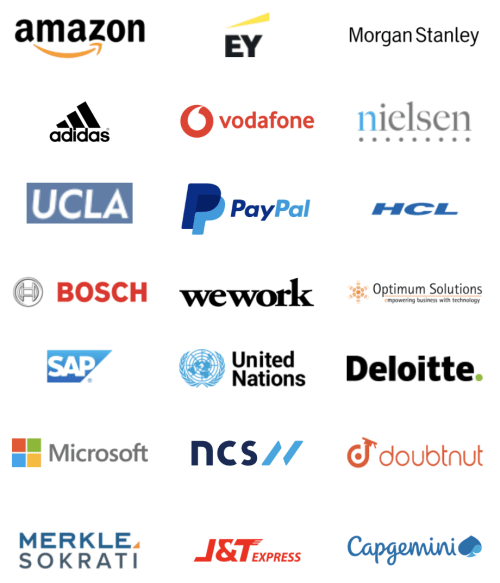 Med Adaface var vi i stand til at optimere vores indledende screeningsproces med op til 75%, hvilket frigør dyrebar tid for både ansættelsesledere og vores talentindsamlingsteam!
Brandon Lee, Leder af mennesker, Love, Bonito
Reason #5
Designed for elimination, not selection
The most important thing while implementing the pre-employment Selenium Online Test in your hiring process is that it is an elimination tool, not a selection tool. In other words: you want to use the test to eliminate the candidates who do poorly on the test, not to select the candidates who come out at the top. While they are super valuable, pre-employment tests do not paint the entire picture of a candidate's abilities, knowledge, and motivations. Multiple easy questions are more predictive of a candidate's ability than fewer hard questions. Harder questions are often "trick" based questions, which do not provide any meaningful signal about the candidate's skillset.
Reason #6
1 click candidate invites
Email invites: You can send candidates an email invite to the Selenium Online Test from your dashboard by entering their email address.
Public link: You can create a public link for each test that you can share with candidates.
API or integrations: You can invite candidates directly from your ATS by using our pre-built integrations with popular ATS systems or building a custom integration with your in-house ATS.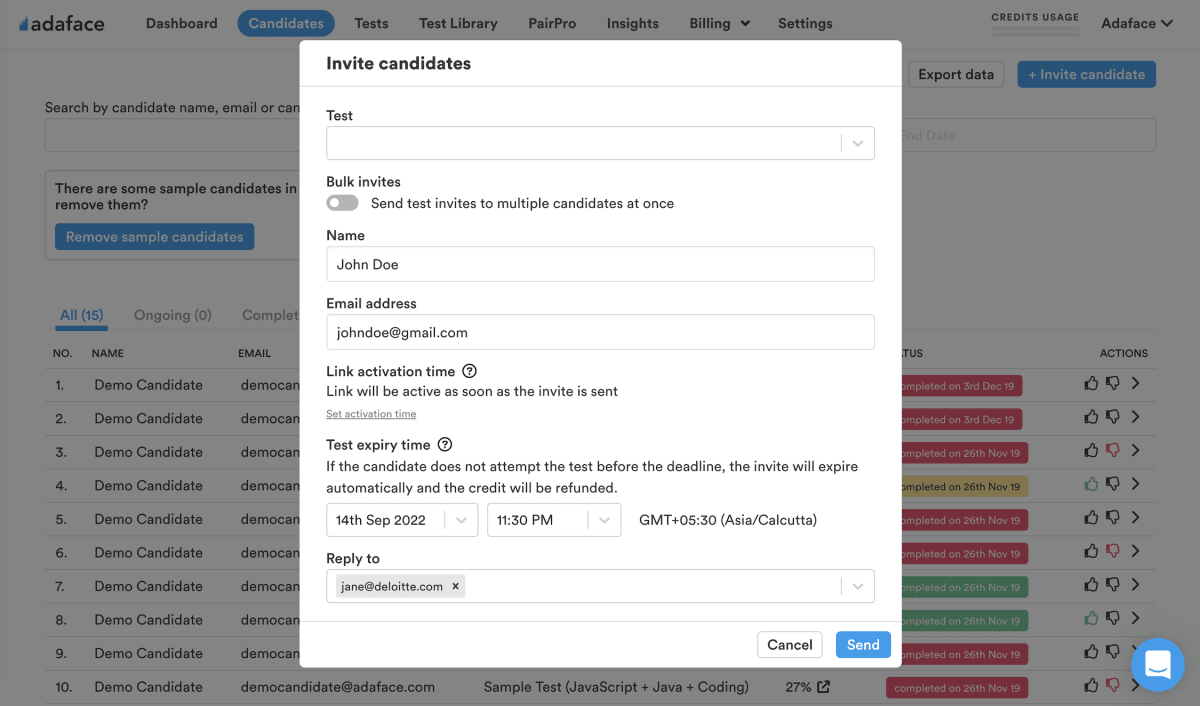 Reason #8
High completion rate
Adaface tests are conversational, low-stress, and take just 25-40 mins to complete.
This is why Adaface has the highest test-completion rate (86%), which is more than 2x better than traditional assessments.

Reason #9
Advanced Proctoring
Hvordan tilpasses testen til senior Selenium Automation Engineers?
De spørgsmål, der bruges til at evaluere senior Selenium -udviklere, vil være af højere vanskelighedsniveauer og er baseret på avancerede emner. For at løse disse spørgsmål kræver kandidater få års praktisk erfaring med at automatisere med selen. Her er få avancerede emner, spørgsmålene er baseret på:
Forståelse af vælgere/placatorer i detaljer
Avanceret Xpath
Parametrisering, globale variabler og vigtigheden af ​​en basisside
God skalerbar designpraksis til brug af sideobjektmodel
Parallel udførelse ved hjælp af tråd lokal
Automatisk vindue/ramme switching ved hjælp af aspektorienteret programmering (AOP)
Udløsende tests automatisk baseret på dato/tid
Generering af avancerede og detaljerede professionelle rapporter
Teknikker til at automatisere Ajax -opkald og iFrames
fejlfinding af forskellige selen -testfejl og undtagelser
Avancerede webemner som Chrome Options, SSL -certifikathåndtering, cookies og mere
Kendskab til at bruge OOP -koncepter i rammer [arv, interface, indkapsling, polymorfisme]
Identificering og brug af designmønstre til forskellige scenarier
What roles can I use the Selenium Online Test for?
Test Engineer
QA Automation Software Engineer
SDET (Software Development Engineer in Test)
Java Automation with Selenium
Senior Test Engineer - Selenium
Automation Tester - Selenium
QA Automation Tester
What topics are covered in the Selenium online test?

De ansættelsesledere mente, at de gennem de tekniske spørgsmål, som de stillede under panelinterviewene, kunne fortælle, hvilke kandidater der havde bedre scoringer, og differentierede med dem, der ikke scorede så godt. De er meget tilfreds med kvaliteten af ​​kandidater, der er på listen med Adaface -screeningen.
Reduktion i screeningstid
Selenium Online Test FAQs
Hvordan tilpasses testen til Python Selenium -roller?
Vores standard selen -test evaluerer selen -færdigheder uden at fokusere på et bestemt programmeringssprog. Vi kan tilpasse testen til at omfatte spørgsmål, der evaluerer Python Fundamentals ved hjælp af MCQS og praktisk Python-oplevelse ved hjælp af kodningsspørgsmål. Du kan kontrollere vores standard Python Test for at gennemgå prøvepython-spørgsmål.
Hvordan tilpasses testen til Java Selenium -roller?
Vores standard selen -test evaluerer selen -færdigheder uden at fokusere på et bestemt programmeringssprog. Vi kan tilpasse testen til at omfatte spørgsmål, der evaluerer Java Fundamentals ved hjælp af MCQ'er og praktisk Java-oplevelse ved hjælp af kodningsspørgsmål. Du kan kontrollere vores standard Java Test for at gennemgå prøven Java-spørgsmål.
Kan Selenium WebDriver Assessment Test evaluere for manuelle testfærdigheder?
Testen fokuserer på automatiseringstest med selen. Vi kan dog tilføje manuelle test MCQ'er til testen og tilpasse den til din rolle. Du kan kontrollere vores standard manuel test online test for at gennemgå eksempler på spørgsmål.
Er der en selen -online -test til erfarne ansættelser?
Selen -online -testen kan tilpasses i henhold til anciennitetsniveau og rollekrav til din åbne rolle.
Kan jeg kombinere flere færdigheder i en brugerdefineret vurdering?
Ja absolut. Brugerdefinerede vurderinger er oprettet baseret på din jobbeskrivelse og vil omfatte spørgsmål om alle must-have-færdigheder, du angiver.
Har du nogen anti-cheating eller proctoring-funktioner på plads?
Vi har følgende anti-cheating-funktioner på plads:
Ikke-gåbare spørgsmål
IP Proctoring
Webproctoring
Webcam Proctoring
Detektion af plagiering
Sikker browser
Læs mere om Proctoring Features.
Hvordan fortolker jeg testresultater?
Den primære ting at huske på er, at en vurdering er et elimineringsværktøj, ikke et udvælgelsesværktøj. En færdighedsvurdering er optimeret for at hjælpe dig med at eliminere kandidater, der ikke er teknisk kvalificerede til rollen, den er ikke optimeret til at hjælpe dig med at finde den bedste kandidat til rollen. Så den ideelle måde at bruge en vurdering på er at beslutte en tærskelværdi (typisk 55%, vi hjælper dig med benchmark) og inviterer alle kandidater, der scorer over tærsklen for de næste interviewrunder.
Hvilken oplevelsesniveau kan jeg bruge denne test til?
Hver Adaface -vurdering tilpasses til din jobbeskrivelse/ ideel kandidatperson (vores emneeksperter vælger de rigtige spørgsmål til din vurdering fra vores bibliotek på 10000+ spørgsmål). Denne vurdering kan tilpasses til ethvert erfaringsniveau.
Får hver kandidat de samme spørgsmål?
Ja, det gør det meget lettere for dig at sammenligne kandidater. Valgmuligheder for MCQ -spørgsmål og rækkefølgen af ​​spørgsmål randomiseres. Vi har anti-cheating/proctoring funktioner på plads. I vores virksomhedsplan har vi også muligheden for at oprette flere versioner af den samme vurdering med spørgsmål om lignende vanskelighedsniveauer.
Jeg er kandidat. Kan jeg prøve en øvelsestest?
Nej. Desværre understøtter vi ikke praksisforsøg i øjeblikket. Du kan dog bruge vores eksempler på spørgsmål til praksis.
Hvad er omkostningerne ved at bruge denne test?
Kan jeg få en gratis prøve?
Jeg flyttede lige til en betalt plan. Hvordan kan jeg anmode om en brugerdefineret vurdering?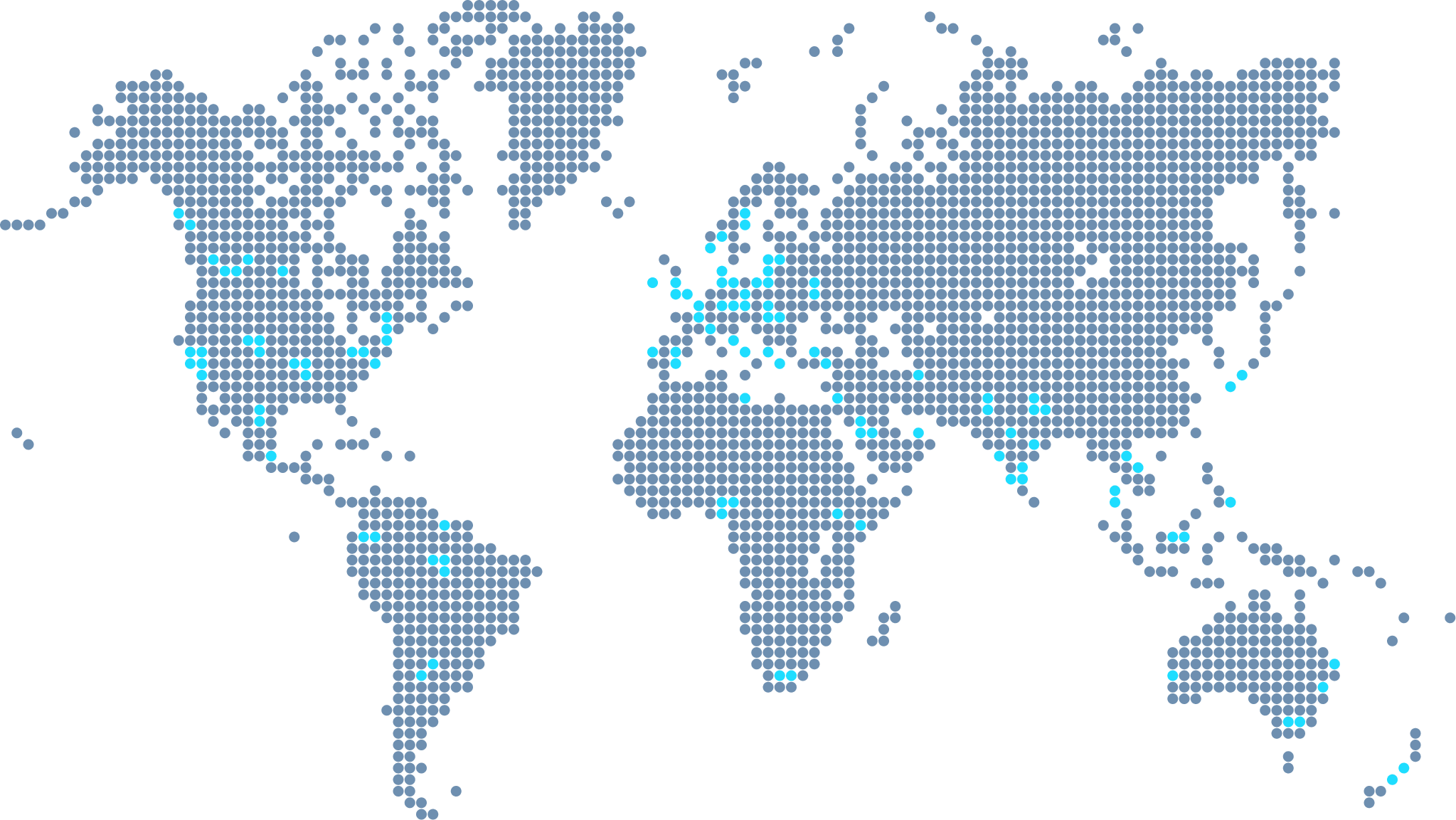 Join 1200+ companies in 75+ countries.
Prøv det mest kandidatvenlige færdighedsvurderingsværktøj i dag.

Ready to use the Adaface Selenium Online Test?
Ready to use the Adaface Selenium Online Test?