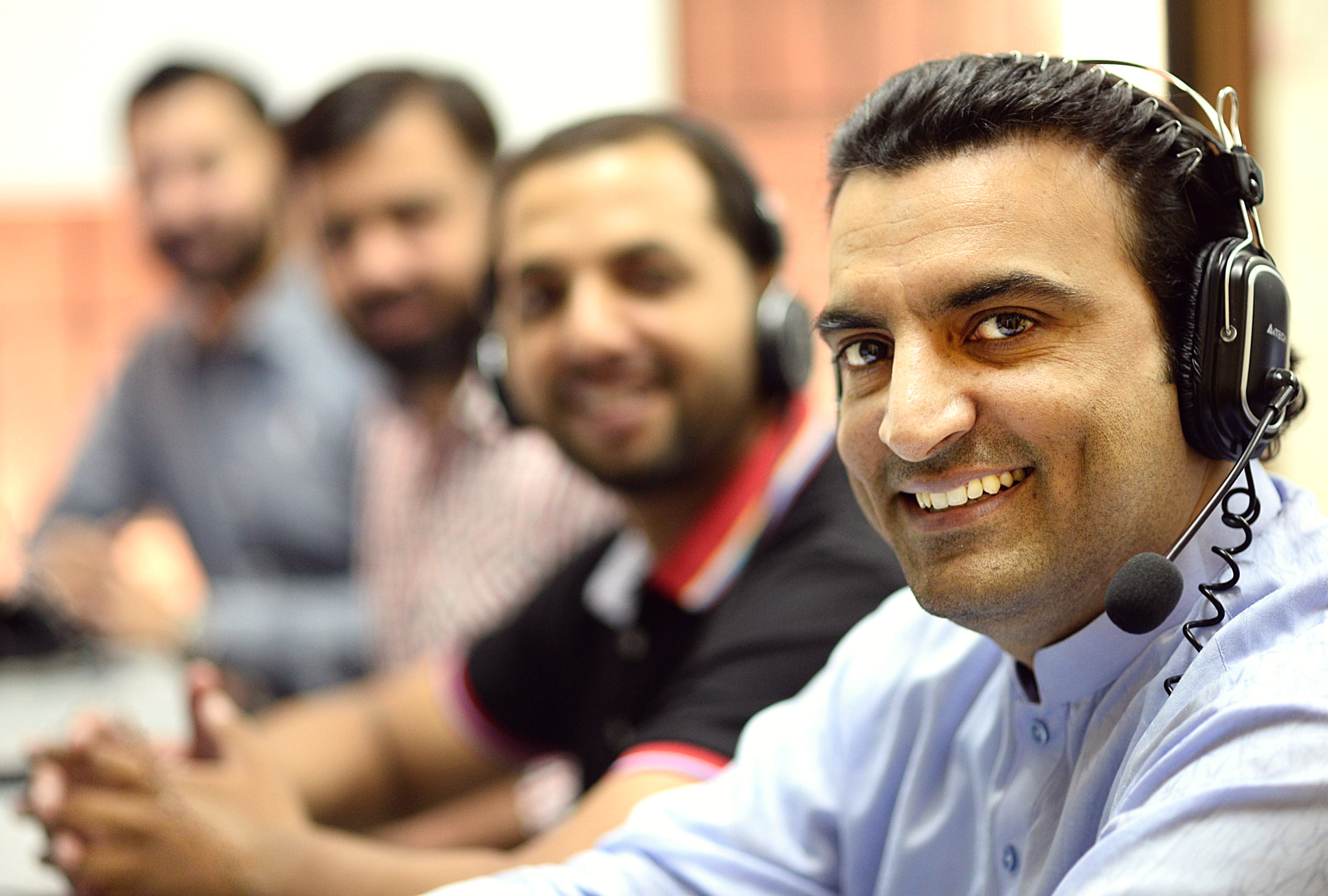 Essential Skills To Look for When Hiring Customer Service Representatives
Keerthi Rangan
October 19, 2023
Great customer experience has become a top priority for companies. Customers no longer base their loyalty on product or price alone. Instead, they are more inclined to do business with companies due to the experience involved. Studies have shown that by 2021, customer service and experience will be a key differentiator apart from price and the product. That is why it is important to hire customer service representatives with top-notch customer service skills as well as cultivate the same for every single employee who works for the business.
Why are customer service skills important?
Great customer service and experience is only possible when employees are using essential customer service skills to become the human face of the organization. Customer service skills are necessary to build a reputation and long-standing relationships with customers.
"Customer service should not be a department. It should be the entire company." - Tony Hsieh
Below are a few more reasons why you should cultivate customer service skills and hire for the same for customer-facing roles.
Increased customer retention
Retaining customers is much cheaper than acquiring new ones. Research has shown that an increase in customer retention of even 5% can deliver an increase of 25% in profit. Satisfied customers are loyal to the brand when a business provides good customer service.
Creates endorsements
Research has shown that nearly 77% of consumers have shared positive customer experiences with their peers. People often make critical purchase-decisions based on the recommendations of their friends and family in comparison to constant advertisements.
Essential customer service skills
As more and more customers have set higher expectations when it comes to customer service, these essential skills become an imperative factor that determines an organization's reputation. When building your customer service team, it is imperative that you hire the best.
Here are eight essential customer service skills for any organization to boost their performance.
1. Empathy
Empathy can be considered as a character trait and a skill. As with most interpersonal skills, empathy can be learned and developed by introspecting our behaviors and relationships with others.

Empathy is one of the most essential customer service skills. It is the ability to understand a customer's emotions and see things from their point-of-view.
Empathetic customer support drives 9x more customer engagement.
Even if your helpdesk representatives are not able to provide a solution that the customers would like to hear, letting them know that you care about finding a resolution can be a game-changer.
If your organization assesses candidates with a customer service test, you would be more inclined to look for critical skills that can be gauged rather than testing for empathy.
2. Effective Communication Skills
The ability to communicate effectively and clearly when interacting with consumers is a crucial skill because miscommunications can lead to dissatisfied customer experiences. This may seem obvious, but mumbling or using unclear language can result in disappointment and frustration.
33% of businesses believe that answering customer queries efficiently is the most important skill for a support representative to possess.
Customer service pros know how to keep their discussions with customers simple and clear, always making sure that they feel valued.
3. Product knowledge/Technical Skills
The best customer support representatives know their companies' products inside out. By having a deep knowledge of the product, customer service reps will be better equipped to help customers tackle their queries or issues.
62% of consumers felt that the most important factor in their interaction with a customer service representative was their knowledge of the product and the issue at hand.
Your team should have the technical knowledge about how the product operates, its shortcomings, and frequently seen customer issues.
4. Time Management skills
Time management is a crucial skill when it comes to customer support roles.
83% of eCommerce shoppers will abandon their carts if they do not receive help within five minutes.
Support representatives must be quick to recognize when they cannot help a customer and forward their queries to someone in the team who can help, hence maintaining the SLAs.
5. Goal-oriented
We asked entrepreneur Ricky Wang how he approaches aligning goals for customer retention.
"If you want to acquire and retain customers, you have got to have specific goals in mind. It doesn't matter what part of the funnel they are at, each step of the way is supposed to help the prospect make another decision. Look, I don't think of goals as some "in 3 years, we'll...". You have got to look at the vision in front of you now. Look for opportunities to help out your potential leads and make that your goal."
The goals of the business should be aligned with the daily goals of the customer service representatives. It should not only include the resolution of customer issues but also building and developing genuine customer relationships.
6. Conflict Resolution Skills
Conflict is bound to happen in the day-to-day operations of an organization. Conflict resolution is an essential skill when working in the customer service industry, where support representatives have to deal with resolving customer issues.
Conflict resolution is only possible if you understand the problems clearly and present customers with realistic solutions. Being a creative problem solver will help you find a solution that fits the needs of your customers. Customers are appreciative when they feel support reps are willing to help in whatever way possible.
Examples of conflict resolution skill include:
Mediation
Accountability
Facilitation
Diplomacy
Negotiation
7. Tenacity
The best customer service professionals will go the extra mile to successfully resolve a customer's issue. To acquire a customer's loyalty, each customer and their issues must be treated with care and concern. Tenacity is the drive that separates great customer service from the rest average ones.
"Patience and tenacity are worth more than twice their weight of cleverness." - Thomas Huxley
Considered as one of the pillars of customer service skills, tenacity and  patience are most required when support representatives are working on issues that aren't easy to solve. Tenacity is the determination to successfully resolve the issue.
8. Desire to learn
The hunger and desire to learn and grow is a critical skill that is needed for almost all jobs. In an ever-evolving industry, new technologies and trends emerge all the time. The customer service industry is no exception. Through constant learning customer service representatives will be able to serve their customers in the best way possible.
One of the best ways the majority of businesses encourage self-learning and improvement in the workplace is by offering a variety of training courses or a continued learning stipend. They also actively send their employees and higher-ups to conferences to make sure that their teams are up-to-date with technology and trends of the industry.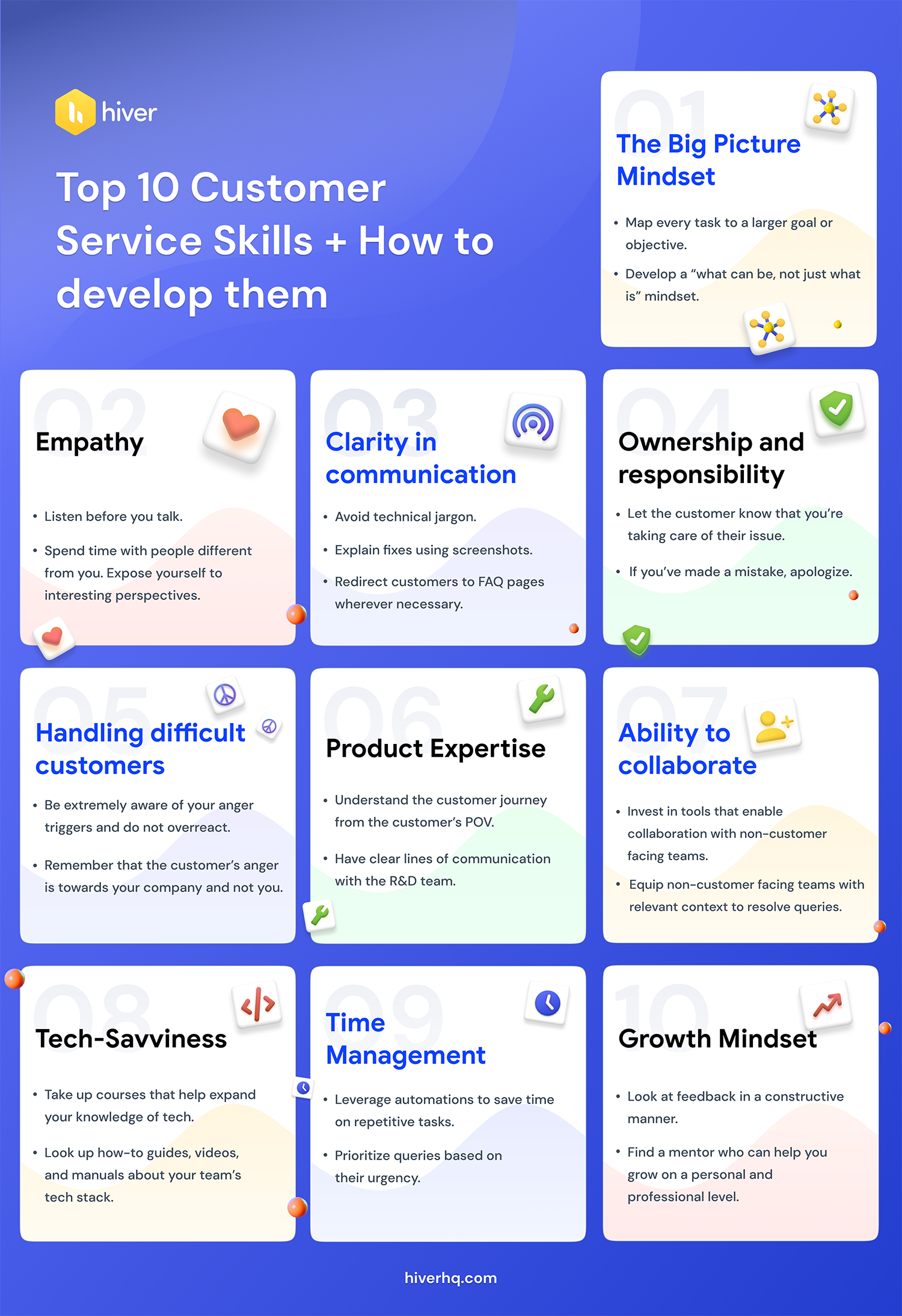 Conclusion
Consider this quote by Clare Muscutt: "Building a good customer experience does not happen by accident. It happens by design."
The best possible way to build a great customer experience is by testing your candidates for customer service skills and giving them the opportunity to put those skills to work.
Keerthi Rangan
Keerthi is a Content Marketing Strategist at Adaface.
Spending too much time screening candidates?
We make it easy for you to find the best candidates in your pipeline-
with a 40 min skills test.
Start screening candidates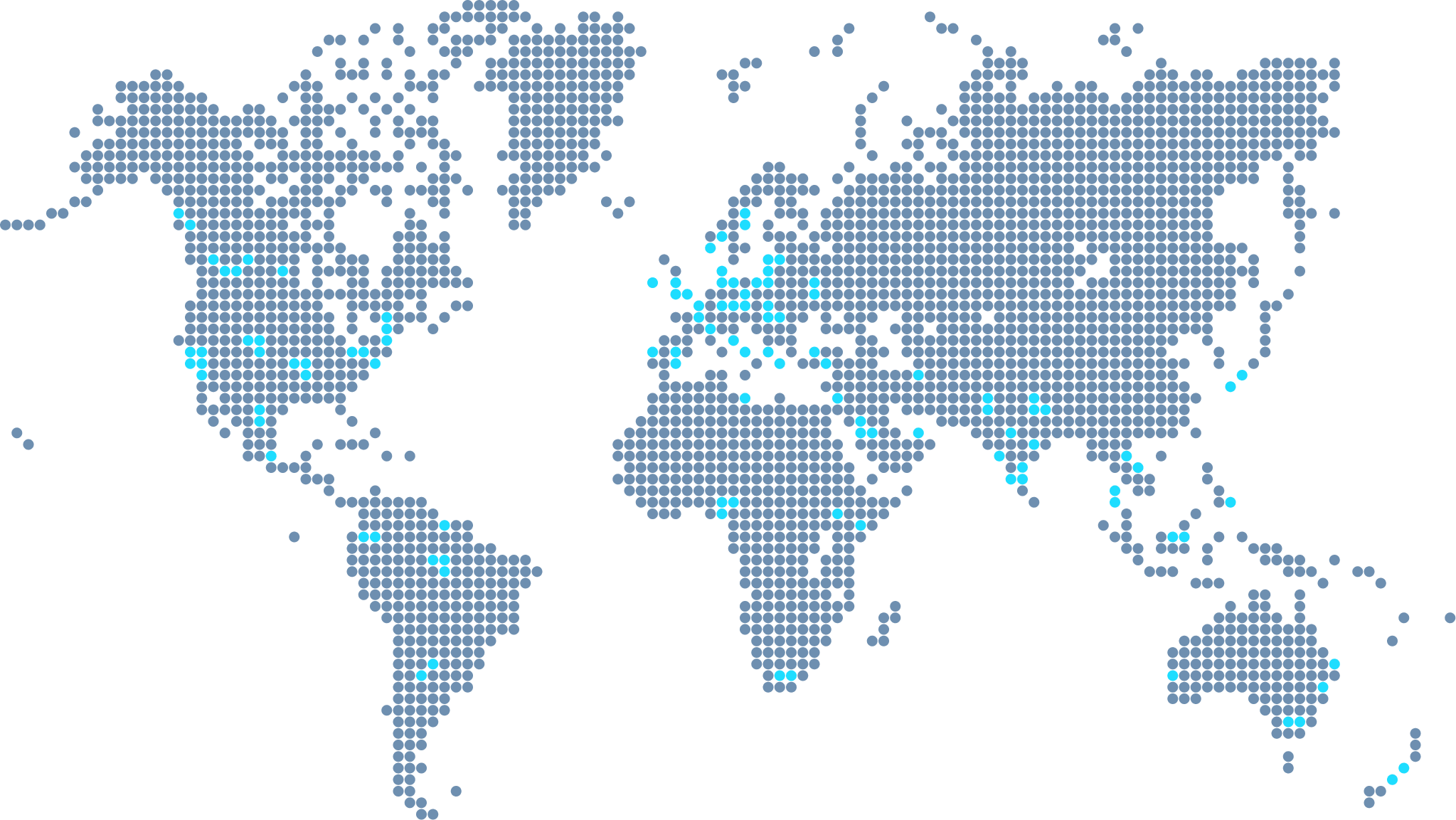 Join 1200+ companies in 75+ countries.
Try the most candidate friendly skills assessment tool today.