Recruitment inefficiencies are not exclusive to large corporations. More than often high-growth startups talk about fundraising being easier than recruiting. A successful startup will unpredictably outgrow skill sets and roles of everyone involved in building it. With over 75% startups failing to make it, suffering a fatal setback in the initial stages of building an organisation can cause irrevocable damage.
Young entrepreneurs swear by Eric Ries' "The Lean Startup". Large companies have steadily adapted this Six Sigma approach too. The Lean Startup methodology revolves around experimentation over dedicated planning, iterative design process over traditional design development, and a focus on customer feedback over intuition based decision - making. While the concept is fairly new, ideas like "minimum viable product", "split testing", and "pivoting" have been picked up quickly by young startups and business schools across the world.
Traditionally, many people believe that hiring faster equates to growing and creating value faster. However, this is a misunderstood version of the time-quality-money fallacy. Lean methodology of hiring does not propagate hiring too many people too soon.
To undo the emotional distress and the human cost of layoff caused by rampant hiring can be one of the most challenging and draining processes to go through for both the employee and the employer. As a young startup, a lot of work that is being done in your workspace is waste and not exactly value-creating.
Hiring more people will not only lead to over-communication and project delays, but also increase the amount of work considered as waste which can eventually slow down your organization. Unless your purpose for hiring is to eliminate a bottleneck in your development agenda, you should rather not be hiring at all.
Lean startups vs lean companies
Efficiency driven plans work extremely well for lean corporations. Activities that don't contribute to customer satisfaction are more than often deemed as waste. This strategy can work well for large scale projects since it leads to lesser bureaucracy, reduced unnecessary hierarchy, and elimination of excess communication. Relentlessly looking for ways to reduce waste can very rarely be effective for lean "startups". If a young organization is always looking forward to eliminating waste and turning super efficient, they are not spending enough time or effort in being creative or coming up with revolutionary ideas.
Innovation a lot of times requires frequent experimentation which can be deemed wasteful and completely contradictory to the efficiency argument. Disruptive innovation is not really dependent on efficiency. If "customer satisfaction" is the main goal, iterative experimentation chasing innovation can be termed waste and this is the major difference between a lean startup and a lean large scale organization. According to the Harvard Business Review, "One of the critical differences is that while existing companies execute a business model, start-ups look for one." Any activity that can help in getting through iterations (learning phase included), is a valuable activity for startups. Surely the underlying principles for both lean startups and lean corporations are the same with only the focus shifting from learning to execution.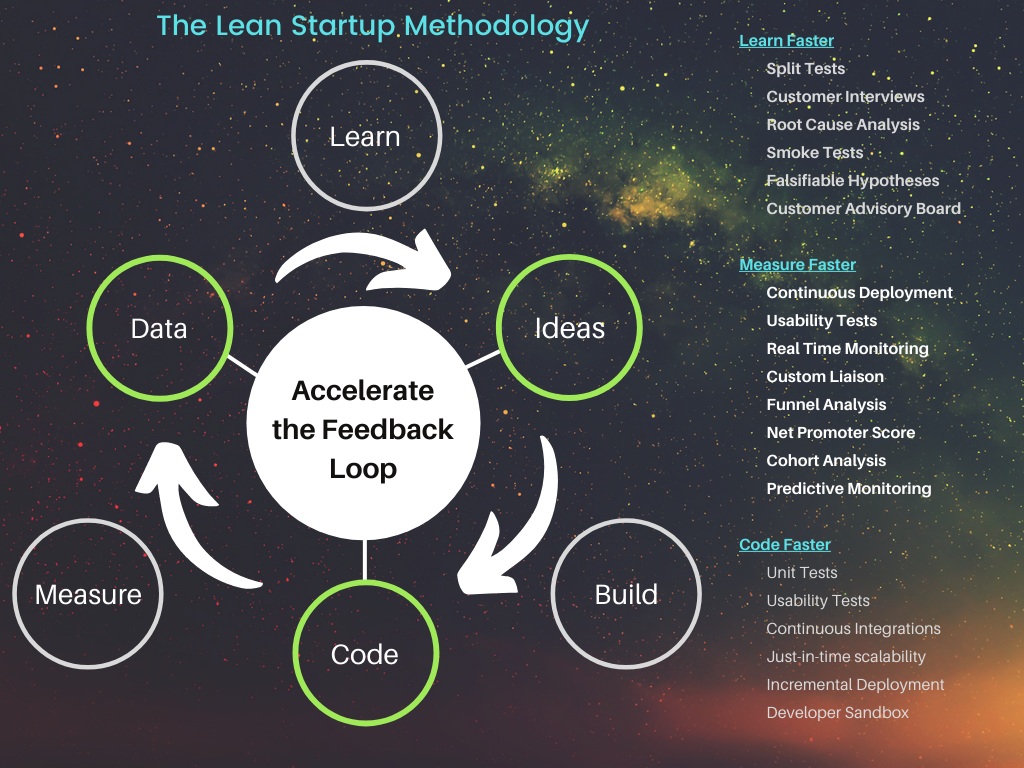 Calculating the cost of a bad hire
Most companies are unaware of the entire cost of their turnover and therefore avoid reducing these costs with the available resources. One of the most notorious ways in which startups maintain profitability goals are layoffs. Unforeseeable events like pandemics result in layoffs across industries and company sizes once in a while. But the need to constantly hire people and fire them once it's visible they are not a good fit resembles a broken system.  
According to "A Better, Fairer Approach to Layoffs" by the Harvard Business Review, layoff surviving employees experienced a 20% decline in job performance. Constant restructuring needs could signify loopholes in your hiring and retaining process.
According to the U.S. Department of Labor, the cost of a bad hire is almost 30 percent of the employee's first-year earnings. For a small sized business, investing upwards of 5 figures on a bad hire can backfire irrevocably. Recruiting, hiring, and onboarding can cost upwards of $14,936 for a new employee. There are other costs associated with the new hire if the person is not the right fit, starting with finding a replacement. Brandon Hall Group, a research and analysis firm, identified multiple variables that could be used to calculate the cost of replacing a bad hire.
Recruitment advertising fees and staff time.
Relocation and training fees for replacement hires.
The negative impact on team performance.
Lost customers.
Outplacement services.
Weakened employer brand.
The disruption to incomplete projects.
Litigation fees.
The impact of a bad hire
Successful startups today have one thing in common - they run with lean teams. When Facebook acquired Instagram in 2013 for $1billion, Instagram had a total of 13 employees! Disengagement is infectious and takes astronomical resources and efforts to defeat. If your disengaged employee is not carrying their weight, productive teammates burnout trying to compensate. The impact cannot be contained only by removing the bad hire. Time and resources are required to reset the behaviour of employees who emulated the work ethics of their teammate. This impact can be calculated mainly in the following terms -
Quantitative or Productivity Impact : A wrong hire can impact the productivity of an entire organization due to the increased investment in performance reviewing, coaching and mentoring, training, and disciplinary actions.
Qualitative or Cultural Impact: A bad hire can possibly create a productivity lag. Teammates, managers, and other employees associated with the person have to step up for the productivity deficit. This could lead to higher disengagement amongst the most high performing employees as well. The impact is very difficult to measure and is widespread even after the person leaves.
What leads to a bad hire
Lack of patience, talent and resources
So if it's this costly and laborious to make an awful hire, why is it still such a relevant problem. Chicago based CareerBuilder, which specializes in advertising, marketing, and HR software products, revealed that one of the reasons could be that corporations are often in a hurry to fill a role as quickly as possible. In a 2012 survey about why corporations make bad hires, they determined that 43 percent of the respondents stated they made a terrible hire because they felt they needed to onboard a person quickly.
This feel of urgency occurs for numerous reasons: current staff being overburdened, requirement for a new skill or a key employee leaving the company. Far too frequently, the hiring managers are so focussed on finding the replacement quickly that they tend to oversee the candidates' flaws and end up hiring someone who does not meet the requirements of the task. A lot of times the person in charge of making the hiring decision lacks the skills to interview and hire people for an open position efficiently. The survey further revealed that more than 22 percent of the respondents mentioned that they felt unequipped to make the hiring decision. Blaming the person who was wrongfully hired instead of the one responsible for hiring can never be a good approach. Assuming that a person holding a certain office with a certain experience automatically knows the right way to interview or hire the right candidate can be wrong. Everyone involved in the hiring process should know exactly what their requirements are and how they should fulfil them by asking the right questions, understanding the candidate's responses, and extending an offer to the best fit.
Inefficient interview process
Not having a standardized interviewing process can increase your chances of making a bad hire by 5 times according to a talent acquisition study conducted by Glassdoor. Having a consistent interview process over a period of time helps in determining the best fit according to the company's culture.
It can provide recruiters and hiring managers with tools that can be used to formulate important questions and decide evaluation criteria more efficiently. Carol Quinn is the CEO of Conyers, a hiring conglomerate based out of Georgia and she speaks extensively about different interview question frameworks that are more likely to fail recruiters. During the Society for Human Resource Management's Talent Management Conference & Exposition, Quinn mentioned that many interviewers frame their questions in an unaccommodating and detached manner. These interviews prevent candidates from opening up to the interviewers and can fail in uncovering any patterns of lack of motivation or mindset that could affect their performance and the chances of them succeeding at their job.
Branding
In a 2016 HBR article that explores successful alternatives to traditional hiring practices, nearly 1 in 10 respondents said that the person they onboarded didn't work out because the company failed to properly communicate its brand and culture to their new employees. A branding strategy if not already existing, is key to attracting the right people and avoiding a bad hire. Whether it's the content on your website or videos on social media, conveying the company culture with right messaging helps in building a strong brand that makes attracting the right talent a lot easier.
First impressions matter
Strong and impactful onboarding processes can improve your retention rate for new hires by about 82 percent and increase productivity by about 70 percent according to a study conducted by Brandon Hall Group. Onboarding is not entirely about orientation weeks and knowledge transfer, it can be a process of inculcating strong leadership attributes and building company wide cultural habits for the first 30, 60 or 90 days. Regular discussions to understand the adjustment, progress, and motivation of new hires could lead to sustainable long term relationships between the company and their new employees.
Employee performance
Measuring employee performance is inherently tough. Understanding an increase of 5 percent in ROI is pretty straightforward but a performance rating change from 3.5 to 3.2 is difficult to comprehend. Performance ratings lean towards being subjective and identifying objective metrics to determine the value of a hiring decision can be tricky.
What does this mean?
Unfortunately, even with all the precautionary measures and strong systems in place, it is very difficult to accurately spot a bad hire very early on or avoid hiring one. Reducing employee turnover is a long term commitment. Optimizing onboarding, employee retention, learning and development, on-the-job training , and engagement is challenging but not impossible. Treating your hiring system as a company-altering process will ensure you are extra careful and less likely to misjudge often. In the long run, hiring carefully and firing quickly will ensure your staff ship stays afloat.