About the test:
The Selenium Online Test evaluates candidates' ability to perform automation testing using the Selenium web driver. The test uses scenario-based MCQ questions to assess automation testing fundamentals and knowledge of the Selenium framework. With the test, you can identify candidates who have used the Selenium framework to find issues on live sites, conduct cross-browser tests, develop QA frameworks and generate insightful reports.
Covered skills:
Architecture and features of Selenium Webdriver
Cross-browser testing with Selenium Grid
Interacting with live websites and components
API testing (manual and automation)
See all covered skills
9 reasons why
9 reasons why
Adaface Selenium Online Test is the most accurate way to shortlist Test Engineers
Reason #1
Tests for on-the-job skills
The Selenium Online Test uses 12 non-googleable scenario-based MCQ questions to evaluate on-the-job Selenium skills. Our Selenium experts design each question to assess the core skills required to succeed in automation testing.
Recruiters can use the test to find candidates with prior Selenium knowledge. Each candidate is benchmarked against industry averages, and recruiters receive a detailed report on the candidate's performance with topic-wise analysis.
The test evaluates on following core skills that hiring managers expect good Selenium engineers to know:
Selenium WebDriver fundamentals
Web element interaction on static and dynamic websites (Mouse and Keyboard Interactions, Implicit and Explicit Waits)
Designing test cases and automating tests
Creating major frameworks from scratch (Data Driven, Keyword Driven, Hybrid, Page Object Model, Page Factories)
Using Databases in Selenium test cases
Parallel execution with Selenium Grid
Reason #2
No trick questions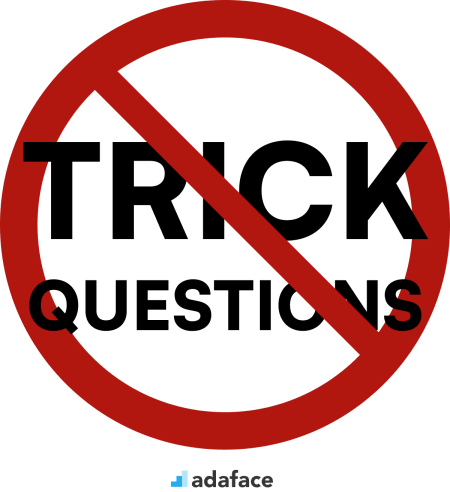 Traditional assessment tools use trick questions and puzzles for the screening, which creates a lot of frustration among candidates about having to go through irrelevant screening assessments.
The main reason we started Adaface is that traditional pre-employment assessment platforms are not a fair way for companies to evaluate candidates. At Adaface, our mission is to help companies find great candidates by assessing on-the-job skills required for a role.
Why we started Adaface ->
Reason #3
Non-googleable questions
We have a very high focus on the quality of questions that test for on-the-job skills. Every question is non-googleable and we have a very high bar for the level of subject matter experts we onboard to create these questions. We have crawlers to check if any of the questions are leaked online. If/ when a question gets leaked, we get an alert. We change the question for you & let you know.
These are just a small sample from our library of 10,000+ questions. The actual questions on this Selenium Online Test will be non-googleable.
🧐 Question

Medium

Check if dialog dismissed

Solve

Medium

Page Object Class

Solve
🧐 Question
🔧 Skill

Medium

Check if dialog dismissed

2 mins

Selenium

Solve

Medium

Page Object Class

3 mins

Selenium

Solve
| | 🧐 Question | 🔧 Skill | 💪 Difficulty | ⌛ Time | |
| --- | --- | --- | --- | --- | --- |
| | Check if dialog dismissed | Selenium | Medium | 2 mins | Solve |
| | Page Object Class | Selenium | Medium | 3 mins | Solve |
Reason #4
1200+ customers in 75 countries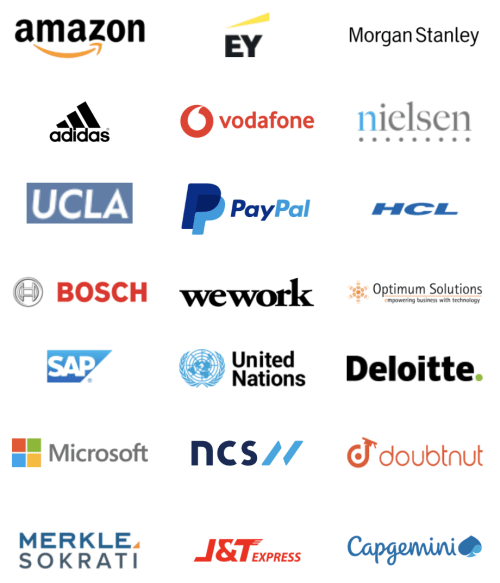 With Adaface, we were able to optimise our initial screening process by upwards of 75%, freeing up precious time for both hiring managers and our talent acquisition team alike!
Brandon Lee, Head of People, Love, Bonito
Reason #5
Designed for elimination, not selection
The most important thing while implementing the pre-employment Selenium Online Test in your hiring process is that it is an elimination tool, not a selection tool. In other words: you want to use the test to eliminate the candidates who do poorly on the test, not to select the candidates who come out at the top. While they are super valuable, pre-employment tests do not paint the entire picture of a candidate's abilities, knowledge, and motivations. Multiple easy questions are more predictive of a candidate's ability than fewer hard questions. Harder questions are often "trick" based questions, which do not provide any meaningful signal about the candidate's skillset.
Reason #6
1 click candidate invites
Email invites: You can send candidates an email invite to the Selenium Online Test from your dashboard by entering their email address.
Public link: You can create a public link for each test that you can share with candidates.
API or integrations: You can invite candidates directly from your ATS by using our pre-built integrations with popular ATS systems or building a custom integration with your in-house ATS.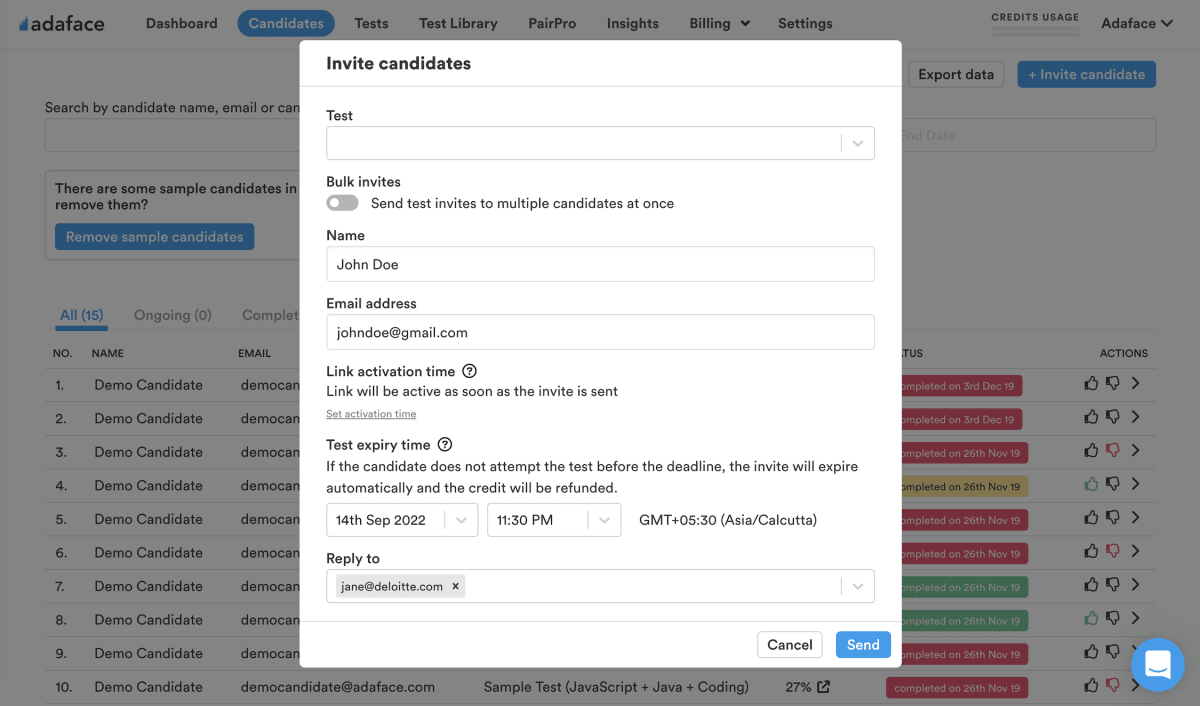 Reason #8
High completion rate
Adaface tests are conversational, low-stress, and take just 25-40 mins to complete.
This is why Adaface has the highest test-completion rate (86%), which is more than 2x better than traditional assessments.

Reason #9
Advanced Proctoring
How is the test customized for Senior Selenium Automation Engineers?
The questions used to evaluate senior Selenium developers will be of higher difficulty levels and are based on advanced topics. To solve these questions, candidates would require few years of hands-on experience automating with Selenium. Here are few advanced topics the questions are based on:
Understanding Selectors/Locators in detail
Advanced XPath
Parametrization, global variables and the importance of a base page
Good scaleable design practices for using Page Object Model
Parallel Execution using Thread Local
Automatic window/frame switching using Aspect-oriented programming (AOP)
Automatically triggering tests based on the date/time
Generating advanced and detailed professional reports
Techniques to automate AJAX calls and iframes
Debugging different selenium test failures and exceptions
Advanced web topics like Chrome Options, SSL certificate handling, cookies and more
Knowledge of using OOP concepts in frameworks [Inheritance, Interface, Encapsulation, Polymorphism]
Identifying and using design patterns for various scenarios
What roles can I use the Selenium Online Test for?
Test Engineer
QA Automation Software Engineer
SDET (Software Development Engineer in Test)
Java Automation with Selenium
Senior Test Engineer - Selenium
Automation Tester - Selenium
QA Automation Tester
What topics are covered in the Selenium Online Test?

The hiring managers felt that through the technical questions that they asked during the panel interviews, they were able to tell which candidates had better scores, and differentiated with those who did not score as well. They are highly satisfied with the quality of candidates shortlisted with the Adaface screening.
reduction in screening time
Selenium Online Test FAQs
How is the test customized for Python Selenium roles?
Our standard Selenium test evaluates Selenium skills without focusing on any particular programming language. We can customize the test to include questions that evaluate Python fundamentals using MCQs and hands-on Python experience using coding questions. You can check our standard Python Test to review sample Python questions.
How is the test customized for Java Selenium roles?
Our standard Selenium test evaluates Selenium skills without focusing on any particular programming language. We can customize the test to include questions that evaluate Java fundamentals using MCQs and hands-on Java experience using coding questions. You can check our standard Java Test to review sample Java questions.
Can the Selenium webdriver assessment test evaluate for Manual Testing skills?
The test focuses on Automation testing with Selenium. However, we can add Manual testing MCQs to the test and customize it to your role. You can check our standard Manual Testing Online Test to review sample questions.
Is there a selenium online test for experienced hires?
The Selenium online test can be customized according to the seniority level & role requirements for your open role.
Can I combine multiple skills into one custom assessment?
Yes, absolutely. Custom assessments are set up based on your job description, and will include questions on all must-have skills you specify.
Do you have any anti-cheating or proctoring features in place?
We have the following anti-cheating features in place:
Non-googleable questions
IP proctoring
Web proctoring
Webcam proctoring
Plagiarism detection
Secure browser
Read more about the proctoring features.
How do I interpret test scores?
The primary thing to keep in mind is that an assessment is an elimination tool, not a selection tool. A skills assessment is optimized to help you eliminate candidates who are not technically qualified for the role, it is not optimized to help you find the best candidate for the role. So the ideal way to use an assessment is to decide a threshold score (typically 55%, we help you benchmark) and invite all candidates who score above the threshold for the next rounds of interview.
What experience level can I use this test for?
Each Adaface assessment is customized to your job description/ ideal candidate persona (our subject matter experts will pick the right questions for your assessment from our library of 10000+ questions). This assessment can be customized for any experience level.
Does every candidate get the same questions?
Yes, it makes it much easier for you to compare candidates. Options for MCQ questions and the order of questions are randomized. We have anti-cheating/ proctoring features in place. In our enterprise plan, we also have the option to create multiple versions of the same assessment with questions of similar difficulty levels.
I'm a candidate. Can I try a practice test?
No. Unfortunately, we do not support practice tests at the moment. However, you can use our sample questions for practice.
What is the cost of using this test?
I just moved to a paid plan. How can I request a custom assessment?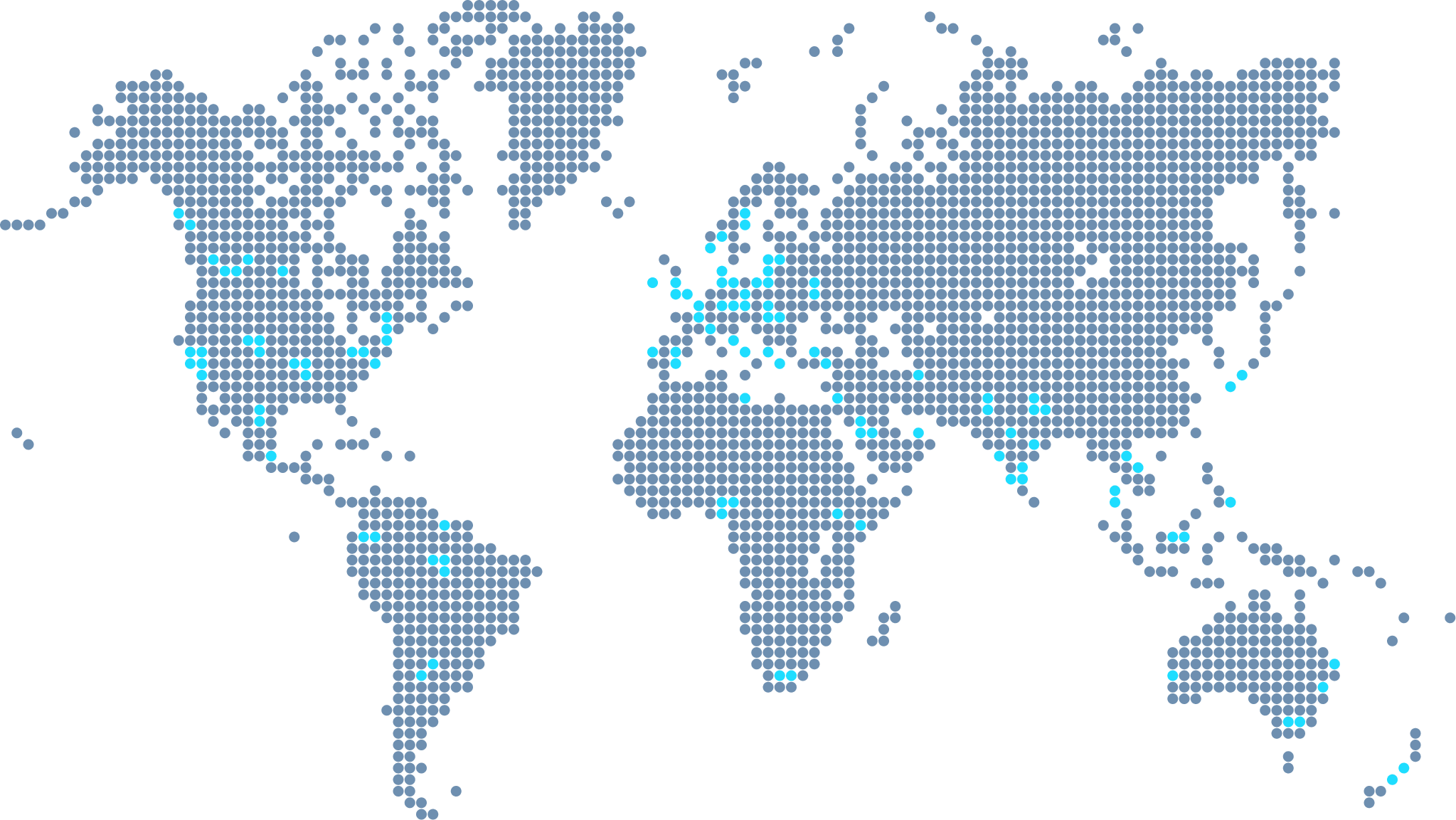 Join 1200+ companies in 75+ countries.
Try the most candidate friendly skills assessment tool today.

Ready to use the Adaface Selenium Online Test?
Ready to use the Adaface Selenium Online Test?