PHP & WordPress Developer Online Test
About the test:
The PHP & WordPress Developer online test uses scenario-based MCQ questions to evaluate a candidate's ability to build responsive WordPress websites (blogs, e-commerce, static sites) and customize them by creating and installing custom themes, widgets and plugins. The code-tracing questions evaluate HTML/ CSS basics, JavaScript basics, PHP basics and understanding of the inner workings of WordPress for fixing and troubleshooting. The test has coding questions to evaluate hands-on programming knowledge.
Covered skills:
Installing WordPress on self-hosted servers
Navigate around the WordPress core
Converting Bootstrap templates to WordPress theme
Understanding of plugin and theme architecture
See all covered skills
Questions
3 HTML/CSS MCQs
5 WordPress MCQs
3 JavaScript MCQs
3 PHP MCQs
3 jQuery MCQs
1 PHP Coding Question
9 reasons why
9 reasons why
Adaface PHP & WordPress Developer Online Test is the most accurate way to shortlist PHP Developers
Reason #1
Tests for on-the-job skills
The Adaface WordPress developer online test screens candidates for the typical skills hiring managers look for in WordPress developers:
Basics of HTML, CSS, PHP and JavaScript
Understanding of WordPress API
Easily create dynamic templates for Pages and Posts
Building custom dynamic multi-level menus and navigation bars that work seamlessly on any screen size
Efficient usage of post excerpts, categories and tags to maximize visitor experience
Designing common pages (contact form, about us, legal)
Creating custom menus and navigation systems for efficient internal site linking
Developing custom-designed widgets in Elementor
Integrating Gutenberg into WordPress themes
Leveraging the WordPress Customizer to edit websites visually
Managing user accounts and permissions
The ins and outs of the Template Hierarchy
Speeding up WordPress sites with caching plugins
Along with WordPress, the test evaluates candidates on PHP, JavaScript, HTML and CSS skills using MCQ questions and coding questions.
Reason #2
No trick questions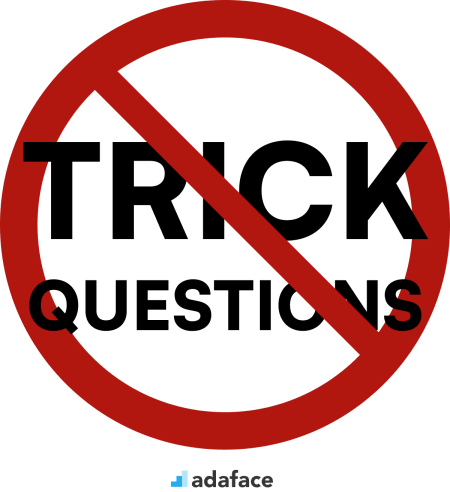 Traditional assessment tools use trick questions and puzzles for the screening, which creates a lot of frustration among candidates about having to go through irrelevant screening assessments.
The main reason we started Adaface is that traditional pre-employment assessment platforms are not a fair way for companies to evaluate candidates. At Adaface, our mission is to help companies find great candidates by assessing on-the-job skills required for a role.
Why we started Adaface ->
Reason #3
Non-googleable questions
We have a very high focus on the quality of questions that test for on-the-job skills. Every question is non-googleable and we have a very high bar for the level of subject matter experts we onboard to create these questions. We have crawlers to check if any of the questions are leaked online. If/ when a question gets leaked, we get an alert. We change the question for you & let you know.
These are just a small sample from our library of 10,000+ questions. The actual questions on this PHP & WordPress Online Test will be non-googleable.
🧐 Question

Medium

Custom WordPress Shortcode

Solve

Medium

Iteration in WordPress Plugin

Solve

Medium

Responsive load

Solve

Medium

Shortcode Development in WordPress

Solve

Medium

WP REST API

Solve

Easy

Background Properties

Solve

Easy

Colorful sentences

Solve

Easy

Links

Solve

Medium

Let's Hack

Solve

Medium

Async Await Promises

Solve

Medium

Bitcoin prices

Solve

Medium

My Module

Solve

Medium

Promise Resolve

Solve

Easy

Throw, Try, Async

Solve

Medium

Dynamic Function Calls

Solve

Hard

Alter and Change

Solve

Hard

Exceptions

Solve

Easy

PDO MySQL

Solve

Medium

Session Management and Object Serialization

Solve

Easy

Registration Queue

Solve

Medium

Visitors Count

Solve
🧐 Question
🔧 Skill

Medium

Custom WordPress Shortcode

2 mins

WordPress

Solve

Medium

Iteration in WordPress Plugin

3 mins

WordPress

Solve

Medium

Responsive load

3 mins

WordPress

Solve

Medium

Shortcode Development in WordPress

2 mins

WordPress

Solve

Medium

WP REST API

2 mins

WordPress

Solve

Easy

Background Properties

2 mins

HTML/CSS

Solve

Easy

Colorful sentences

2 mins

HTML/CSS

Solve

Easy

Links

2 mins

HTML/CSS

Solve

Medium

Let's Hack

3 mins

HTML/CSS

Solve

Medium

Async Await Promises

2 mins

JavaScript

Solve

Medium

Bitcoin prices

2 mins

JavaScript

Solve

Medium

My Module

2 mins

JavaScript

Solve

Medium

Promise Resolve

2 mins

JavaScript

Solve

Easy

Throw, Try, Async

2 mins

JavaScript

Solve

Medium

Dynamic Function Calls

2 mins

PHP

Solve

Hard

Alter and Change

2 mins

PHP

Solve

Hard

Exceptions

2 mins

PHP

Solve

Easy

PDO MySQL

2 mins

PHP

Solve

Medium

Session Management and Object Serialization

2 mins

PHP

Solve

Easy

Registration Queue

30 mins

Coding

Solve

Medium

Visitors Count

30 mins

Coding

Solve
| | 🧐 Question | 🔧 Skill | 💪 Difficulty | ⌛ Time | |
| --- | --- | --- | --- | --- | --- |
| | Custom WordPress Shortcode | WordPress | Medium | 2 mins | Solve |
| | Iteration in WordPress Plugin | WordPress | Medium | 3 mins | Solve |
| | Responsive load | WordPress | Medium | 3 mins | Solve |
| | Shortcode Development in WordPress | WordPress | Medium | 2 mins | Solve |
| | WP REST API | WordPress | Medium | 2 mins | Solve |
| | Background Properties | HTML/CSS | Easy | 2 mins | Solve |
| | Colorful sentences | HTML/CSS | Easy | 2 mins | Solve |
| | Links | HTML/CSS | Easy | 2 mins | Solve |
| | Let's Hack | HTML/CSS | Medium | 3 mins | Solve |
| | Async Await Promises | JavaScript | Medium | 2 mins | Solve |
| | Bitcoin prices | JavaScript | Medium | 2 mins | Solve |
| | My Module | JavaScript | Medium | 2 mins | Solve |
| | Promise Resolve | JavaScript | Medium | 2 mins | Solve |
| | Throw, Try, Async | JavaScript | Easy | 2 mins | Solve |
| | Dynamic Function Calls | PHP | Medium | 2 mins | Solve |
| | Alter and Change | PHP | Hard | 2 mins | Solve |
| | Exceptions | PHP | Hard | 2 mins | Solve |
| | PDO MySQL | PHP | Easy | 2 mins | Solve |
| | Session Management and Object Serialization | PHP | Medium | 2 mins | Solve |
| | Registration Queue | Coding | Easy | 30 mins | Solve |
| | Visitors Count | Coding | Medium | 30 mins | Solve |
Reason #4
1200+ customers in 75 countries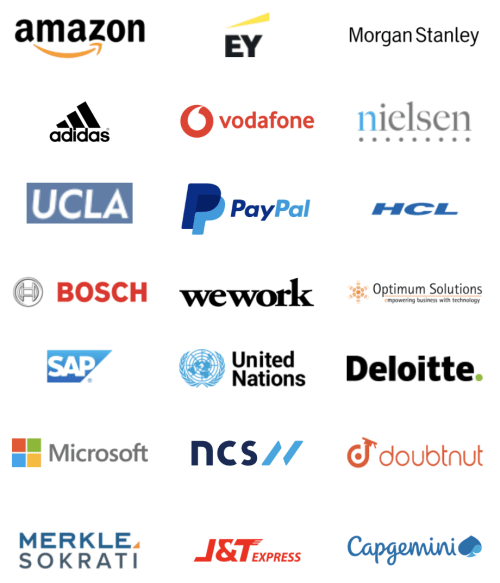 With Adaface, we were able to optimise our initial screening process by upwards of 75%, freeing up precious time for both hiring managers and our talent acquisition team alike!
Brandon Lee, Head of People, Love, Bonito
Reason #5
Designed for elimination, not selection
The most important thing while implementing the pre-employment PHP & WordPress Online Test in your hiring process is that it is an elimination tool, not a selection tool. In other words: you want to use the test to eliminate the candidates who do poorly on the test, not to select the candidates who come out at the top. While they are super valuable, pre-employment tests do not paint the entire picture of a candidate's abilities, knowledge, and motivations. Multiple easy questions are more predictive of a candidate's ability than fewer hard questions. Harder questions are often "trick" based questions, which do not provide any meaningful signal about the candidate's skillset.
Reason #6
1 click candidate invites
Email invites: You can send candidates an email invite to the PHP & WordPress Online Test from your dashboard by entering their email address.
Public link: You can create a public link for each test that you can share with candidates.
API or integrations: You can invite candidates directly from your ATS by using our pre-built integrations with popular ATS systems or building a custom integration with your in-house ATS.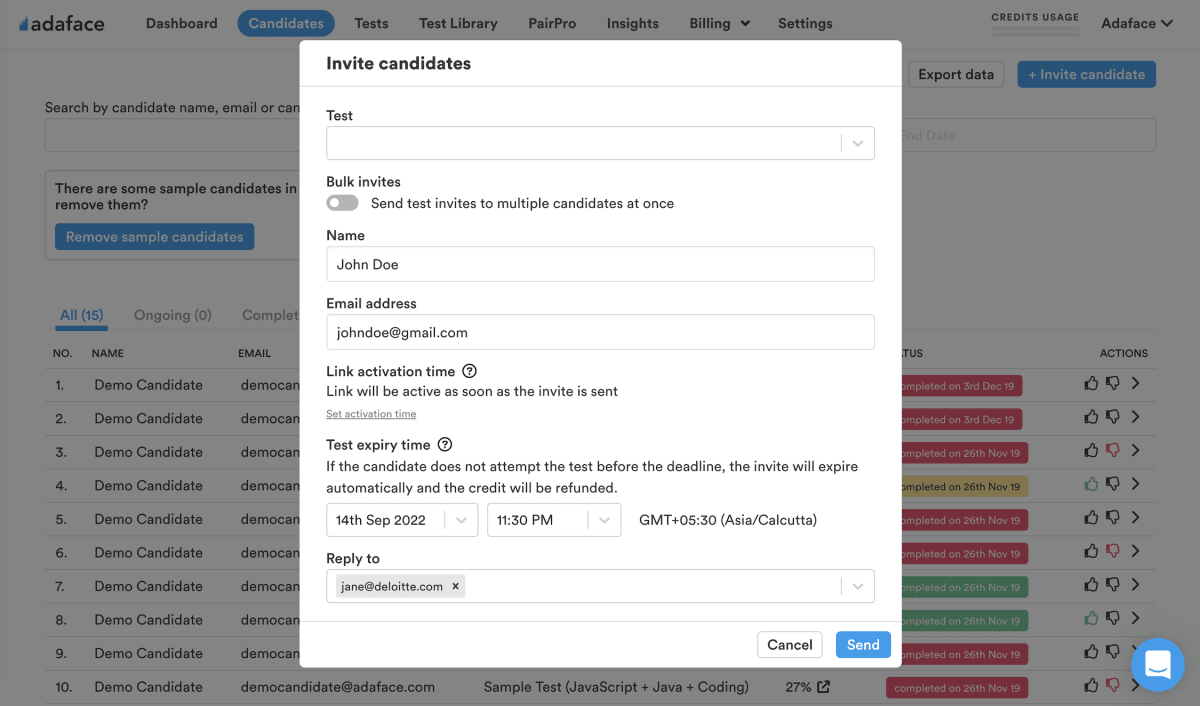 Reason #8
High completion rate
Adaface tests are conversational, low-stress, and take just 25-40 mins to complete.
This is why Adaface has the highest test-completion rate (86%), which is more than 2x better than traditional assessments.

Reason #9
Advanced Proctoring
How is the test customized for Senior WordPress developers
The questions for Intermediate/ Experienced analysts are based on advanced topics (that will require a few years of experience building and managing WordPress sites):
Converting any static HTML & CSS websites into a custom WordPress theme
Building WordPress themes translatable into multiple languages
Understanding of Custom Post Types and Advanced Custom Fields
Knowledge of how incorrect use of post categories and tags can cause search engine problems
Usage of Media library to manage media (images, videos, audio and files)
Inner workings of WordPress for fixing and troubleshooting websites
Build and edit websites within staging and development environments
Migrate and transfer WordPress websites from staging to live and vice-versa
Experience with advanced JavaScript concepts (ES6, OOP)
Improving WordPress workflow using Babel and Webpack
Setting up WordPress website migration to move sites among different hosts and servers.
Vetting plugins for usability, reputation and longevity
Testing WordPress sites for speed and performance issues
Setting up email systems: transactional emails, marketing emails, bulk emails
Using WooCommerce to build e-commerce websites on WordPress
Creating multiple back-ups and restoring systems.
Improving website security through "https://" and SSL Certificates
Integrating WordPress with Paypal and Stripe with API to accept payments
Installing and using Google Analytics and Google Search Console
Along with WordPress, there will be medium/hard questions to evaluate advanced PHP, JavaScript concepts and harder coding questions.
What roles can I use the PHP & WordPress Online Test for?
PHP Developer
WordPress Developer
Senior WordPress Developer
Web Developer
Full-Stack Developer
Web Designer
Web Application Developer
What topics are covered in the PHP & WordPress Developer Online Test?

The hiring managers felt that through the technical questions that they asked during the panel interviews, they were able to tell which candidates had better scores, and differentiated with those who did not score as well. They are highly satisfied with the quality of candidates shortlisted with the Adaface screening.
reduction in screening time
FAQs
Can I evaluate PHP, JavaScript along with WordPress?
Yes. You can review our standard PHP Online Test and JavaScript Online Test to get a sense of what kind of questions will be used to evaluate PHP and JavaScript. The final customized test will have MCQ questions to evaluate PHP, JavaScript, WordPress and coding questions to evaluate hands-on PHP and JavaScript skills.
Can I evaluate SEO skills along with WordPress?
Yes. You can review our standard SEO Online Test to get a sense of what kind of questions will be used to evaluate SEO skills. The final customized test will have MCQ questions to evaluate WordPress and SEO questions.
How is the test customized for junior WordPress developers?
The difficulty level and topics of the questions will be customized for junior developers. The questions will be relatively easy and focus on basics of HTML, CSS, WordPress and PHP.
Can I combine multiple skills into one custom assessment?
Yes, absolutely. Custom assessments are set up based on your job description, and will include questions on all must-have skills you specify.
Do you have any anti-cheating or proctoring features in place?
We have the following anti-cheating features in place:
Non-googleable questions
IP proctoring
Web proctoring
Webcam proctoring
Plagiarism detection
Secure browser
Read more about the proctoring features.
How do I interpret test scores?
The primary thing to keep in mind is that an assessment is an elimination tool, not a selection tool. A skills assessment is optimized to help you eliminate candidates who are not technically qualified for the role, it is not optimized to help you find the best candidate for the role. So the ideal way to use an assessment is to decide a threshold score (typically 55%, we help you benchmark) and invite all candidates who score above the threshold for the next rounds of interview.
What experience level can I use this test for?
Each Adaface assessment is customized to your job description/ ideal candidate persona (our subject matter experts will pick the right questions for your assessment from our library of 10000+ questions). This assessment can be customized for any experience level.
Does every candidate get the same questions?
Yes, it makes it much easier for you to compare candidates. Options for MCQ questions and the order of questions are randomized. We have anti-cheating/ proctoring features in place. In our enterprise plan, we also have the option to create multiple versions of the same assessment with questions of similar difficulty levels.
I'm a candidate. Can I try a practice test?
No. Unfortunately, we do not support practice tests at the moment. However, you can use our sample questions for practice.
What is the cost of using this test?
I just moved to a paid plan. How can I request a custom assessment?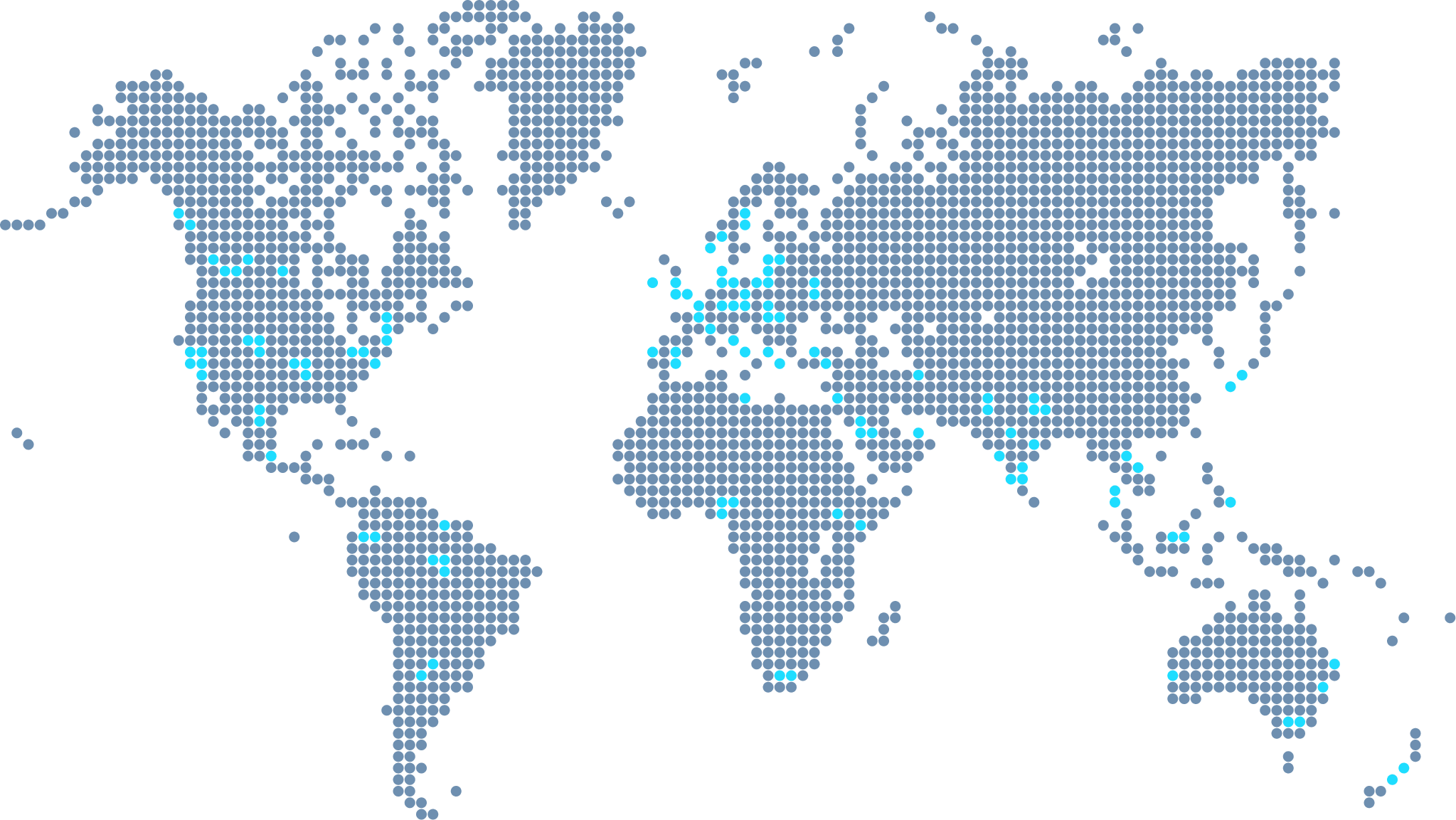 Join 1200+ companies in 75+ countries.
Try the most candidate friendly skills assessment tool today.

Ready to use the Adaface PHP & WordPress Online Test?
Ready to use the Adaface PHP & WordPress Online Test?