Excel Test
The Excel test uses scenario-based MCQ questions to evaluate a candidate's ability to work with large datasets in Excel, navigate multiple spreadsheets, use advanced formulas and create reports. The test screens for the ability to sort/filter data, analyze data using PivotTables, create dashboards using charts, provide forms for user inputs, and record/ modify/ write macros.
Customized Based On:
Experience/ difficulty level

Multiple skills in 1 assessment

Job description/ role requirements
Covered Topics:
Available
Request from your dashboard
Set up time < 48 hours
Set up by subject matter experts

The hiring managers felt that through the technical questions that they asked during the panel interviews, they were able to tell which candidates had better scores, and differentiated with those who did not score as well. They are highly satisfied with the quality of candidates shortlisted with the Adaface screening.
Human Resources Manager
Singapore Government
reduction in screening time
Sample Excel Test Questions
These are just a small sample from our library of 10,000+ questions. The actual questions on this Excel Test will be non-googleable.
How to use the Adaface Excel Test
Start screening candidates within minutes with the ready-to-go Excel Test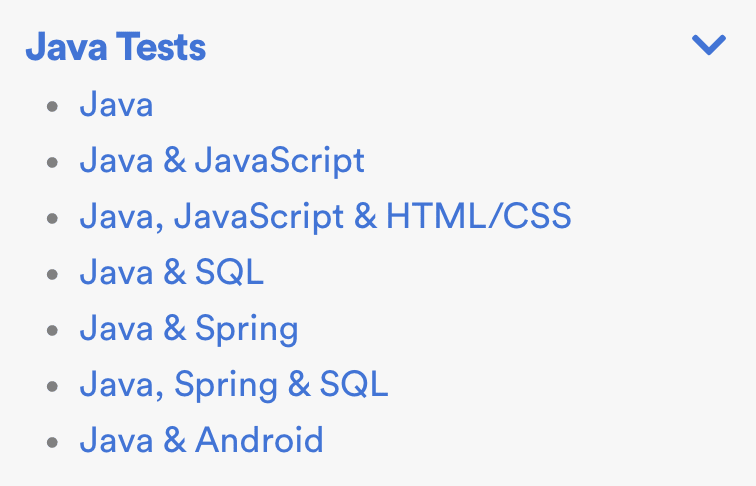 1. Choose the most appropriate test for your role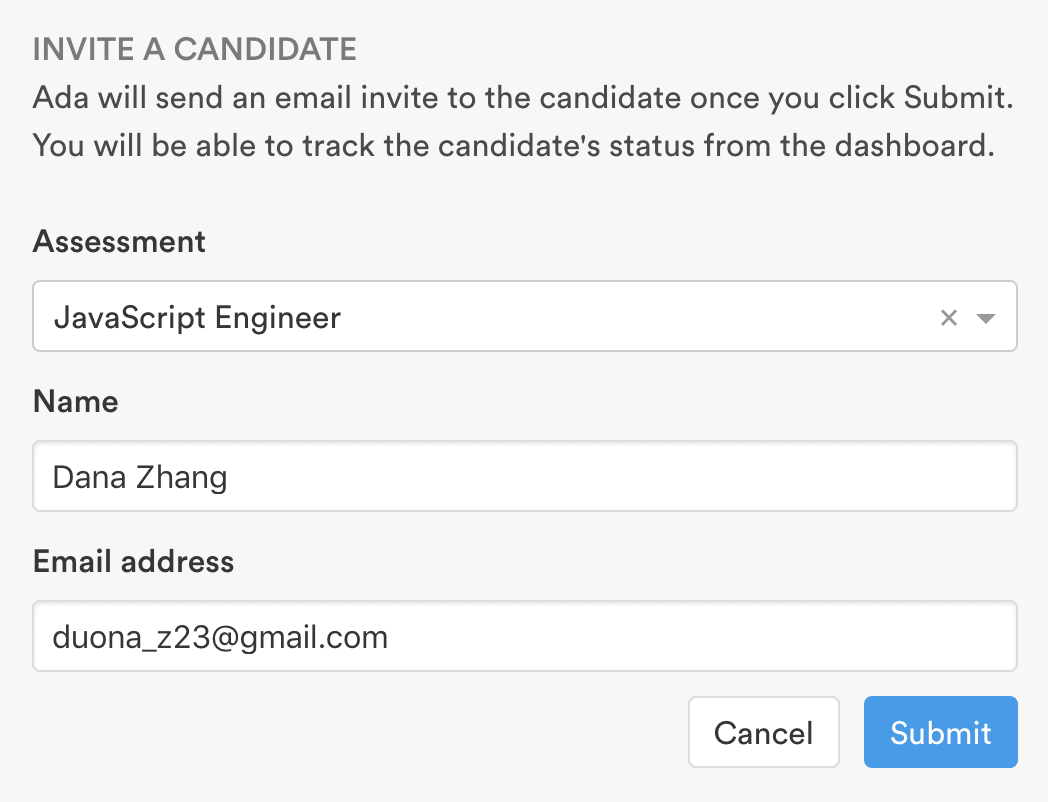 2. Start inviting candidates to complete the assessment

3. Receive real time notifications and shortlist the best candidates
OR Customize the Adaface Excel Test according to your job description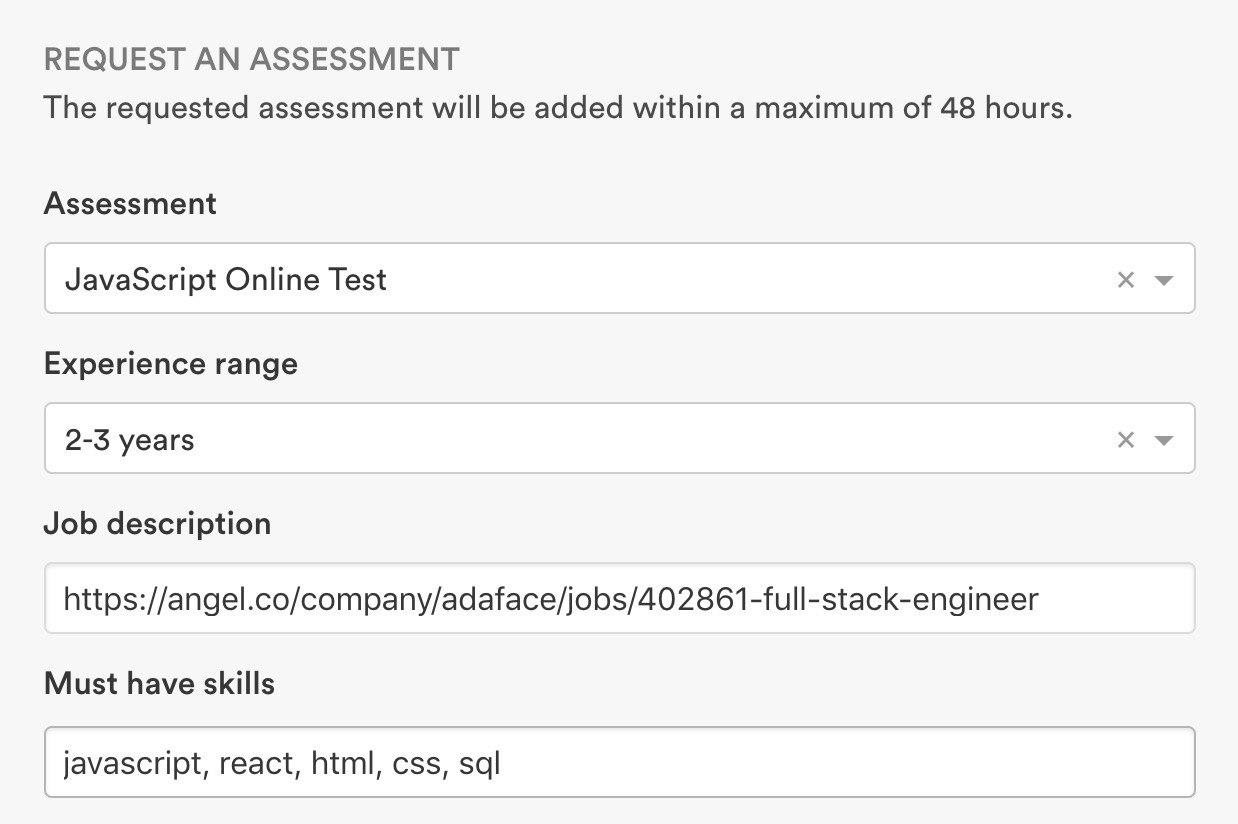 1. Get a custom assessment from our library of 500+ skills within 48 hours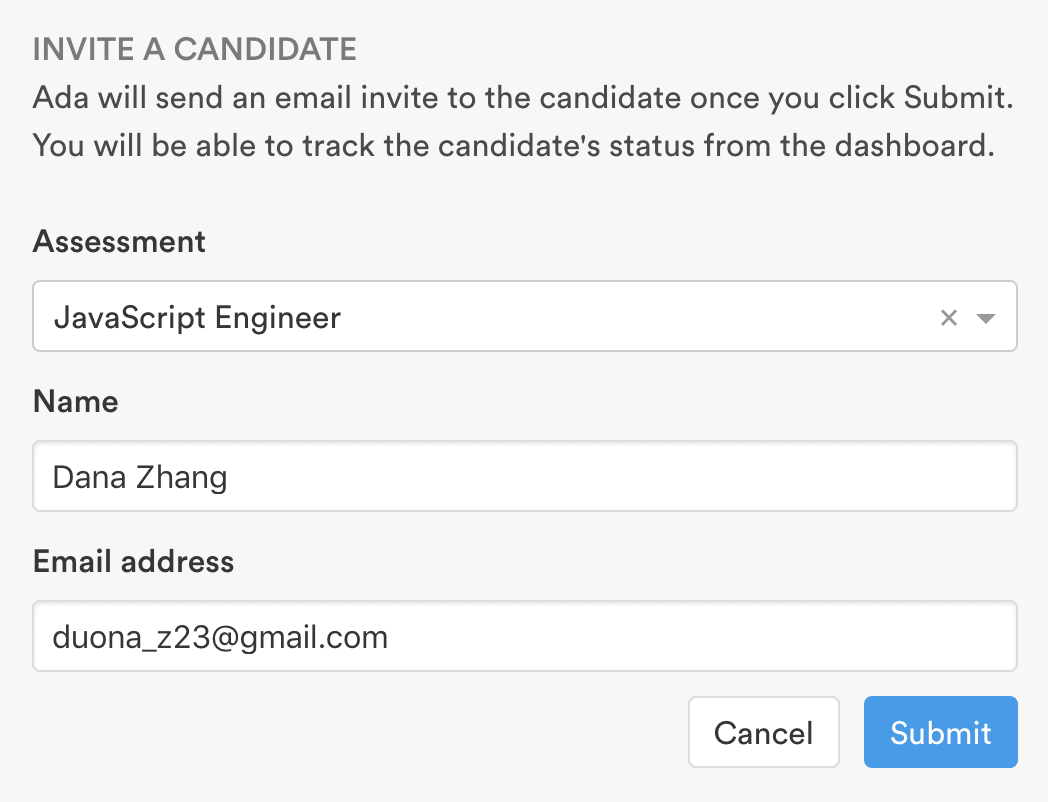 2. Start inviting candidates to complete the assesment

3. Receive real time notifications and shortlist the best candidates
Adaface Excel Test is trusted by enterprises worldwide
About the Adaface Excel Assessment Test
Evaluate conditional formatting, VLOOKUP, normality, Pivot Table, and correlation excel skills with Adaface Excel skills assessment testing platform powered by an intelligent chatbot.
Why You Should Use This Excel Online Test
Microsoft Excel online assessment test is designed and validated by industry experts to help recruiters and hiring managers to assess the Excel skills of the candidate.
The Excel test screens candidates for the following skills that hiring managers look for in candidates:
Usage for formulas like SUM, INDEX, IFERROR vs IF + ISERROR, INDIRECT and OFFSET
Using lookup formulas like VLOOKUP with MATCH
Advanced usage of the CELLS and RANGE objects
Leveraging data with Pivot tables and Pivot charts
Adding filters to report menus to narrow the records
Creating powerful calculations with Excel functions
Using relative, absolute, and mixed references
Using data tools like sorting, subtotaling and filtering
Using charts and graphs to represent tabular data
Data cleanup and transformations (removing duplicates, transposing, freezing)
Automation with macros
Dealing with errors
3-Data Consolidation
Combo techniques for Data cleaning
How to evaluate advanced Excel skills
The questions will be based on advanced Excel topics:
Pivot Table tricks on calculating the automatic sum, count, percentage and generating grouped data headings
Utilize variable types: Constants, Static, Module-Level, Public, Private, 'Option Private Module', etc
Searching cells and strings with advanced pattern matching and comparison, LIKE operator and InStr functions
Establishing a forecasted income statement, balance sheet and cash flow
Using Date and Time mathematical functions to calculate duration, length and intervals
Triggering macros using worksheet and form controls (Buttons, Shapes, DropDowns, ListBoxes, Click Actions)
Sending data from one macro to another using ByRef and ByVal methods
Statistical functions for prediction and interference
Creating custom functions
Connecting to external data
Creating financial models
Programmatically modifying worksheets
Random number generators
Distribution Of Test Scores
The actual score distribution will vary based on your candidate pipeline quality, but you should typically expect ~20% of the candidates to do well on Adaface assessments.
The score distribution for our assessments follow the normal curve. This is a good sign- standardized tests like SAT and GRE follow the normal distribution (bell curve).
Status quo assessments typically have the exact opposite of the bell curve (too many candidates getting close to 0, too many candidates getting close to 100 and too few candidates in the middle). This is typically because they focus on theoretical questions or trick questions, which are very binary in nature- either you know the trick/ theory or you don't.

How Adaface Is Different
Adaface conversational assessments are reflective of on-the-job skills and see an 86% completion rate as compared to ~50% for traditional assessment platforms.
OLD WAY
TRADITIONAL TESTS
Theoretical questions/ puzzles
Feels like a test
One-size-fits-all assessments
NEW WAY
ADAFACE ASSESSMENTS
Questions for on-the-job skills
Conversational
Customized
assessments
Excel Test FAQs
Can I evaluate Excel and SQL skills in the same test?
Yes. We support evaluating multiple skills in the same test. You can review our SQL test to get a sense of what kind of questions will be used to evaluate SQL.
What is a custom assessment?
Every role is different and requires a custom assessment to identify top candidates efficiently. Adaface subject matter experts understand your job description/ role requirements and pick the most relevant questions from our library of 10000+ questions to create a technical assessment that helps you find the qualified candidates in your candidate pipeline quickly. All custom assessments are set up based on the job description, role requirements, must-have skills, experience level and salary range within a maximum of 48 hours and you will get an email notification once it goes live.
Check out a sample assessment here (no credit card required).
Can I combine multiple skills into one custom assessment?
Yes, absolutely. Custom assessments are set up based on your job description, and will include questions on all must-have skills you specify.
How is Adaface different from other assessment tools?
We believe that status quo tech assessment platforms are not a fair way for companies to evaluate engineers because they focus on trick questions/ puzzles/ niche algorithms. We started Adaface to help companies find great engineers by assessing on-the-job skills required for a role. Read more about why we started Adaface.
Here's what's different with Adaface:
High quality non-googleable questions that test for on-the-job skills as opposed to theoretical knowledge.
A friendly conversational assessment with a chatbot, instead of sending a "test" to a candidate. This translates to a higher completion rate. Adaface assessments (86% candidate completion rate), as opposed to traditional tests (40-50% candidate completion rate)
Customized assessments for 700+ skills at different experience levels.
Do you have any anti-cheating or proctoring features in place?
We have the following anti-cheating features in place:
Web proctoring
Webcam proctoring
Plagairism detection
Non-googleable questions
Secure browser
Read more about the proctoring features.
How do I interpret test scores?
The primary thing to keep in mind is that an assessment is an elimination tool, not a selection tool. A skills assessment is optimized to help you eliminate candidates who are not technically qualified for the role, it is not optimized to help you find the best candidate for the role. So the ideal way to use an assessment is to decide a threshold score (typically 55%, we help you benchmark) and invite all candidates who score above the threshold for the next rounds of interview.
What experience level can I use this test for?
Each Adaface assessment is customized to your job description/ ideal candidate persona (our subject matter experts will pick the right questions for your assessment from our library of 10000+ questions). This assessment can be customized for any experience level.
Does every candidate get the same questions?
Yes, it makes it much easier for you to compare candidates. Options for MCQ questions and the order of questions are randomized. We have anti-cheating/ proctoring features in place. In our enterprise plan, we also have the option to create multiple versions of the same assessment with questions of similar difficulty levels.
I'm a candidate. Can I try a practice test?
No. Unfortunately, we do not support practice tests at the moment. However, you can use our sample questions for practice.
What is the cost of using this test?
The platform is completely self-serve, so here's one way to proceed:
You can sign up for free to get a feel for how it works.
The free trial includes one sample assessment (Java/ JavaScript) that you will find in your dashboard when you sign up. You can use it to review the quality of questions, and the candidate experience of a conversational test on Adaface.
To review the quality of questions, you can also review our public questions for 50+ skills here.
Once you're convinced that you want to try it out with real assessments and candidates, you can pick a plan according to your requirements.
I just moved to a paid plan. How can I request a custom assessment?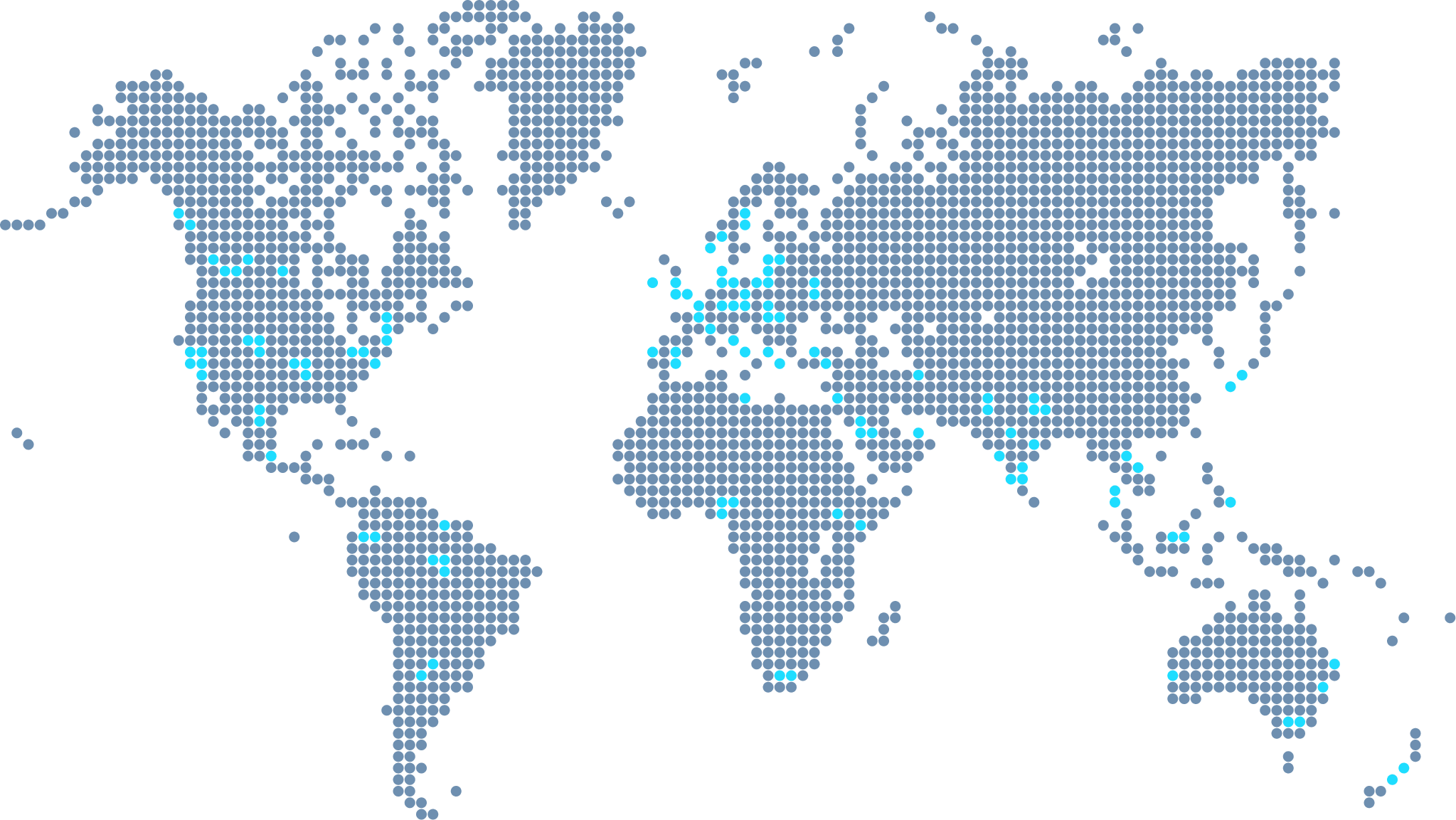 Join 1200+ companies in 75+ countries.
Try the most candidate friendly skills assessment tool today.

Have any questions about the Adaface Excel Test?
Have any questions about the Adaface Excel Test?
Chat with us ✨